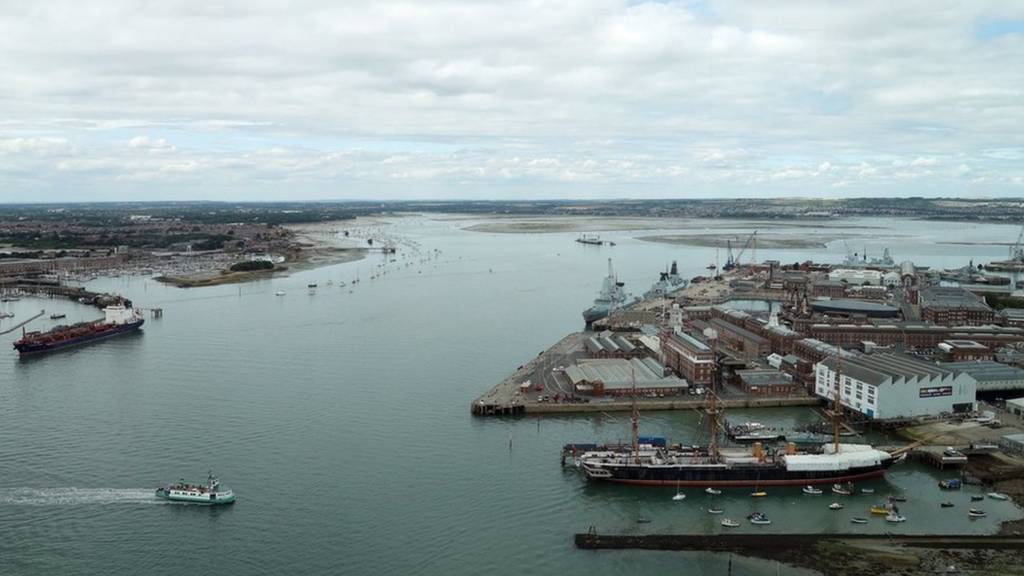 Hampshire and Dorset Live: Portsmouth bomb
You can get in touch by email, on our Hampshire and Dorset Facebook pages or on Twitter @BBC_Hampshire and @BBCDorset.
The BBC Local Live service for Hampshire, Dorset and the Isle of Wight will resume at 08:00 on Thursday.

You can still get in touch by email, on our Hampshire and Dorset Facebook pages or on Twitter @BBC_Hampshire and @BBCDorset.  

Buses 'shot at with pellet gun' in Southampton

Breaking

New director of football appointed for Eastleigh Football Club

Wildlife trust raises over £200,000 to buy farmland in Hampshire

An appeal to help transform a Hampshire field into a wildlife-friendly home has reached a major fundraising target. 

Hampshire & Isle of Wight Wildlife Trust has raised more than £230,000 days before the deadline to buy Hockley Meadows Farm in Twyford. 

It comes after the trust appealed for donations earlier this month and they are now on track to complete the purchase next week. 

Once on site, there are plans to use the land to recreate the traditional wildlife-friendly farming methods that have shaped the Itchen Valley's water meadows. 

There will also be a working wildlife-friendly farm and floodplain management.  

Copyright: Hampshire and Isle of Wight Wildlife Trust

Quote Message: The incredible outpouring of support for protecting our beautiful landscapes and wildlife habitats is so inspiring and we can't wait to get on site and get to work." from Debbie Tann Chief Executive at Hampshire & Isle of Wight Wildlife Trust

Saints 1970s fan banner gets an airing

Man arrested after mother and child receive 'sexually-motivated' threats

A man has been arrested after a mother and child were threatened in Blandford. 

It comes after a man left Ladbrokes and approached a woman and her nine-year-old daughter at a nearby bus stop.

He reportedly made a number of sexually-motivated threats toward both of them. The victims were not physically harmed in the incident.

A 50-year-old Blandford man has been arrested on suspicion of a public order offence.

Alleyway rats close Bournemouth Greggs

Wembley fever in Southampton is beginning to build ahead of the EFL Cup Final on Sunday, with even the mayor getting into the swing of things.

We'll have dedicated live coverage on BBC Hampshire from 12pm on Sunday as well as a special show on BBC Radio Solent.

If you're on Twitter, Facebook or Instagram, we'll be using the hashtags #bbcsaintsfc and #SaintsFC.

#Southernstrike: Your tweets

Kathryn Langley

BBC Live reporter

'Without guards, travel is unsafe'

Steve Dale

BBC Sussex reporter

The RMT says about 500 of its members on Southern rail are on strike today in their 29th day of action in nearly a year. 

Meanwhile, a Sussex woman has joined the picket line at Brighton station.

Miriam Binder speaks on behalf of Disabled People Against Cuts.

Southern said it expects to run 75% of its normal service today despite the industrial action.

Eric Cantona fans demand Bournemouth event refunds

Angry Eric Cantona fans have demanded ticket refunds after what they described as a "money-making" event.

Billed as "An Evening with Eric Cantona", many ticket holders said he only appeared an hour into the show at the Bournemouth International Centre, for 45 minutes. 

Although many praised the former footballer, they said they first had to sit through an auction, and complained the warm-up act was offensive. 

Organisers A1 Sporting Speakers said only a "small minority" had complained.  

Work to start on new Twynham Primary School

Work is to start next month building a new primary school for Christchurch. 

Twynham primary, which is currently based in temporary buildings on the site of Twynham secondary school, is needed because of huge demand for places.

Councillor Deborah Croney said: "I am delighted that we are now able to move forwards to create this much-needed new school building in Christchurch." 

The new site is on Marsh Lane - and was owned by South West Water.

Copyright: Twynham Primary School

Weymouth named as UK's best beach by travellers

Dorset's Weymouth beach has been named by travellers as the UK's best beach. 

The three-mile long stretch of sand was also ranked number nine across the whole of Europe, travel site TripAdvisor said.

It was praised for offering traditional seaside attractions such as Punch and Judy and donkey rides, as well as live music and free summer firework displays. 

Jason Osborne, of Weymouth and Portland Borough Council, said the award was "a huge accolade" for the beach and the town. 

Breaking

WATCH: WW2 bomb destroyed

Royal Navy vdeo footage shows the detonation of the WW2 bomb found in Portsmouth Harbour today. 

The bomb containing 290lb (131kg) of "high explosives" was discovered by a dredger in the water in the early hours.

It was towed out to sea off the Isle of Wight - divers lowered it to the seabed, and planted explosive charges for a controlled detonation of the device. 

It was destroyed shortly after 11:00 GMT.

Shanklin beach cliff lift bridge to be replaced

Storm-hit Avon Beach to have promenade rebuilt

Work to rebuild a promenade on a section of Dorset coast that was badly hit by a storm two years ago has been given the green light.

Avon Beach, near Christchurch, was among the areas hit in the 2014 St Valentine's Day storm when 70 beach huts there were destroyed.

Copyright: Christchurch Borough Council

Christchurch Borough Council plans to widen the promenade which will improve access for beach users and better protect the beachfront from future storms.

The scheme on the promenade is expected to start in the Autumn.