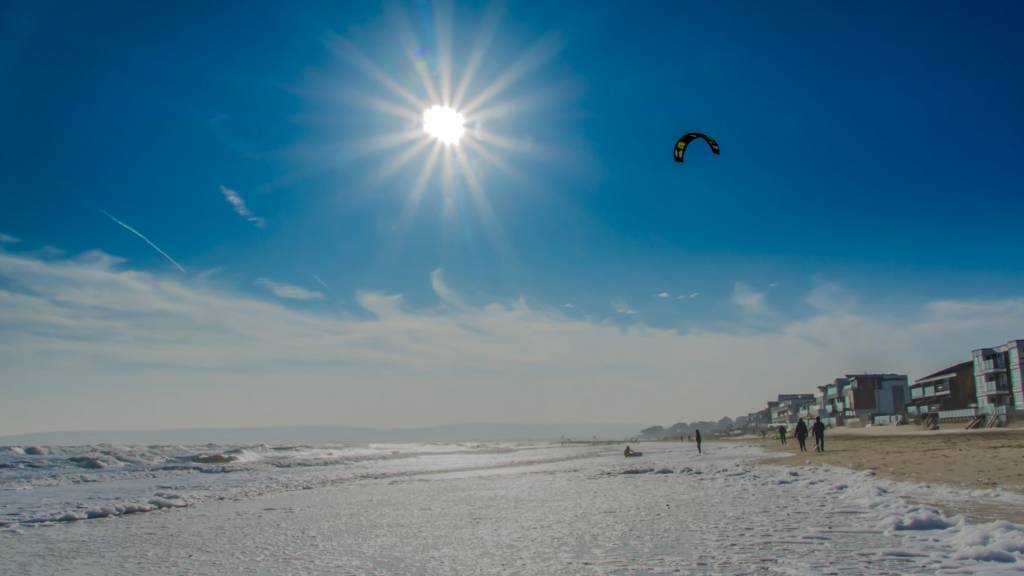 Dorset and Hampshire Live: Tuesday 14 March
You can get in touch by email, on our Hampshire and Dorset Facebook pages or on Twitter @BBC_Hampshire and @BBCDorset.
The BBC Local Live service for Hampshire, Dorset and the Isle of Wight will resume on Wednesday at 08:00.

You can still get in touch by  email , on our  Hampshire  and  Dorset  Facebook pages or on Twitter  @BBC_Hampshire  and  @BBCDorset .

Have a good evening!

Love is in the air for rare birds at Marwell zoo

A wrinkled hornbill has won his soulmate's heart at Marwell Wildlife Zoo - through her stomach. 

The team at Marwell are excited to announce the coupling of the two rare birds, male 'Bulu' and female 'Cinta'.

They have recently been paired in one of the Hampshire zoo's walk-through aviaries and are already forming a strong bond.

The European Endangered species breeding Programme (EEP) Coordinator recommended the match.

Copyright: Marwell Wildlife

Quote Message: They are spending a lot of time together out and about in the enclosure. Bulu has been attempting to give Cinta food items and this is positive pair-bonding behaviour. At the moment she seems a little confused by what he is trying to do, but this is probably because she is still young. She will understand eventually." from Meg Fieldhouse Team Leader for Birds Section at Marwell Wildlife

Reports NHS trust is in 'special measures' denied by chief executive

The chief executive of the Isle of Wight NHS Trust is reassuring staff after claims the service was in special measures. 

It comes after reports the trust had received a CQC report and appointed an Improvement Director. 

Chief executive of the trust, Karen Baker has now sent an email to all staff confirming that Philippa Slinger has been appointed to the role. 

The email also stated the trust is waiting for an official CQC report. When this has happened the watchdog will decide whether the trust should be placed in special measures.  

Ms Baker said they had until 28 March to provide comments on the draft CQC report and it will be published shortly after that. 

Quote Message: We only received the draft CQC report for factual accuracy checking late on Friday. We cannot comment on a report which is not ours and has not yet been published. However, NHS Improvement have recognised the challenging times we are in and we are fortunate to have an Improvement Director appointed now, as many trusts only receive that support after they are put in 'special measures'. Philippa's role is to focus on improvement whilst we carry on providing care and I'm very pleased to have her support." from Karen Baker Chief Executive Officer of Isle of Wight NHS Trust

Seatown fossil find 'impressive'

A fossil believed to be that of a plesiosaur being uncovered at Seatown in Dorset "looks like an impressive find", Sam Scriven, Jurassic Coast World Heritage Site earth science manager, has said.

"However, its real significance won't be clear until it has been cleaned and assessed," he added.

He said the "experienced collectors" carrying out the work to unearth the marine reptile remains were following the West Dorset Fossil Collecting Code which can be found  here . 

Copyright: Philip Halling

Quote Message: If you want to go fossil hunting on the Jurassic Coast it is important to be a responsible fossil collector and to stay safe. Only collect loose fossils and never hammer or dig into the cliff face or rocky ledges without permission. Only go out during a low tide, stay away from the cliff face and always wearing goggles when you use a hammer. Be aware of other beach users, too. from Sam Scriven Jurassic Coast World Heritage Site earth science manager

"Lifeline" ferry service in the Solent for sale at over £250million

The owners of a major Solent ferry service have revealed they are selling the company for more than £250million. 

Red Funnel owners, InfraCapital, have revealed plans to sell the company after running it for nine years. 

The announcement has triggered outrage with local MPs who expressed concerns over the future of the company. 

Isle of Wight MP, Andrew Turner, said: "I want the interests of the islanders, business and our public service protected and indeed improved. The sale of these vital transport links every few years has not served the island well." 

Leader of Isle of Wight Council, councillor Dave Stewart, said: "Red Funnel is a profitable company, but also a lifeline service which should not be exploited." 

Copyright: BBC/Richard Sowersby

Jurassic Coast 'plesiosaur' fossil uncovered

Peter Townsend, from Weymouth, has filmed these dinosaur fossils being uncovered in Seatown, near Bridport.

He said they are believed to be those of a plesiosaur marine reptile.

Severe accident: A354 Dorset both ways

BBC News Travel

A354 Dorset both ways severe accident, between Verne Hill Road and Yeates Road affecting Castle Road.

A354 Dorset - A354 New Road in Fortuneswell closed in both directions between the Verne Hill Road junction and the Yeates Road junction, because of an accident involving car and bus. Congestion to the Castle Road junction.

To report traffic and travel incidents dial 0330 123 0184 at any time

New weekend summer sun connections from Southampton Airport announced

A new schedule for up to 76 connections to France and Italy at the weekends has been announced from Southampton Airport. 

The airport is offering the new weekend regional connections for sunseekers on Saturdays and Sundays. 

Flybe has made the announcement which will mean regional passengers can connect through Southampton to their final destination with "minimum fuss". 

New destinations via Southampton include Biarritz, Bordeaux and Verona. 

Quote Message: It is great that Southampton Airport is now a weekend leisure hub for Flybe which allows the rest of the UK to enjoy a 'breeze through' experience en route to their holiday destination. The airport prides itself on being fast, easy and friendly and is delighted that it can now help even more passengers reach summer sun from their local airport." from Dave Lees Southampton Airport's Managing Director

Trampoline park emergency calls revealed

A Southampton trampoline park has the second highest ambulance call-out figures,  figures obtained by BBC 5 live's Daily programme show .

Oxygen Freejumping in Southampton, which had 200,000 jumpers in the last year, had 13 call outs in 114 days - one every 9 days.

Flip Out Portsmouth, had a lower call out rate, with paramedics attending eight times in its first 106 days - an average of once every 13 days.  

Statistics from a Freedom of Information request show callouts made by 30 parks in 12 months to April 2016. More than 140 UK trampoline parks have opened since the first in 2014.

Strait jacket escape attempt planned for Spinnaker Tower

Magician Dan Churchley has announced he is to attempt a strait jacket escape while suspended 100m above sea level, beneath the Spinnakers Tower's glass floor.

The Portsmouth-based performer's stunt will take place on 12 April, as a fund raiser for the Clic Sargent cancer charity.

Copyright: Spinnaker Tower

Quote Message: I'm very excited about the stunt but as it draws nearer, the nerves are definitely starting to kick in. It is a seriously high point to be dangled from for all to see but it will be worth it to raise money for CLIC Sargent, who are the real inspiration behind this event. from Dan Churchley

Pensioner critically ill after crash

A man has been airlifted to hospital with life-threatening injuries after a two-vehicle crash in Dorset.

The 77-year-old's Nissan X-Trail collided with a van at about 11:35 GMT on a minor road between West Stafford and Crossways, near Dorchester.

His passenger, a 76-year-old woman, and the van driver were also taken to hospital with serious injuries.

Travel Dorset said the accident, near a level crossing, had closed the road between Crossways and Lewell.

Genny Dauti murder: Two remain in custody

Two men, aged 27 and 28, remain in police custody as police continue to investigate the murder of Genny Dauti.

Originally from Albania, Mr Dauti, 21, was found on Gilpin Close in the early hours of Saturday. He had suffered a stab wound to his chest and later died in hospital.

Detectives arrested three people on suspicion of murder yesterday and have since released a 30-year-old woman with no further action.

Copyright: Hampshire Constabulary

Severe disruption: M3 Hampshire northbound

BBC News Travel

M3 Hampshire northbound severe disruption, at J7 for A30.

M3 Hampshire - M3 lane closed on exit slip road northbound at J7, A30 (Basingstoke), because of a broken down vehicle. Traffic is coping well.

To report traffic and travel incidents dial 0330 123 0184 at any time

Joe Weatherley loan move to play 'as much as possible'

Hampshire batsman Joe Weatherley has signed a new contract with the county, while also agreeing to join Kent on a season-long loan for the 2017 campaign.

The former England Under-19 captain and Hampshire academy graduate has extended his deal at the Ageas Bowl until 2019.

Quote Message: "It stems down to me being at an age where I want to play as much as possible. Ultimately, I want to be playing as much cricket as I can. Ideally, that would be for Hampshire and I want that to be for them long-term. But this year, I think it's best for me to get some cricket elsewhere and I'm looking forward to joining up with Kent. from Joe Weatherley

Copyright: Dave Vokes Photography

Meerkats watching their weight

Isle of Wight Zoo has published this picture of its meerkats waiting to be weighed ... have they been piling on the pounds?

Celebrations at the Drovers Inn in Gussage All Saints

Low tide pictures of Dorset coast

Dorset Wildlife Trust has posted some great recent pictures of Kimmeridge at low tide.

Emergency services concern over missing Irish helicopter

Woman in court over pensioner 'murder'

A woman has appeared in court charged with murdering an Aldershot pensioner.

Man Limbu, 75, was pronounced dead at a flat in Victoria Road on Friday.

Copyright: Hampshire Constabulary

Sun Maya Tamang, 50, of Victoria Road, is also accused of attempted murder, aggravated burglary and false imprisonment, relating to an incident involving a 47-year-old woman on the same day.

She was remanded in custody to appear at Winchester Crown Court on Thursday.