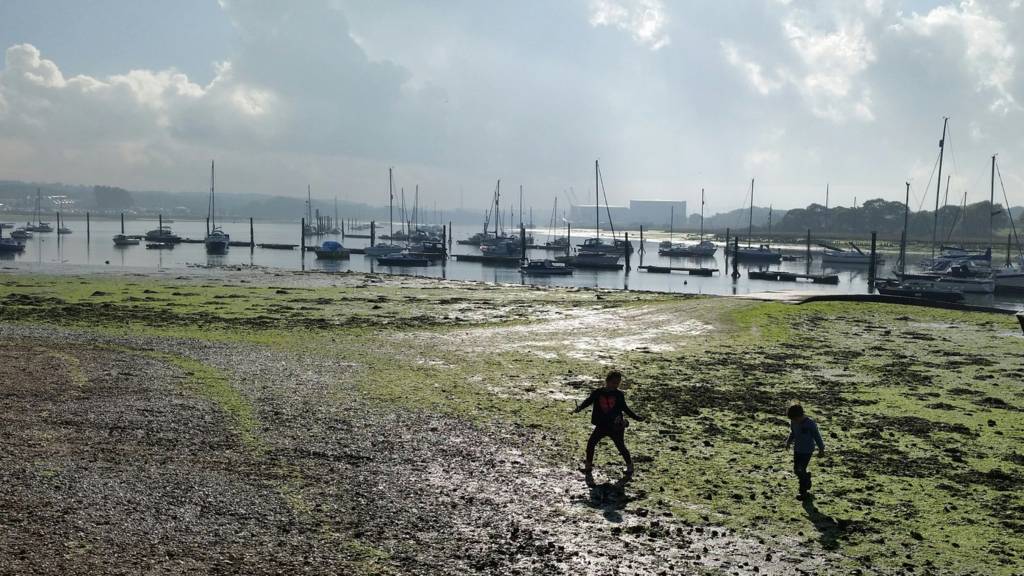 Live
Dorset, Hampshire and IoW Live: Local elections
You can get in touch by email, on our Hampshire and Dorset Facebook pages or on Twitter @BBC_Hampshire and @BBCDorset.
Thanks for reading, we'll be back with more news, sport, weather and travel from across Dorset and Hampshire on Monday from 08:00.    

Breaking

Two charged over Guy Hedger murder

Mr Hedger was shot dead in the early hours of Sunday at his home near Ringwood.

Police believe the marketing executive was attacked by intruders looking to steal items from the home.

Jason Baccus, 41, and Scott Keeping, 44, both of Verney Close in Bournemouth, have been charged with murder and aggravated burglary and are due to appear at Bournemouth Magistrates' Court tomorrow.

Image caption: Mr Hedger was a director of the Avonbourne International Business and Enterprise Trust, which runs colleges and a primary school in the Bournemouth area

Hullabaloo community arts event in Sandown

Sandown is hosting the first Hullabaloo community arts event this weekend.

The event features professional a kite flier on Yaverland Meadow, dance and music acts, costumed performers, including articulated tigers and dinosaurs.

Organisers, arts group Shademakers say they'd like to see it become a regular event.

Quote Message: We want to invite people to take an active part in this event and generate a sense of well-being and joy in those who attend. We plan to do this by creating a stimulating environment, full of interactions and activities, inspiring sights and sounds, and elements of the unexpected, for people of all ages. from Paul McLaren Shademakers

Local elections: Councils' party breakdown

Here is the state of the parties in our local councils after last night's election counts.

Pompey set for promotion celebration

Pompey will celebrate promotion to League One with an event at Southsea Common on Sunday.

Players, management and directors will receive the official city commendation from the Lord Mayor of Portsmouth on the stage at 13:30.

Portsmouth were promoted to League One last month and have a chance of winning the League Two title tomorrow.  

Image caption: The last celebration event held at Southsea Common followed the 2008 FA Cup win

Conservatives 'to defend Sandown school'

Conservatives, who have gained control of Isle of Wight Council, have pledged to defend Sandown Bay Academy in the face of "closure plans".

On Thursday, the secondary school's sponsor, Academies Enterprise Trust (AET), announced plans to merge it with Ryde Academy, because of falling student numbers and a "significant financial deficit".

AET said no decision had been made on whether to operate two campuses or on any job cuts. 

Quote Message: Over my dead body will Sandown not have its own secondary school. We will be pulling out every stop to deliver on this clear objective. from Chris Whitehouse Isle of Wight Council lead member for children's services

Gareth Rogers steps down as Saints chief exec

Southampton FC has announced its chief executive Gareth Rogers is leaving the club to "pursue new opportunities". 

Rogers became chief executive in 2014 having previously been chief financial officer at the club. 

A club statement said it would be "implementing an internal restructure over the coming weeks".

Copyright: Southampton FC

Police appeal over suspected Basingstoke arson

Police have issued an appeal for information about a suspected arson in Basingstoke on Wednesday evening.

Emergency services were called to reports of a fire at a house above a shop in Watson Way.

Firefighters rescued an eight-year-old boy from the building. He was taken to Basingstoke hospital for treatment to smoke inhalation.

 A 26-year-old woman also managed to escape the fire in the building.

The exact cause of the fire is still unknown but is being treated as suspected arson.

Quote Message: We are really keen to find out more about what happened that evening. Were you in the Watson Way area? Perhaps you were visiting one of the shops in the parade or the nearby pub? Did you see anything suspicious? from Det Const Dan Lewis Hampshire Constabulary

Concrete blocks set to be moved from Avon Beach

Concrete blocks at Avon Beach will be moved as part of beach replenishment works next month.

The blocks were installed as temporary flood defences in November 2016 but concerns were raised they would make access to the beach difficult during the summer months.

Christchurch Borough Council said it would move them closer to the beach and bury them under the raised beach levels created by routine beach replenishment work.

The work is due to take place next month.

Copyright: Christchurch Borough Council

Liverpool v Southampton: MOTD Commentator's notes

Steve Wilson

Match of the Day commentator

"Having failed to score against Southampton over the course of three matches already this season, Liverpool would be right to be wary of this latest encounter at a time when they can afford no more slip-ups.

"After drawing with Bournemouth and losing to Palace, a home win is overdue - but Southampton have already exploited Liverpool's vulnerabilities as well as anyone.

"If Jurgen Klopp's side do fail to finish in the top four it will be entirely of their own doing after underperforming in too many games which on paper seemed underwhelming.

"Southampton may be securely mid-table without too much to trouble them, but the boos which greeted their inability to beat Hull at St Mary's a week ago will have hurt and should ensure a response."

Oriol Romeu Vidal wins Saints Player of the Year award

Bournemouth v Stoke: MOTD Commentator's notes

John Roder

Match of the Day commentator

"This week I have had several people suggest to me that this is a meaningless end-of-season fixture.

"I would disagree vehemently. Both Bournemouth and Stoke are chasing a top-10 finish.

"Mark Hughes will be desperate to halt Stoke's poor run as they try to record a fourth successive top-half position.

"As for Bournemouth, it must be remembered that it was only eight years ago that they overcame a 17-point penalty to avoid relegation from the Football League.

"After last week's victory at Sunderland they are almost mathematically assured of a third season in the Premier League - a magnificent achievement."

'Dangerous sexual predator' jailed for student assaults

A man has been jailed for five-and-a-half years after he admitted sexually assaulting two university students in Bournemouth in September and November last year.

Craig Perkins, 29, of Victoria Park Road, was also given an extended licence period of four-and-a-half years.

Bournemouth Crown Court heard Perkins was already subject to a Sexual Offences Prevention Order following a sexual assault conviction in 2013.

Det Ch Insp Sarah Derbyshire said: "Craig Perkins is a dangerous sexual predator...[his] actions have had a life-changing impact on his victims who say they no longer feel safe."

Nesting birds disable countryside ranger's van

A pair of pied wagtails have built a nest in the wheel arch of a ranger's van at Avon Heath Country Park, near Ringwood, putting the vehicle out of action for several weeks.

Senior ranger Ben Wallbridge says they moved in some time over the bank holiday weekend when the 4x4 was left unattended for four days. 

The mother bird has laid several eggs which take about two weeks to hatch before the chicks are reared.  

Copyright: Ben Wallbridge

Copyright: Ben Wallbridge

Quote Message: We've got 600 acres of heath and woodland and they choose our truck. We won't be able to use it for several weeks. from Ben Wallbridge Senior ranger, Avon Heath Country Park

Can firms refuse old fivers?

First Dorset has joined another Dorset bus firm, Damory Coaches, in refusing to accept old paper £5 notes today, even though they remain legal tender until midnight.

The Bank of England says firms are within their rights not to take the notes before Saturday if they choose. 

Customers can exchange old fivers for new polymer notes at their own high street banks after tomorrow.

Watch: Local elections round-up

Conservatives win Hampshire, Dorset and Isle of Wight councils; A bad night for Isle of Wight independents; Dorset's Tory leader unseated by Lib Dems; UKIP lose all seats - here's a round-up of our local election results.

Local elections 2017: 'What's the point of UKIP?'

BBC South's political editor Peter Henley with his take on the local election results in southern England.

Armed robbery at Bournemouth post office

A man escaped with cash from the Hengistbury Head branch this morning, it is reported.

Green party leader on Isle of Wight

Green Party co-leader Jonathan Bartley is in Ryde to celebrate the party's first ever triumph in the Isle of Wight Council elections.

Michael Lilley gained a seat in Ryde East, while the Conservatives seized control of the council after securing 25 seats elsewhere.

Mr Bartley said: "It's clear the Greens are challenging the Tory reign in the Isle of Wight, and are set to run our boldest-ever general election campaign in the coming weeks."