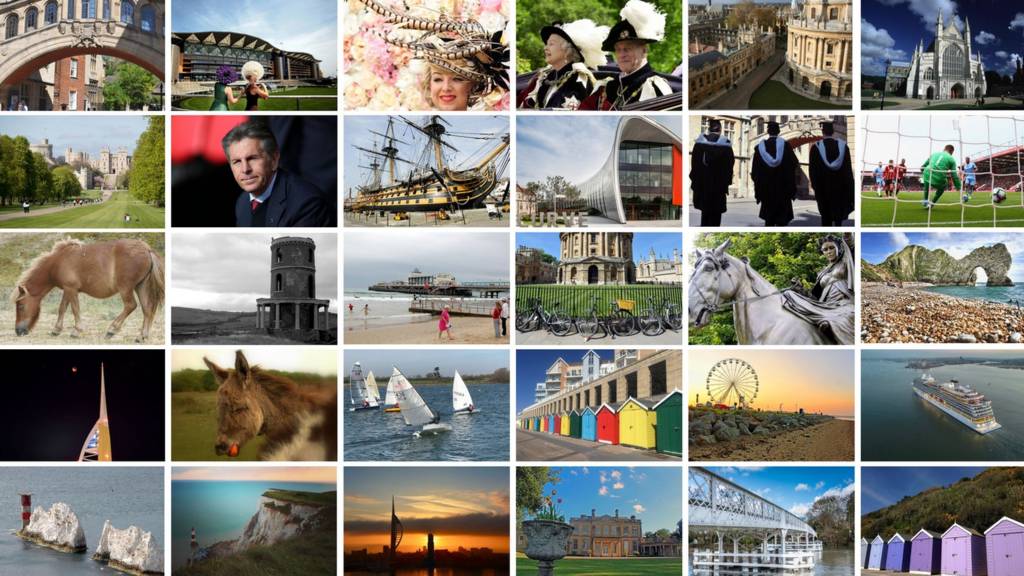 South Live: Monday 15 May
You can get in touch by email, on our Berkshire, Oxford, Hampshire and Dorset Facebook pages or on Twitter @BBCBerkshire @BBCOxford @BBC_Hampshire and @BBCDorset.
Summary
Cowes chain ferry breaks down a day after new service begins
Woman dies in four-car crash in Dorset
Man dies two months after Dorchester crash
Call for cars to be banned from centre of Oxford after cyclist death
Royal Berkshire Hospital affected by global cyber-attack
Updates from Monday 15 May
Weather outlook: Warm but cloudy

It will be a very mild evening and night. 

Largely overcast skies will give some slight rain or drizzle at times. 

Brisk southwest winds will persist, occasionally strong near the coast. 

Tomorrow will be mainly cloudy but some breaks will allow some warm sunny intervals in the east. 

Periods of rain in the west will spread eastwards later and the brisk winds will ease.

For a full 10-day forecast, visit the BBC Weather site.

Cowes Floating Bridge: Chain ferry suspended on MCA orders

The Maritime & Coastguard Agency (MCA) has issued a statement on the troubled Cowes Floating Bridge which remains suspended following an inspection earlier today.

It highlighted "training issues" which needed addressed before the service between Cowes and East Cowes could resume.

Cars struggled to embark and disembark without scraping their bumpers during its first day of operations on Saturday and the vessel broke down on Sunday morning.

Quote Message: We have inspected the ferry this morning and have subsequently suspended the passenger service until the company have addressed some training issues we've identified. We will be re-inspecting the vessel in due course, subject to these issues being rectified. We are confident that the company is working hard to bring the vessel into full service shortly." from Maritime & Coastguard Agency

Man rescued after getting stuck in New Forest bog

Cowes Floating Bridge: Continued suspension 'hitting businesses'

East Cowes independent councilor Karl Love said the suspension of the chain ferry service is having an impact on local businesses.

Breaking

Man dies of injuries after Dorchester crash

An elderly man who was injured in a serious crash near Dorchester has died in hospital.

Officers were called at to the two-vehicle crash, involving a silver Nissan X-Trail and a white Iveco panel van on an unclassified road between West Stafford bypass and Crossways, at about 11:35 BST on 14 March.

The driver of the Nissan - a 77-year-old man from the local area - suffered serious life-threatening injuries and was airlifted hospital where he has since died.

Goshawks eggs hatch in New Forest

Two Goshawk chicks jave been born in a nest monitored by the New Forest's Date With Nature webcam.

Highcliffe's zig zag path set for full rebuild

A coastal path at a Dorset beauty spot is to remain closed until next year for a full rebuild.

The zig-zag path at Highcliffe Castle was closed for public safety in March as surveys showed a failure of the retaining timber support was likely. Surveys showed a temporary solution would not be safe.

The council has set aside funds of £350,000 and was also recently awarded approximately £280,000 towards the rebuild as part of the Dorset Coastal Community Bid.

It is hoped the rebuilt path would be open in time for easter 2018.

Copyright: Christchurch Borough Council

Quote Message: We understand the closure has impacted on local residents and visitors but the safety of the public has to be our priority. The recent period of dry weather has further exacerbated issues in the area, and recent cliff falls locally demonstrate why it is essential we do not reopen the zig-zag path until we are confident that it is safe from Matti Raudsepp Strategic director, Christchurch and East Dorset Councils,

Dorset travel latest: Poole road closure due to crash

Ashmolean Museum acquires Civil War portrait to mark founder's 400th birthday

Oxford's Ashmolean Museum is celebrating the 400th birthday of its founder Elias Ashmole.

It was marked with the arrival of a group portrait of three Royalist commanders painted in the city during the Civil War.

Pedestrian injured after being hit by a car in Poole

South West Trains disruption due to 'blocked line'

A year of #SouthernStrikes

Can you believe that we've had more than a year of Southern rail strikes? 

Talks between Southern and the RMT have resumed today. 

Here we take a look at the strike in numbers… 

Southern rail strike talks adjourned

Talks between Southern rail and the RMT union have ended after an hour, BBC South transport correspondent Paul Clifton has reported.

The year-long dispute over parent firm Govia Thameslink's plans to introduce driver-only-operated trains has led to 31 days of strike action so far.

Hospitals still affected by cyber attack

At least two hospitals in the south of England are still dealing with damage caused by Friday's global cyber attack.

The walk-in X-ray service at Basingstoke hospital is closed for the rest of the day although the NHS trust says its radiology services affected by the ransomware attack have been restored.

The Royal Berkshire NHS Foundation Trust says some of its telephone systems remain affected.

People are asked to refrain from phoning the hospital and clinics unless urgent, although the hospital is trying to run services as normal.

Two Isle of Wight GP surgeries - Esplanade Surgery in Ryde and Medina Healthcare in Newport and Wootton - have also reported IT issues which are restricting access to appointments.