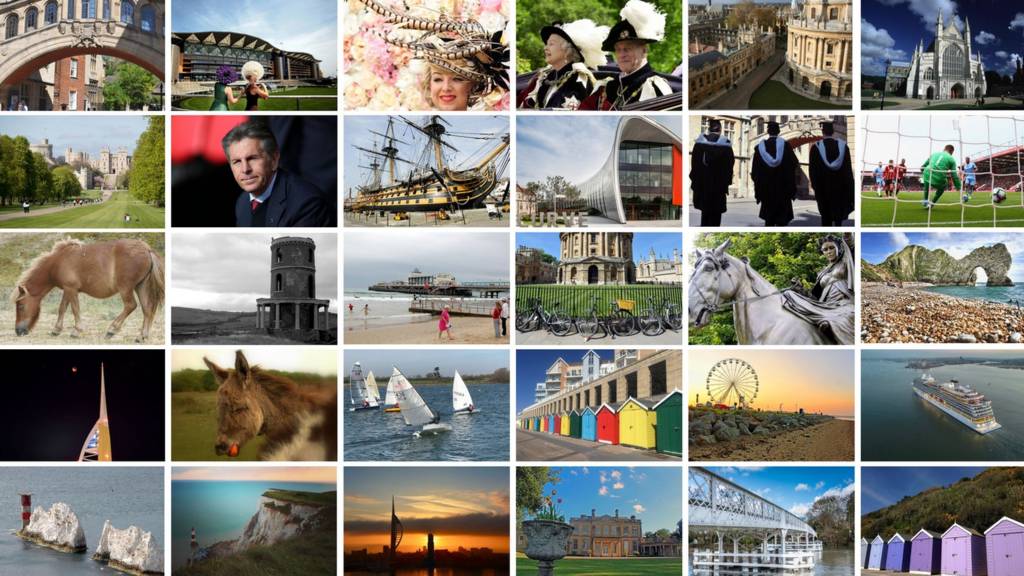 South Live: Thursday 11 May
Live coverage of breaking news stories from Berkshire, Oxfordshire, Hampshire and Dorset.
LIVE: The biggest ship to ever visit the UK docks in Southampton

We're live from the biggest ship to ever visit the UK.

Oxfordshire's election candidates

The full list of candidates for each parliamentary constituency in Oxfordshire has been released.

Banbury

CONS Victoria Prentis

LAB Sean Woodcock

LIB DEM John Howson

Independent Roseanne Edwards

UKIP Dickie Bird

GREEN Ian Middleton

Witney

CONS Robert Courts

LAB Laetisia Carter

LIB DEM Liz Leffman

GREEN Claire Lasko

UKIP  Alexander Craig

Oxford East

CONS: Dr Suzanne Bartington

LABOUR: Anneliese Dodds

LIB DEM Kirsten Johnson

GREEN Larry Sanders 

Independent Chaka Artwell

Oxford West and Abingdon

CONS Nicola Blackwood

LAB Marie Tidball

LIB DEM Layla Moran

UKIP Alan Harris

Henley

LAB Oliver Kavanagh

CONS John Howell

LIB DEM Laura Coyle

GREEN Robin Bennett

The Radical Party Patrick Gray

UKIP Tim Scott

Wantage

CONS Ed Vaizey reselected

LAB Rachel Eden

LIB DEM Chris Carrigan

GREEN Sue Ap-Roberts

UKIP David McLeod

Massive container ship docks in UK

Stephen Stafford

BBC South

The biggest ship to dock in the UK has arrived in Southampton. 

The 400m-long MOL Triumph is the first of a new type of ultra-large container vessel to enter service this year. 

Its operators claim it is more fuel efficient than previous carriers. 

Built by Samsung in South Korea, the ship will run between Chinese and European ports. 

It can hold the equivalent of 20,170 containers. Southampton port operator said it was a "significant and proud occasion".

Deer trapped between buildings in Abingdon

The RSPCA has released pictures of a deer that got wedged among bags of rubbish between two buildings in Abingdon last week.

The animal was spotted in the small gap in Draymans Walk by a member of the public on Friday, spurring the charity into action.

Animal collection officer Grace Mead said: "The deer was trapped in a very small space between two brick walls next to a bin store. 

"We initially didn't think he was able to move or turn around to set himself free and thought we'd have to remove the breeze blocks, but thankfully we were able to free him uninjured by coaxing him back out.

"It was great to see him run off freely back to where he belongs."

The council is to now block up the gap to stop other animals getting trapped.

Wide angle lens needed for MOL Triumph

Breaking

Man jailed for Oxford park rape

A man has been jailed for life after raping a woman in an Oxford park. 

Mark Pearton, 44, of Cavendish Place, Eastbourne, attacked the victim on the evening of 10 January as she was walking in Harcourt Hill. 

He approached her from behind with a knife, threatened her with it, and led her to Raleigh Park where he raped her. 

Pearton was sentenced at Oxford Crown Court earlier and told he would serve a minimum term of seven and a half years. 

Nine-year-old killed by horse while riding with hunt

An inquest into the death of Bonnie Armitage has heard how the nine-year-old died when she was kicked in the chest by another horse.

Bonnie — a pupil at St Hugh's School in Faringdon, Oxfordshire — was out riding a Shetland pony with members of the Cotswold Hunt in Miserden, near Stroud, when the tragedy struck.

The horse was ridden by local farmer Toti Gifford, who suggested his horse may have been spooked by Bonnie's pony.

Quote Message: I was just cantering up the side of the field and my horse went 'irregular'... I heard a shout and looked back and saw Bonnie. from Toti Gifford

Murder accused 'wouldn't harm a kid'

Joseph Eke, who denies killing two-year-old Harry House, said the toddler called him "Daddy Joe Joe".

PM's campaign visit tests correspondent in Southampton

Theresa May visited the Labour-held Southampton Test constituency this afternoon - causing a few issues for BBC South's Peter Henley to contend with.

Earlier this week, Jeremy Corbyn visited the constituency in support of Labour candidate Alan Whitehead, who has held the seat since 1997.

Mystery death not treated as suspicious

The "unexplained" death of a man found with serious head injuries is no longer being treated as suspicious, police have said. 

A 55-year-old was found unconscious at a property in Prince of Wales Avenue, Reading, on Sunday. He died on Tuesday. 

Thames Valley Police appealed to trace a female witness, who has since been located. 

A post-mortem examination was inconclusive, and officers will continue to probe the cause of death. 

MOL Triumph on Southampton Water

Neil Sackley

Reporter, BBC Radio Solent

We're on board the giant cargo ship MOL Triumph as she heads up Southampton Water.

Southampton 0-2 Arsenal: Claude Puel frustrated with lack of goals

Southampton manager Claude Puel says he is frustrated with his side's lack of goals after a 2-0 home defeat by Arsenal.

Second-half goals from Alexis Sanchez and Olivier Giroud earned victory for Arsenal, keeping their hopes for a top four finish alive.