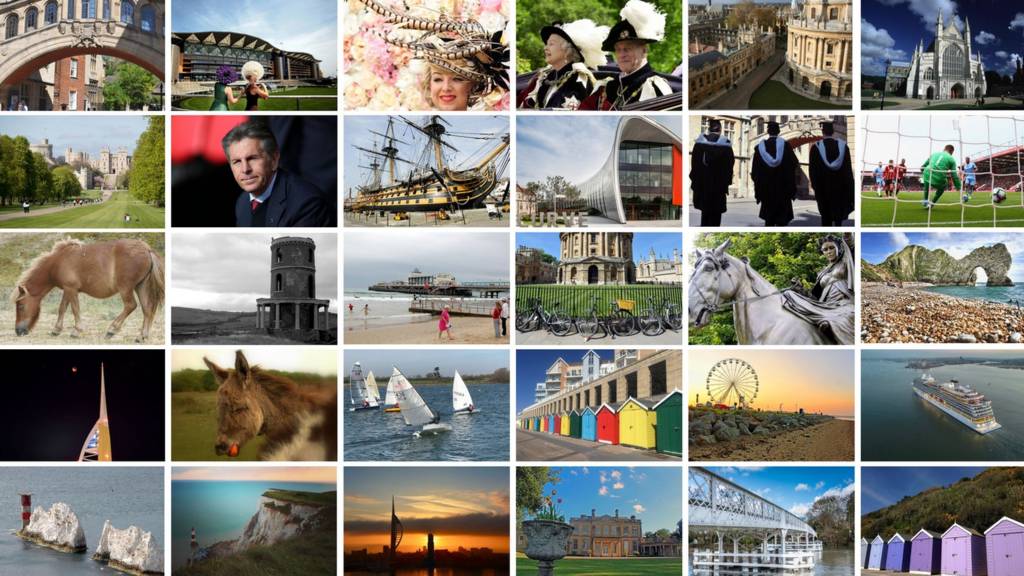 South Live: Wednesday 31 May
You can get in touch by email, on our Berkshire, Oxford, Hampshire and Dorset Facebook pages or on Twitter @BBCBerkshire @BBCOxford @BBC_Hampshire and @BBCDorset.
Summary
Body found in Asda car park in Hampshire
Britain beat Sweden to end run of defeats in America's Cup campaign
Portsmouth care home evacuated following fire
Surge in weddings held in Oxfordshire
Updates from Wednesday 31 May
We're closing down today's live page, but will be back from 08:00 tomorrow morning.

Have a good evening!

CCTV released after Portsmouth assault

Police have released a picture of a man they want to speak to in connection with an assault in Portsmouth.

A 39-year-old was involved in an argument with a group of men outside the Cabin Nelson kebab stall in the early hours of 29 April and was subsequently attacked in College Street when he suffered facial injuries.

The suspects were described as being in their early 20s and wearing smart suits.

Copyright: Hampshire Constabulary

Two hospitalised by 'rogue' ecstasy

Police are warning about a batch of rogue ecstasy tablets in circulation on the Isle of Wight after two people were admitted to hospital.

The red "Beanos" or "Red Death Cons" were bought from someone in Sandown and could contain ketamine or methamphetamine.

Police have warned that taking the tablets could be life-threatening.

Both of those admitted to hospital are now recovering at home.

Anyone in possession of any tablets are urged to hand them in to Newport Police Station for analysis and safe disposal.

Bonded over gliding, split over Brexit

It's teacher pitted against student to discuss the biggest political issues of our time.

It's not the tagline for a blockbuster movie, but an interesting way of analysing how varying age groups perceive this general election.

Philip Morgan and Alex James, from Berkshire, share a passion for gliding, but have very different political views, particularly over Brexit.

It is one of many topics that show a 'generational divide' ahead of this year's general election.

Police to start name people caught drink driving

Dorset Police have started a new campaign to tackle drink driving this summer.

The campaign will see officers "name and shame" people caught drink driving until 30 June.

The month-long operation will involve officers requesting breath tests from all drivers involved in road traffic collisions and routine stop checks.

Anyone charged with a drink driving offence will have their name and court appearance details released to the media.

Quote Message: With the weather continuing to get better, we're at a time when drivers are more likely to risk drink or drug driving after socialising. I would ask those planning to go out for a few drinks to consider how you're going to get home beforehand. Too many people, fail to consider the untold devastation that drink and drug driving can cause." from Police Constable Heidi Moxam Dorset Police Casualty Reduction Officer

Mini-bus on the streets of Bournemouth

What a retired bus driver did with an old mobility scooter...

Oxford University scientists help make bowel cancer 'breakthrough'

New research led by scientists at Queen's University Belfast is being described as a "breakthrough" discovery in the fight against bowel cancer.

Bowel cancer is the fourth most commonly diagnosed cancer in the UK and the second leading cause of cancer death.

Scientists have uncovered different types of bowel cancer that could lead to the development of different types of treatment

Now, researchers at Queen's, in collaboration with the Universities of Oxford and Leeds, have made a big advance in the future treatment of the disease.

Helicopter rescue at Stair Hole on Dorset coast

Kimmeridge Coastguard has posted dramatic footage of a helicopter rescue on the Dorset coast last night.

Three people got stuck on the cliffs at Stair Hole near Lulworth shortly after 20:00.

With a cliff rescue team unable to reach the three, Portland's coastguard helicopter was called in to winch them to safety.

The coastguard said all three were "obviously shaken" but otherwise unhurt.

Woman sexually assaulted in Bournemouth

Detectives are appealing for information after a woman was sexually assaulted in Bournemouth.The 19-year-old local woman was walking in Coach House Place under the A338 flyover on Friday afternoon when she was grabbed by a man, pulled to the ground and sexually and physically assaulted.

She screamed and shouted, prompting a passer-by to intervene before the woman got away and reported the incident to police.

She did not require treatment for any injuries but was left shaken.

Protests at Fawley oil refinery over church investments

Campaigners gathered at the Fawley oil refinery in Hampshire this morning to call for the Church of England to sell its shares in Exxon Mobil and stop investing in oil companies.

It's over concerns about fossil fuels and global warming.

Exxon Mobil says calls for divestment "detract from the real work of searching for solutions to the dual challenge of addressing climate change risks".

Mother welcomes bereavement pledges

A grieving mother calling for parents to be entitled to statutory leave when their children die has welcomed cross-party support for the policy.

The Conservatives and Labour have both included the plan in their manifestos ahead of next week's general election.

Copyright: Family handout

Image caption: Lucy Herd's 23-month-old son Jack died in 2010

It comes after a petition started by Lucy Herd, from Sandhurst in Berkshire, accumulated 231,754 signatures.

Her 23-month-old son Jack drowned in a pond in 2010. His father returned to work three days after his death.

Police update on body discovered in Asda car park

Police have confirmed that the body discovered in the car park of an Asda superstore in Totton this morning is that of a 35-year-old man from Gosport.

The death is not being treated as suspicious and the man's next of kin have been informed.

The store opened as normal at 07:00 BST and customers had access to the car park.

WATCH: Election 2017 South: Education

An audience of voters had their chance to quiz representatives of the main parties standing in the general election in the BBC South Election Debate on BBC One last night.

Here's what the parties had to say on the subject of education.