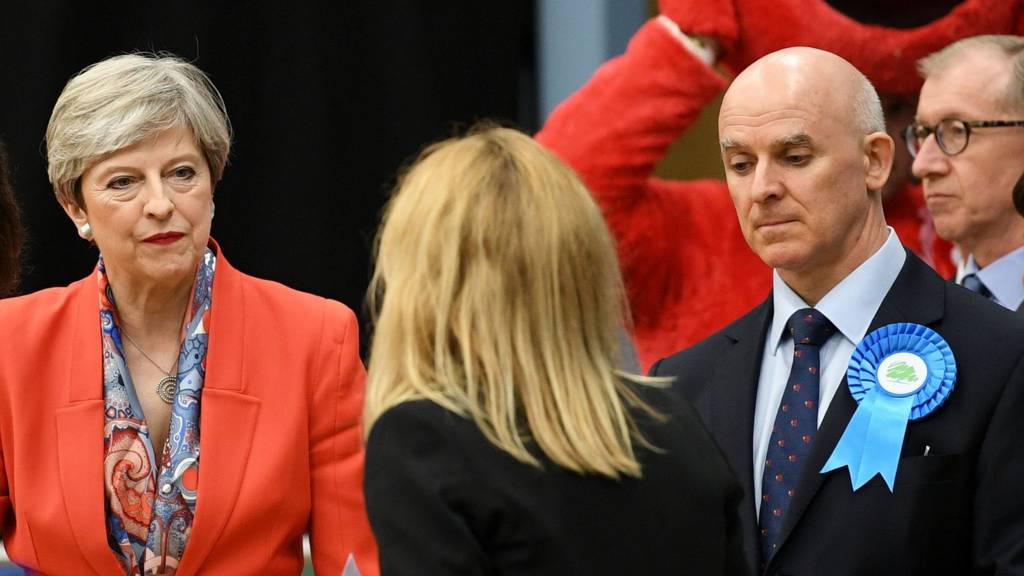 South Live: Election results and other news
Live updates from across Hampshire, Oxfordshire, Dorset, Berkshire and the Isle of Wight as results of the 2017 General Election are revealed.
Counting under way in North Dorset

Dorset North result expected about 02:45 BST

The candidates for the Dorset North constituency are:

Conservative - Simon Hoare
Labour - Pat Osborne
Liberal Democrat - Thomas Panton
Green Party - John Tutton

The area is currently held by the Tories and Mr Hoare is the current MP.

He won the seat at the last election with a 56.6% share of the votes.

This year's ballot papers are being counted at Blandford School.

'Jumping for joy' at Oxford East count

The Oxford East count is well underway at Oxford Town Hall, described by political reporter Bethan Phillips as "the country's classiest election count".

Previously a safe Labour seat, there might have been a bit more uncertainty tonight after the retirement of Andrew Smith, MP since 1987.

But Bethan said the exit poll showing a significant swing to Labour "ripped through the hall" and had some party members "literally jumping for joy".

Tories hopeful in Aldershot

Southampton Guildhall ready for counting

Southampton Guildhall is where the city's two constituencies are being counted - Test and Itchen.

Southampton Test has been a target for the Conservatives with Theresa May visiting the constituency twice during the campaign.

In Southampton Itchen, Labour council leader Simon Letts is hoping to claim the seat back from Tory Royston Smith.

Papers being counted in Witney

Reporter Sophie Law is in Witney, which was the constituency of former PM David Cameron at the last election in 2015.

VIDEO: Portsmouth counting underway

Alastair Fee is in Portsmouth for us tonight. He has sent these images of the scene at the Guildhall in the city.

Student turnout looks high

BBC South's Political Editors Peter Henley's early assessment.

Nerves for Conservatives in Reading

Reporter Nick Johnson is in Reading for us tonight.

He says: "Conservative borough councillor in Reading says he's "very nervous" after exit polls predict both Reading seats to switch from blue to red."

Blues v Yellows in Newbury

BBC Berkshire's Tim Dellor is a sport reporter by trade - and that shines through in his first report of the night, from Newbury Racecourse.

Prof Roger Scully says the exit poll prediction that the Conservatives will be short of an overall majority would be an "extraordinary outcome".

Ballot boxes arrive in Poole

Tristan Pascoe

BBC Dorset political reporter

What happens to my ballot paper?

So by now, you've voted and said goodbye to your voting slip as it disappeared into the ballot box.

But what happens to it next?

This is the scene in Gosport as counting gets underway.

Peter Henley

Political editor, South of England

Portsmouth Labour think they've done well, big turnout especially from students.

If that's the case, Conservatives will need UKIP voters to switch to them, to hang on to both seats.

Complete coverage from across the region

Across our region, we have reporters at the counts across Berkshire, Dorset, Hampshire, the Isle of Wight and Oxfordshire.

We'll be bringing you all the news and reactions from the candidates and declarations.

Exit polls predict close result

The BBC's exit poll is predicting the Conservatives to be the largest party - but short of an overall majority.

The exit poll indicates that the Conservatives will be the largest party but will lose 17 seats with a projection of 314 seats.

The poll suggests Labour will get 266 seats - a rise of 34 seats.

It puts the Liberal Democrats at 14 - an increase of six, SNP 34, Plaid three and Greens one, and UKIP will lose their only seat. The other parties will account for 18 seats between them.

Dan Kerins

Digital Editor, BBC South

Good evening and welcome to the coverage of the General Election results from across the south of England.