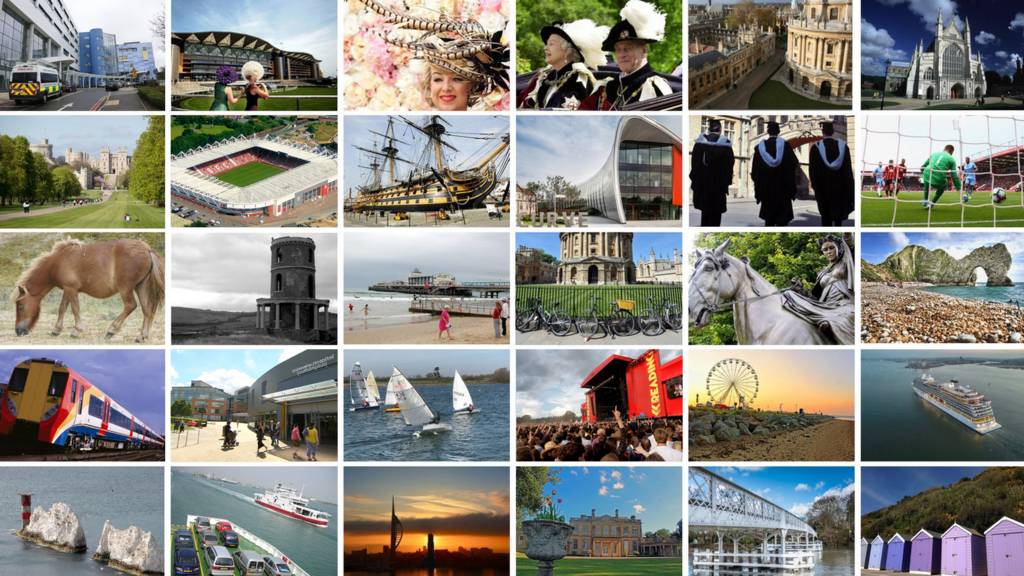 South Live: Wednesday 9 August
You can get in touch by email, on our Berkshire, Dorset, Hampshire and Oxford Facebook pages or on Twitter @BBCBerkshire @BBCDorset @BBC_Hampshire and @BBCOxford.
Summary
Christchurch council to join merger committee
Reading progress in EFL Cup, Pompey and Oxford go out
Crews tackle Portsmouth house fire
Weather: A cool, cloudy and damp day
Updates from Wednesday 9 August
That's it for today's South Live.

We will be back at 08:00 tomorrow with all of the region's latest news, travel, sport and weather.

Two men jailed after unprovoked GBH

Copyright: Thames Valley Police

Image caption: Jamie Malloy (left) from Slough and George Grimes from Priory Mead. Somerset, were both found guilty of grievous bodily harm with intent

Two men who staged an unprovoked attack on two people in Maidenhead have been jailed for four and a half years each.

Jamie Malloy, 20, and George Grimes, 19, kicked and punched a man and twice punched a women as she was on the ground, leaving her with scarring.

It happened at about 03.30 (GMT) on 4 December 2016 in Queen Street.

Malloy and Grimes were sentenced at Reading Crown Court on Tuesday after being found guilty of causing grievous bodily harm with intent.

The Secretary of State has dismissed an appeal for two large housing schemes in Thatcham.

West Berkshire Council had previously refused permission for 760 homes by Croudace Homes and A2 Dominion.

Planning councillor Hilary Cole said: "I am delighted with the Secretary of State's decisions regarding the Thatcham appeals. They show clear support for the council's plan led approach to development."

Premier League Predictions: Southampton to finish 14th

Phil McNulty

BBC Sport chief football writer

New season. New manager. New season. More speculation about their best player.

This seems to be life almost every summer at Southampton as Mauricio Pellegrino replaces the sacked Claude Puel, who seemed harshly dealt with after an eighth-place finish and a Wembley final, while Virgil van Dijk sits on the sidelines declining to figure in pre-season as he craves a £60m move to Liverpool.

Southampton seem to thrive in this environment but surely there will come a time when they cannot pull off this trick of succeeding surrounded by such turbulence.

Premier League Predictions: Bournemouth to finish 10th

Phil McNulty

BBC Sport chief football writer

Bournemouth will be starting to feel almost established in the Premier League now as they enter their third season, still with manager Eddie Howe and the likes of top scorer Josh King.

And this status is reflected in the additions they have made to the squad in the summer.

Asmir Begovic is a goalkeeper of experience and reliability, Nathan Ake is a defender of rich promise while Jermain Defoe will hope to continue the Indian summer of his career towards next year's World Cup with England in Russia.

Bournemouth and Howe are growing together and I expect that to be reflected in another season of good consolidation.

Funding bid for storm-hit Hurst Spit

A bid for £300,000 to help protect a storm-hit beach home of one of Henry VIII's castles is to be made to the Environment Agency.

Copyright: Oast House Archive

New Forest District Council has agreed it would apply for the funding for Hurst Spit, near Milford on Sea.

The 1.5m (2.5km) shingle bank was hit by major storms in 1996, 2013 and 2014.

The cash would allow a study to be carried out to access the viability of restoring the beach material, the council said.

Adderbury 'in need' of dementia facility

A specialist nursing home for people with dementia is to be built in north Oxfordshire because the area has a "clear need" for it, a planning committee has decided.

Cherwell District Council approved the 36-bedroom two-storey building in Adderbury, near Banbury.

It will be developed on a greenfield site near the Gracewell nursing home.

It is expected 36 full-time jobs will be created at the site which will provide 24-hour care.

BBC Oxford: Hair Loss in Women

As part of BBC Oxford's special series on hair loss in women Lilley Mitchell visits a salon that Carron Collins runs from her home, in an effort to make it more comfortable for women.

Premier League kick-off: Cherries training session

Kris Temple

BBC Radio Solent

Severe accident: A3(M) Hampshire southbound

BBC News Travel

A3(M) Hampshire southbound severe accident, at J1 for A3 affecting B2070.

A3(M) Hampshire - A3(M) in Catherington blocked and slow traffic southbound at J1, A3 (Clanfield), because of an accident involving three vehicles. Congestion on A3 to Buriton turn off.

To report traffic and travel incidents dial 0330 123 0184 at any time

Severe disruption: M4 Berkshire westbound

BBC News Travel

M4 Berkshire westbound severe disruption, between J12 for A4 and J13 for A34 Chieveley.

M4 Berkshire - Queuing traffic and one lane closed on M4 westbound between J12, A4 (Theale) and J13, A34 (Chieveley), because of a broken down vehicle.

To report traffic and travel incidents dial 0330 123 0184 at any time

VIDEO: Sunseeker yacht wrecked in blaze

Notes left at scene of pavilion arson attack

Written notes have been discovered at a sports pavilion after it was damaged in a suspected arson attack.

Pavilion A at Slades Farm, Bournemouth, is thought to have been torched on Sunday - the damage was discovered on Monday morning.

Police said a fire exit door had been set alight and a 2ft-wide hole burnt in the top of the door, which had recently been boarded up after previous damage.

Another door appeared to have been forced open and notes were discovered saying the fire had been discovered and an extinguisher and buckets had been used to put it out.

The author said in the notes that they did not contact emergency services for fear of being in trouble.