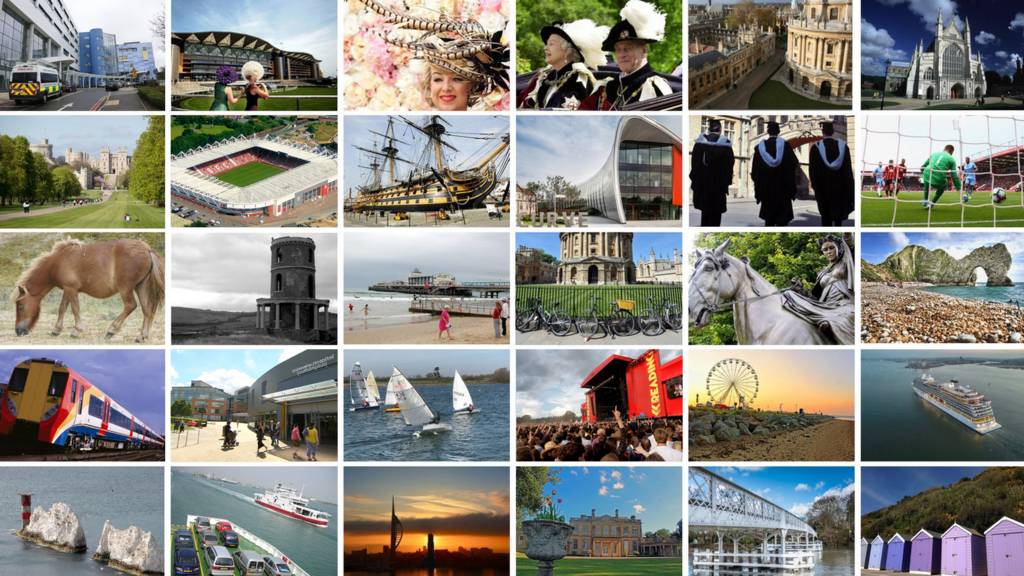 South Live: Thursday 21 September
You can get in touch by email, on our Berkshire, Oxford, Hampshire and Dorset Facebook pages or on Twitter @BBCBerkshire @BBCOxford @BBC_Hampshire and @BBCDorset.
Summary
Updates from Thursday 21 September
Man jailed for spreading terror propaganda
Cruise ship 'back to normal' after fire
Council pledge to re-open ice rink
No subsidy for replacement ferry fares
Teenager dies in Blackwater car crash
Appeal after body found in woods

Police are trying the piece together the final movements of a man from Basingstoke who was found dead last month.

The body of Ashley Shay, 52, was discovered in a wooded area on private land off the A4010 on Tuesday, 22 August.

He was originally from Basingstoke but was last seen when he was released from Bullingdon Prison on 15 May.

Thames Valley Police says the death appears to be "non-suspicious" and have appealed for the public's help to find out what happened to him.

Winchester's power network gets upgrade

Image caption: SEE said the work would improve supplies for homes and businesses in Winchester

The electricity network in Winchester will be getting a £1.4m upgrade next month.

It is needed to meet the rising demand resulting from the growth of Winchester city centre, Scottish and Southern Electricity Networks (SSE) said.

Work will begin on Monday, 2 October and will involve road closures in St Clements Street and Staple Gardens.

Attempted robbery in Southampton

A man who tried to rob a shop in Southampton at knife-point is wanted by police.

He entered News Plus in Alfriston Gardens, Sholing between 07:15 and 07:20 holding a knife, officers said.

The man then demanded money before running away from the store when the 67-year-old shopkeeper challenged him.

Image caption: Police are looking for a man described as being white and in his late teens to early 20s.

Breaking

Man charged with street stab murder

Police investigating a fatal stabbing in a city street have charged a man with murder.

Kirpal Sanghera, 39, was discovered at the junction of Union Road and Radcliffe Road, Southampton, shortly before midnight on Monday.

Adam Abdallah, 42, of Derby Road, Southampton, has been charged with murder.

He has been remanded in custody and is due to appear at Southampton Magistrates' Court on 22 September.

Police release images of 'dangerous' off-road motorbike riders on green

Thames Valley Police has released a series of pictures of off-road motorcyclists as part of an investigation into anti-social motorbike riding in Slough.

On Sunday residents reported that the green in Lynch Hill Lane, Britwell, was being used by the riders on several occasions, causing large amounts of noise and a danger to pedestrians.

Insp Jonathan Stanley said: "It is an offence under the Road Traffic Act to ride motorcycles on the green with riders facing prosecution and seizure of their bikes.

"If riders are found to have driven dangerously, either on the green or on the adjacent roads, they face imprisonment for up to two years."

Pedestrian dies following crash

A 69-year-old man who was struck by a car on the Isle of Wight last month has died.

The pedestrian from Ryde was taken to hospital following the crash on Binstead Road, Ryde, on 17 August and died of his injuries on Monday.

Murder police name stab victim

A man who was fatally stabbed in Southampton on Monday has been named as Kirpal Sanghera.

The 39-year-old father-of-two was discovered at the junction of Union Road and Radcliffe Road, Southampton, shortly before midnight.

He died later in hospital.

A 42-year-old Southampton man, who was arrested on suspicion of murder, remains in police custody.

Copyright: Hampshire Constabulary

Severe disruption: A3 Hampshire both ways

BBC News Travel

A3 Hampshire both ways severe disruption, at b3004 Headley Road.

A3 Hampshire - A3 in Bramshott blocked and stationary traffic in both directions at the b3004 Headley Road junction, because of an incident.

To report traffic and travel incidents dial 0330 123 0184 at any time

It's the final day of Oxford United's three-day bootcamp at Gibralter Barracks in Surrey.

They've been combining their usual training schedule with team bonding exercises and have even been let loose on the firing range.

Summer really is officially over...

New homelessness plan for Oxford

A new strategy to prevent homelessness and rough sleeping has been launched by Oxford City Council.

Around half of people sleeping rough in the city have no local connection, the authority says, and it plans to help find support in their own areas.

It also says it will increase the number of beds for rough sleepers with links to Oxford to 167 and is talking to churches and the universities about extra accommodation for all rough sleepers when the weather is "severely cold".

Mike Rowley, the councillor in charge of housing, says Oxford is being affected by a "national homelessness crisis" which requires central government action.

City leaders: Portsmouth will be left behind if M27 smart motorway plans are not extended

CCTV images released after teenagers robbed in street

Dorset Police has released CCTV images of suspects thought to have been involved in a street robbery in Bournemouth.

At about 20:30 on Sunday 16 July four boys and two girls, aged about 16, were playing football in Kings Park when they were approached by two men.

A spokesman said: "The men threatened the group claiming they had acid and a knife and demanded cash. They stole money and a vape smoking device. One attempted to steal a bicycle belonging to the group.

"The offenders ran off when one of the group approached nearby members of public for help."

Det Con Sara Watts said: "I am appealing to anyone who recognises these two men to please contact Dorset Police."

BBC History Magazine's History Weekend returns to Winchester

Winchester is to be one of the two locations staging this year's BBC History Magazine's History Weekend, the other being York.

The Hampshire city hosts the weekend on 6-8 October, with talks from the likes of Dan Jones, Michael Wood and Tracy Borman.

Twenty-eight speakers will take part in the event in the Great Hall and the Ashburton Hall.

Dave Musgrove, BBC History Magazine publisher, said: "We're very excited to be returning to Winchester after our hugely successful debut in the city last year.

"We had such an amazing response to our festival last year that we couldn't fail to come back."

First winner of £3m Postcode lottery prize named

Portsmouth scrapyard fire extinguished

Teenager dies in two-car crash on A30 at Blackwater

A teenage boy has died in a two-car crash on a Hampshire road.

He was in a Vauxhall Corsa which collided with a Ford Fiesta on the A30 at Blackwater shortly after 21:00 BST on Tuesday.

The 17-year-old from Blackwater was pronounced dead at the scene. The Fiesta driver, a 24-year-old woman, was taken to hospital with minor injuries.

Two boys, aged 15 and 16, were arrested on suspicion of causing death by dangerous driving.

Fire crews in Portsmouth tackle blaze in scrapyard

Hampshire Fire and Rescue Service is currently tackling a fire on Clarence Street in Portsmouth.

A caravan is believed to be on fire in a scrapyard. Two appliances have been sent from Southsea to deal with the incident.

Copyright: @HantsPolRoads

A spokesman told the BBC the fire was not being treated as serious, and was expected to be resolved shortly.