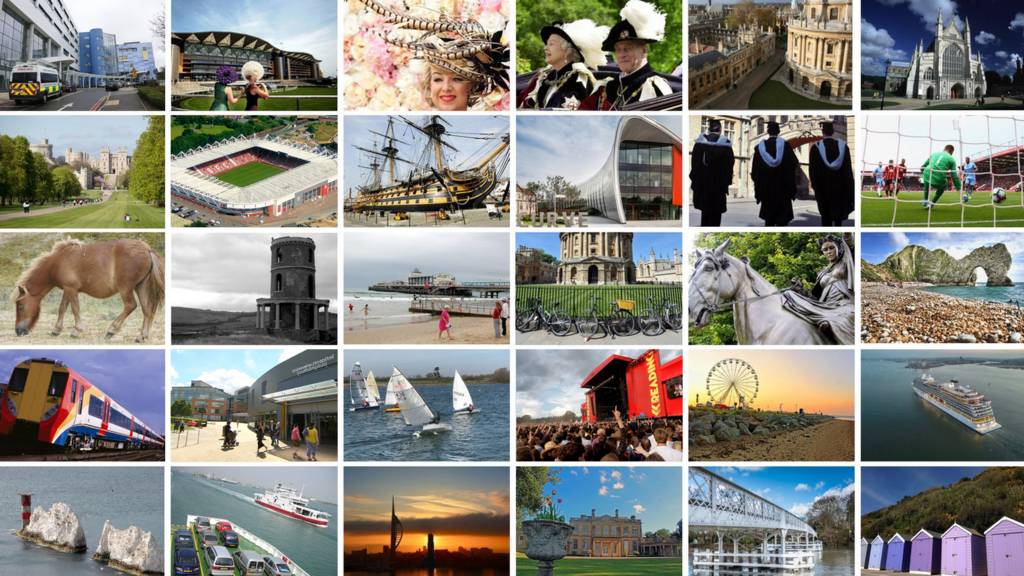 South Live: Friday 21 July
You can get in touch by email, on our Berkshire, Oxford, Hampshire and Dorset Facebook pages or on Twitter @BBCBerkshire @BBCOxford @BBC_Hampshire and @BBCDorset.
Summary
Updates from Friday 21 July
Magistrate jailed for sex abuse
Oxford 'favourite' to build new Mini
Man attacked in Reading home by masked gang
Hampshire residents protest 5,000 new homes
Plan to remove pylons from Dorset beauty spot
That's all for today, thank you for your company today and this week.

We will be back giving you all the latest news, sport, weather and travel for the South, at 08:00 BST on Monday.

Have a superb weekend.

'Most expensive' beach hut up for sale at Mudeford Spit

A beach hut on the Dorset coast, which could be the most expensive sold in the UK, has gone on the market.

The 17ft x 10ft (5m x 3m) recently refurbished wooden beach hut with views of Christchurch Harbour, is on sale for £280,000 and already has had several viewings.

Estate agent Andy Dennison said a hut recently sold for £275,000 and he was hopeful this would go for the higher asking price.

He said prospective owners would be buying into a "nice way of life".

Quote Message: "It's such a lovely place - you've got the sea on one side and the sand on the other. You could spend the whole six weeks of the school holidays in a safe environment, or go down there after work in the evenings. We're just going with the market - it's still quite vibrant." from Andy Denisons Denisons Estate Agents

Portsmouth Uni choir in Pitch Battle finals tomorrow

Man jailed for violent stabbing attack

A man has been jailed for 12 years after admitting stabbing his drug dealer repeatedly in Bournemouth.

Christopher Henry-Jowitt, 21 and of no fixed abode, pleaded guilty to inflicting grievous bodily harm, robbery and possessing an offensive weapon after the attack in the Littledown area of the town.

Image caption: Christopher Henry-Jowitt was sentenced at Bournemouth Crown Court today

Henry-Jowitt got into a disagreement with the victim on 30 September, 2016, after he tried to take his watch by force. He took out a hunting-type knife before stabbing the victim in the chest, abdomen, face and arm.

The victim then lost conciousness, and was assisted by members of the public before being taken to hospital.

Henry-Jowitt then handed himself into police on 13 January this year.

Bournemouth and Poole merge tourism services

Bournemouth and Poole councils have announced they are to merge their tourism marketing efforts.

Borough of Poole Council has approved plans for a "joint tourism strategy" and a "single delivery of tourism and seafront Services" across both areas, to be hosted by Bournemouth.

The authorities have said it would provide opportunities for saving money, while maintaining a distinctive offering of the two destinations.

Quote Message: It will sharpen the competitive edge of our destinations, improve our services and deliver savings. Both our towns have a unique identify and this agreement will expand tourism and safeguard thousands of jobs which depend on a healthy number of visitors." from Mohan Iyengar Portfolio holder for Tourism, Poole

Christchurch's Regent Centre partially reopens

The Regent Centre in Christchurch is able to partially reopen following concerns over the building's structure and the strength of columns supporting the circle and roof.

The theatre's auditorium will reopen from tomorrow although the circle seating will remain closed as a "precautionary measure".

Sheduled films and shows will go ahead as planned while people with circle tickets will be offered refunds or alternative tickets, if available.

Saints 'told me Van Dijk was not for sale'

Chance to view Poole Bridge repair works

There is a change to see how the work to refurbish Poole Bridge is progressing this weekend.

The 90-year-old bridge, which links Poole to the port and ferry terminal, is currently undergoing a £4.2m repair project after cracks were discovered in the concrete.

A vantage point has been set up on Poole Approach to allow members of the public to see the work taking shape.

Kos Quake: 'Bits of the wall started falling off'

An 18-year-old woman from Yateley was holidaying on Kos when the quake hit last night.

Emma Dougan told us: "Our beds were shaking, and then it died down and we all stood up and it started again. We ran over to the door frame to hide under it.

"It stopped and we heard everyone screaming in the hotel and running down trying to get out, but our door wouldn't open."

Severe accident: A4130 Oxfordshire westbound

BBC News Travel

A4130 Oxfordshire westbound severe accident, between Wantage Road and Sires Hill.

A4130 Oxfordshire - A4130 High Road in Brightwell-cum-Sotwell blocked westbound between the Wantage Road junction and the Sires Hill junction, because of an accident.

To report traffic and travel incidents dial 0330 123 0184 at any time

How do you avoid holiday traffic jams?

Traffic jams are an unavoidable feature of any British holiday - or are they?

These tips might help you reach your destination more quickly.

Oxfordshire gets card-friendly parking machines

Image caption: Cash-only machines are becoming a thing of the past, in Oxfordshire anyway...

Drivers in Oxfordshire will soon be able to pay for street parking by card, instead of just cash.

Old pay and display machines in Oxford, Abingdon, Wallingford and Henley will start to be scrapped next month to make way for more modern ones, which will allow card payments.

Purchasing and fitting the machines is costing the County Council £350,000.

Jailed student Ahmad Zeidan to appeal to UAE ruler for pardon

The family of a British student jailed in the United Arab Emirates are hoping for a "miracle" when he pleads for a pardon.

Ahmad Zeidan, 23, was sentenced to nine years in 2014, but claims he was tortured into admitting drugs charges.

Image caption: Ahmad Zeidan was jailed in 2014 for being the passenger in a car that was found to contain 0.04 grams of cocaine

His father Manal Zeidan said local media reported his son's plight after the BBC's coverage and he hoped a plea would now be favourably received.

Zeidan, formerly from Reading, recently ended a three-day hunger strike.

Reading child sex abuse magistrate jailed

Copyright: SOUTH BEDS NEWS AGENCY/FAIRLEY OF LUTON

Image caption: Rodney Fox was a Justice of the Peace at Reading Magistrates Court when he committed the offences

A magistrate has been jailed for seven-and-a-half years for sexually assaulting an 11-year-old boy in a car park beneath the courthouse he sat in.

Rodney Fox, 49, used his special privileges to access Reading Magistrates' Court's underground car park in order to molest the child.

He was convicted in April of two counts of sexual abuse and making indecent images of teenage boys.

St Albans Crown Court heard earlier that Fox befriended the boy and would buy him lunch on Saturdays before driving him to the empty car park and abusing him.

Susan Krikler, senior crown prosecutor for Thames and Chiltern Crown Prosecution Service (CPS) said: "It is only due to the courage of the victim that the disgraceful behaviour of this man has been exposed.

"I would like to pay tribute to the victim for his strength and tenacity in coming forward and providing evidence for the prosecution".

Oxford City Council to appoint extra deputy

Bethan Phillips

Political reporter, BBC Radio Oxford

Oxford City Council has agreed to appoint a second deputy leader.

The leading Labour group, who are planning to appoint a woman to the role, say it's to increase diversity and to better represent the city.

An independent panel will make recommendations on how much the extra deputy should be paid in allowances before a final decision by the council.