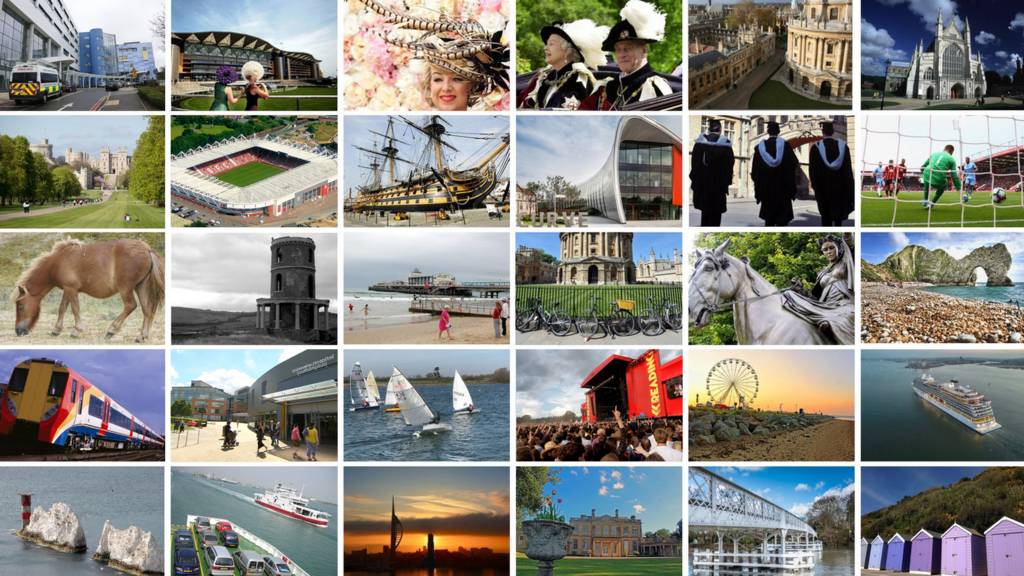 South Live: Wednesday 11 October
You can get in touch by email, on our Berkshire, Oxford, Hampshire and Dorset Facebook pages or on Twitter @BBCBerkshire @BBCOxford @BBC_Hampshire and @BBCDorset.
Poole in top 10 happiness list

Poole in Dorset has been ranked among the happiest places to live in the UK in a survey compiled by property website, Rightmove.

Portsmouth owner Eisner's journey from Disney to Pompey

Portsmouth chairman Michael Eisner has been talking about his take-over of Portsmouth FC.

Two decades at the helm of global entertainment giant Walt Disney might seem a strange apprenticeship for taking over a lower-level English football club, but the 75-year-old American insists it is the latest logical move in his high-flying business career.

The completed his takeover of historic south coast club Portsmouth in August for £5.67m, buying it from fans who had stepped in with their own money to save the club.

End of the line for £80m Jurassica dinosaur museum project

Plans for an £80m dinosaur-themed museum in a quarry on the Jurassic Coast have been scrapped.

The Jurassica attraction was due to be built in a 40m (132ft) deep quarry on Portland, Dorset.

The scheme is instead joining with a neighbouring £16m biodiversity project called The Journey.

Jurassica chair Tracey Brown said the project's trust, which includes Sir Tim Smit who is also a trustee of The Journey, would be dissolved.

Copyright: AZUREUS DESIGN

Oxford set for zero-emmission zone

Plans for a zero emission zone for Oxford city centre are expected to be announced today.

In some areas pollution is still above legal limits. From 2020 all non-zero emission cars, taxis and buses could be banned from part of the city centre, and excluded from the whole city centre by 2035.

A public consultation starts on Monday.

Portland immigration removal centre to revert to men's prison

An immigration removal centre (IRC) in Dorset is being closed and will revert back to a prison, the Home Office has said.

IRC The Verne on Portland, which opened as an adult male immigration removal centre in 2014, will shut on 1 January.

The transfer of its 524 detainees will start immediately to other removal centres. It will reopen as a Category C prison next year.

Severe accident: M3 Hampshire northbound

BBC News Travel

M3 Hampshire northbound severe accident, between J13 for A335 and J12 for A335.

M3 Hampshire - Severe delays and queuing traffic on M3 northbound between J13, A335 (Chandlers Ford) and J12, A335 (Eastleigh), because of an accident, which is now on the hard shoulder. All lanes have been re-opened. Congestion to J14 M27, on M27 to J3, M271 (Romsey) and on M27 to J9, A27 (Whiteley).

To report traffic and travel incidents dial 0330 123 0184 at any time

Severe accident: M25 Greater London anti-clockwise

BBC News Travel

M25 Greater London anti-clockwise severe accident, before J14 for A3113 Airport Way.

M25 Greater London - Severe delays and queuing traffic for 12 miles on M25 anticlockwise before J14, A3113 (Heathrow Terminal 4), because of an accident, which is now on the hard shoulder. All lanes have been re-opened. Travel time is 40 minutes. Congestion to J17, A412 (Maple Cross).

To report traffic and travel incidents dial 0330 123 0184 at any time

Weather: Dry start with some sunshine, but rain later

A dry and bright start with sunny spells. It will feel rather warm in the sunshine, despite the breeze.

Later in the afternoon, rain will spread in from the northwest across all areas.

The rain will become persistent and perhaps heavy at times.

Highs of 17C (63F).