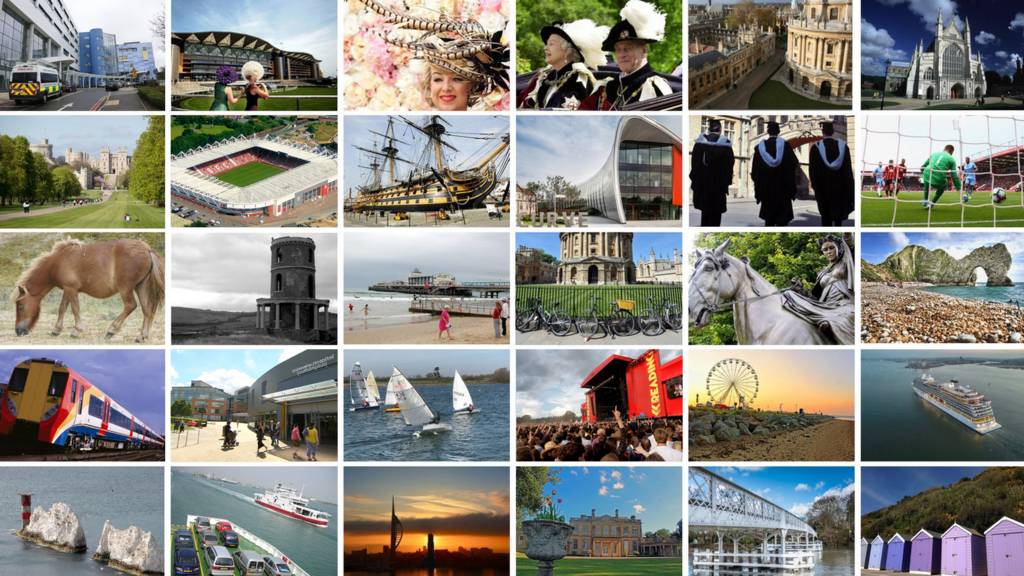 South Live: Friday 13 October
You can get in touch by email, on our BBC South News Facebook page or on Twitter at @BBCBerkshire @BBCOxford @BBC_Hampshire and @BBCDorset.
Video: Former Unsung Hero encouraging people to nominate

The BBC Get Inspired Unsung Hero award is expanding its search to recognise those who devote their free time to help people in grass-roots activity and sports.

Trish Willats won the award in 2015 for her work teaching disabled children to ride horses with the Wellington and Dummer RDA in Hook, Hampshire

Here she explains what it meant to win the award and why people should nominate others.

Severe accident: M4 Berkshire westbound

BBC News Travel

M4 Berkshire westbound severe accident, between J8 for and J10 for A329.

M4 Berkshire - Slow traffic on M4 westbound between J8 and J10 A329(M) Wokingham, because of an accident earlier on and all traffic being temporarily held. Congestion to J6, A355 (Slough).

To report traffic and travel incidents dial 0330 123 0184 at any time

Severe accident: A339 Hampshire northbound

BBC News Travel

A339 Hampshire northbound severe accident, between M3 J6 and M3.

A339 Hampshire - A339 blocked northbound between Basingstoke and Black Dam Roundabout, because of an accident involving three cars.

To report traffic and travel incidents dial 0330 123 0184 at any time

Climbers' warning after fridge fly-tipping

Watch: Police detain Tesco ceiling protestor

A sacked security guard's 21-hour protest in the roof space of a Tesco store has ended after he received a letter to review his dismissal.

Adama Jammeh climbed onto the girders above the checkouts in Tesco Extra, Reading, on Thursday evening.

In a series of Facebook videos, the 46 year old said he was sacked after being wrongly accused of stealing.

In its letter, Tesco said evidence suggested Mr Jammeh may have suffered "a significant injustice".

Fish-swallowing angler talks about experience

A fisherman has spoken of his relief after he almost died during a prank when he swallowed a Dover sole he had just caught.

Sam Quilliam, 28, was trying to "kiss the fish" - a tradition of saying thank you to the catch before returning it to the water - when the 14cm Dover sole wiggled free and jumped down his throat.

Paramedics managed to retrieve the fish from his airway with forceps.

Quote Message: "I went to give it a kiss before throwing it back and it literally shot out of my hand like a bar of soap. It shot out of my hand into my mouth and basically swam down my throat. I ran around like a headless chicken and then collapsed."

Quote Message: It's beyond winning the lottery, I am lucky to be here with my mates and my family are really grateful to all their great work." from Sam Quilliam

Breaking

Car driver dies in crash with lorry and coach

A driver has died in a crash involving a car, a coach and a skip lorry.

The crash happened on the A31 in Dorset at the White Post Junction near Bere Regis at about 10:30 BST.

The car driver, a 55-year-old man from Southampton, died at the scene. His family has been informed.

The A31 was closed for six hours while collision investigators examined the scene. The coach driver suffered minor injuries and the skip lorry driver was uninjured.

Friends of fish-swallowing man 'acted on instincts'

One of the friends of Sam Quilliam - the man nearly died when he accidentally swallowed a fish he had just caught - has been talking about the efforts to save his life.

Steven Perry who was among those who started CPR before the paramedics arrived said it had been an "horrendous" experience.

Their actions were praised by ambulance staff.

Quote Message: "It's seriously emotional to see your friend pass in and out of consciousness. We acted on our instincts. I though he was gone."

Quote Message: We've had people joking about it and taking the mick but if they were there and saw the severity of it they would never have laughed. from Steven Perry

E-fit issued after man grabbed 12-year-old girl

Copyright: Hampshire Constabulary

Police have issued an e-fit of a man they want to trace after a 12-year-old girl escaped a would-be sex attacker in Gosport.

The girl had been walking to school on Wednesday morning when she was grabbed by a man who tried to put his hands down her top.

Officers are carrying out extra patrols around Weymouth Avenue and Eastbourne Avenue where the attack happened.

Moving cars damaged 'after ball bearings fired at them'

Two cars have been damaged after it is believed ball bearings were fired from a catapult at them as they were being driven along the A35 in Dorset.

A grey Fiat Scudo and a silver Nissan Micra suffered damaged windows and one of the drivers sustained a minor cut to his arm after the cars were hit on Christchurch Bypass at about 20:00 BST on Thursday.

Armed officers attended the scene and a search was carried out but no-one was found.

No arrests have been made.

By Neil Johnston

BBC Sport

Pedestrian hurt in 'very serious' car collision

A pedestrian has been hit by a car in a "very serious" collision in Mudeford, Dorset Police has said.

Mudeford Lane was closed at about 14:30 BST.

Police have asked motorists to avoid the area.

Breaking

Tesco protester arrested

The man who spent 21 hours protesting in the roof space of a Tesco store in west Reading has been arrested.

Former security guard Adama Jammeh climbed into the rafters on Thursday evening after spending six months protesting outside the store over his dismissal.

The 46-year-old said he was falsely accused of stealing electrical goods worth £20,000 by the supermarket chain, which led to his sacking by security firm Total Security Services (TSS).

Thames Valley Police says: "A 46-year-old man from Reading was arrested on suspicion of Public Order Act offences in connection with the incident and is currently in police custody."

Tesco protest: Promise to 'review' circumstances

The BBC has seen a letter handed to the wife of Adama Jammeh who spent 21 hours protesting in the roof space of Tesco in west Reading.

In it, a senior executive of the store explains that he had no previous knowledge of Mr Jammeh's complaints, but promises to "personally review the circumstances".

Mr Jammeh's wife explained that receiving the letter is what persuaded him to end his protest.

Severe disruption: M27 Hampshire eastbound

BBC News Travel

M27 Hampshire eastbound severe disruption, at J3 for M271.

M27 Hampshire - M27 lane closed on entry slip road eastbound at J3, M271 (Romsey), because of a broken down vehicle. Traffic is coping well.

To report traffic and travel incidents dial 0330 123 0184 at any time

Breaking

Sole mates: Angler who swallowed fish reunited with paramedic

Sam Quilliam - the man who had to be resuscitated when he stopped breathing after accidentally swallowing a fish - has been reunited with the paramedic who saved his life.

The 28-year-old angler was kissing the Dover sole in celebration of his catch when the six-inch (14cm) fish wriggled out of his hand and jumped into his mouth.

Paramedic Matt Harrison managed to carefully remove it with forceps after Mr Quilliam went into cardiac arrest.

Tesco protest: Letter from supermarket

Nick Johnson

BBC Berkshire reporter

The security guard who claims he was sacked from Tesco after being wrongly accused of stealing has been removed from the roof space of the store in west Reading.

Adama Jammeh was taken away by three officers during a lot of commotion. Lots of his family and friends are here and police were having to hold them back.

His wife is also here holding a letter from Tesco.

I have had a brief look and in summary it says Tesco will sit down with him and talk through his issues.

So after 21 hours, the protest is over.