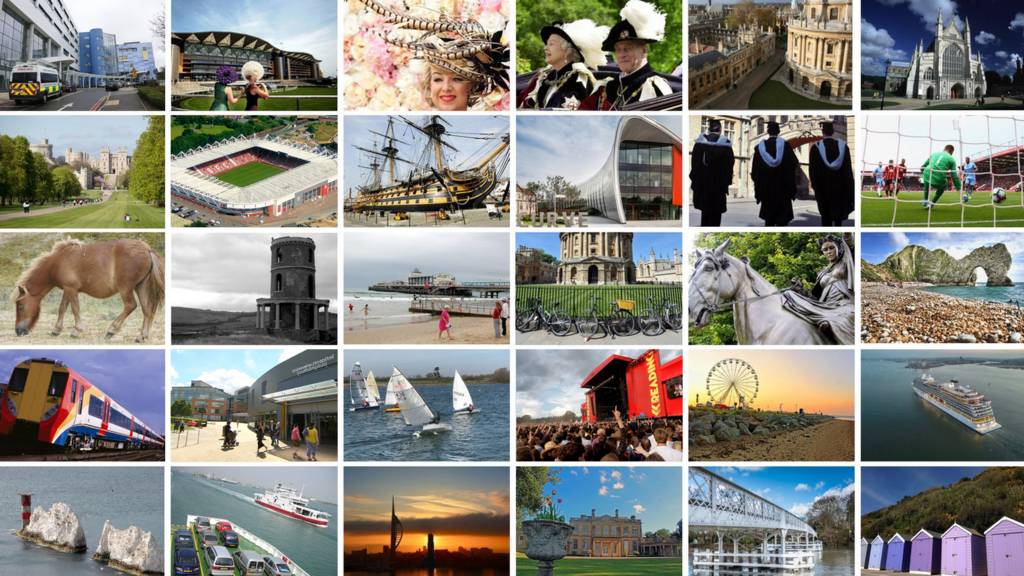 South Live: Monday 25 September
You can get in touch by email, on our Berkshire, Oxford, Hampshire and Dorset Facebook pages or on Twitter @BBCBerkshire @BBCOxford @BBC_Hampshire and @BBCDorset.
We are closing down the live service for the evening but will be back from 08:00 on Tuesday, with all the latest news, sport, weather and travel.

Swan's 'neck snapped' in river shooting

A swan has been shot and had its neck rung in what a charity say is the worst attack they have seen in 25 years.

An animal rescuer found the dead bird after being sent to Blake's Lock on the River Kennett in Reading, on Monday.

Wendy Hermon from Swan Support said: "The poor thing was shot in the head and its neck was literally snapped in two."

Thames Valley Police confirmed the incident had been reported and asked for witnesses to come forward.

Ms Hermon added that the charity received "a call from a man who says he saw two fishermen near a group of swans at Blake's Lock", and [the caller] thought they had done something.

Southampton 0-1 Man Utd: Saints controlled game despite defeat - Mauricio Pellegrino

Mauricio Pellegrino says Southampton controlled Saturday's game, especially in the second-half, despite losing 1-0 to Manchester United at St Mary's.

Stab attack student Lavinia Woodward 'suspended studies'

The student who has received a suspended jail sentence for stabbing her boyfriend has voluntarily suspended her studies, it has been revealed.

Lavinia Woodward was today given a suspended jail sentence for a knife attack on her ex-boyfriend in university accommodation.

In a statement, the Dean of Christ Church, the Very Revd Professor Martyn Percy, said Woodward had voluntarily suspended her studies.

"It is clearly a matter of regret and sadness when any young person blights a promising career by committing a crime.

"The question of her future will now be decided by the University, which has procedures in place when a student is the subject of a criminal conviction. The result of deliberation can be penalty of expulsion by the Student Disciplinary Panel, but the length and outcome of this confidential process ... cannot be pre-judged," he said.

University demands release of Yemen 'prisoner'

The University of Winchester has said it is worried for the safety of a student who has been "arbitrarily detained" by forces in Yemen.

Hisham Al-Omeisy disappeared after tweeting on 14 August: "Armed goons... just showed up at my door."

Mr Al-Omeisy, who was studying for an MA in Reconciliation and Peacebuilding, is a prominent Yemeni political commentator and social media user.

The university said he was a "prisoner of conscience" and should be "released immediately and unconditionally".

Everton 2-1 Bournemouth: Defeat 'difficult to take' - Eddie Howe

Bournemouth manager Eddie Howe describes his side's 2-1 Premier League defeat to Everton at Goodison on Saturday as "difficult to take."

Rape detectives search for nightclubber

A teenager has reported that she was raped shortly after leaving Jesters nightclub in Southampton on Saturday night.

The 19-year-old was reportedly attacked in the Bevois Valley area soon after 01:00, police said.

Police have released an image of a man, captured on CCTV at the club, who they want to trace.

Copyright: Hampshire Constabulary

Call centre creates 60 jobs

A new call centre has started work this morning creating 60 jobs on the outskirts of Cowes, Isle of Wight.

Operator Ascensos had said in May the base would initially create 400 jobs, serving an unnamed "major online and high street retailer".

The island council agreed to invest £2.1m to develop the centre in order to attract a £35m investment by the firm.

Ascensos says it still plans to create 600 jobs when the unit, which currently serves JD Sports customers, is at full strength.

Breaking

'Extraordinarily able' student avoids prison sentence

Medical student Woodward has been given a suspended sentence after admitting an attack on her boyfriend in which she lunged at him with a bread knife, threw a laptop and stabbed him in the leg.

Oxford Crown Court heard Woodward had become addicted to drugs and had previously been in an abusive relationship with a previous boyfriend.

The case received wide media coverage after the judge deferred sentencing, saying he believed the attack was "a complete one-off".

He had described her as "an extraordinarily-able young lady" and said a custodial sentence would damage her hopes of becoming a surgeon.

London Irish: Ben Franks wants to replicate second half momentum

Exiles prop Ben Franks wants to match the good second half performances across a whole match.

According to Franks, Irish's performances in the second half of matches this season have been much better than the first half, something he wants to rectify.

Hampshire police respond to M3 closure criticism

Talking to BBC Radio Solent's Lou Hannan, Supt Simon Dodds apologised for the "significant disruption" caused during the 11-hour closure of the M3 on Saturday.

Police 'sorry' for 11-hour motorway closure

Hampshire's police force has apologised for the 11-hour closure of the M3 near Winchester on Saturday, after a flammable substance was thrown from a motorway bridge.

The county's former police and crime commissioner Simon Hayes said earlier that the force had not fully explained why drivers were trapped for so long.

Supt Simon Dodds said police had faced a "challenging set of circumstances".

He said an investigation was under way into how information was given to the public.

Quote Message: We had to establish what the substance was to make sure it is safe, and that is against the background of the backdrop of the current terror threat assessment in the UK is at the moment, which is severe. We recognise it caused significant disruption, for people caught in the traffic we really do apologise. from Supt Simon Dodds

'High risk' of Lyme disease in south of England

The south of England and the Scottish Highlands have been identified by government health advisors as "particularly high-risk" areas for Lyme disease.

The National Institute for Health and Care Excellence (NICE) has issued draft guidelines for health professionals, which says "some areas appear to have a higher prevalence of infected ticks".

Copyright: Science Photo Library

The advice says: "If a person has had a tick bite and a circular red rash... the draft guidance recommends doctors diagnose and treat Lyme disease with antibiotics."

The health body has recommended a large study of the potentially fatal condition, which affects more than 2,000 people in England and Wales each year.

Mourinho avoids sanction after dismissal

Jose Mourinho will face no further action over his dismissal at Southampton on Saturday.

The Manchester United manager was sent off by referee Craig Pawson for stepping onto the pitch in stoppage time during their 1-0 win at St Mary's.

After receiving the referee's report, the FA decided no additional action was necessary.

Mourinho received two one-match bans from the FA for separate incidents last season.

'Giant coloured barcode' building criticised

The leader of Portsmouth City Council has questioned the design of proposed student flats in the city, it has been reported.

Six Malaysians arrested in Oxford immigration raid

The Home Office said Immigration Enforcement officers attended Hong Kong House, in South Parade, Oxford, at about 17:45 on Friday.

Six Malaysians working at the premises were arrested on suspicion of being in the UK illegally and a Notice of Potential Liability was served on the restaurant.