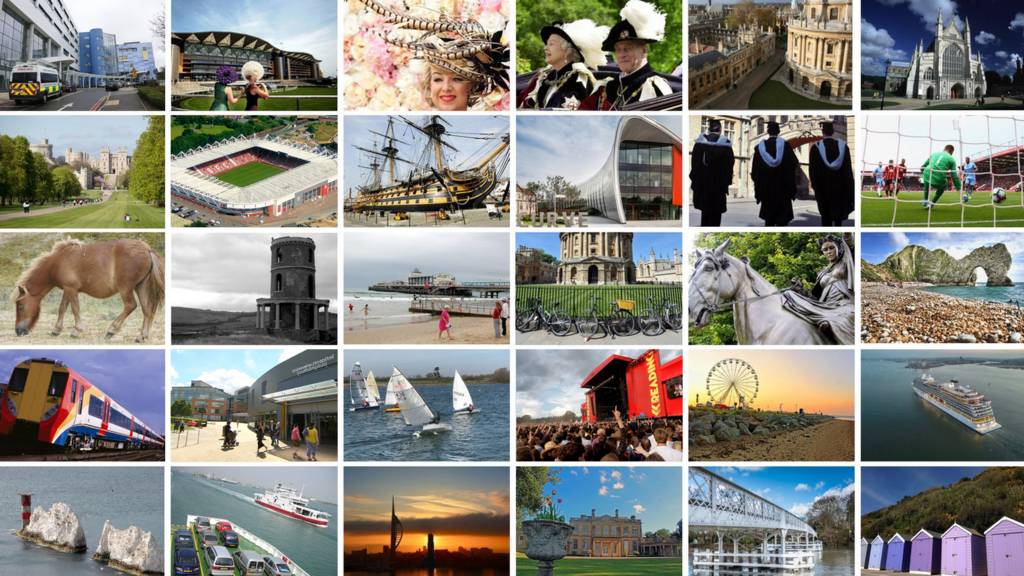 South Live: Monday 16 October
You can get in touch by email, on our Berkshire, Oxford, Hampshire and Dorset Facebook pages or on Twitter @BBCBerkshire @BBCOxford @BBC_Hampshire and @BBCDorset.
Summary
Updates from Monday 16 October
New intercity trains on GWR line
30 years since Great Storm
Robbers flee after failed bid to steal cash machine

Would-be robbers left empty-handed after failing to steal a cash machine from a convenience store.

Dorset Police said "a number of offenders" broke into Walkford Stores near Christchurch in the early hours and tried to use a pick-up truck to pull the machine out.

When they were unsuccessful, they drove away in the direction of the A35.

The dark-coloured pick-up, which had been stolen, was later found abandoned.

Anyone with information about the break-in, which happened at 02:45 in Ringwood Road, is urged to contact police.

Prisoner in hospital after incidents at HMP Winchester

A prisoner at HMP Winchester has been taken to hospital following two incidents involving five prisoners in total.

Emergency services were called shortly before 10:00 this morning.

A Ministry of Justice (MOJ) spokesman said a fire was limited to one cell and was quickly extinguished by the fire brigade. There were no injuries to staff or prisoners.

Paramedics also attended the prison to treat a prisoner for non-life threatening injuries. The prisoner has been taken to hospital as a precautionary measure.

"Both matters have now been resolved and will be referred to police for investigation. It would be inappropriate to comment further at this stage," the MOJ spokesman added.

Man arrested after Oxford bus sex assault

A 30-year-old man has been arrested on suspicion of a sexual assault in Oxford between 8 September and 28 September.

It is alleged the crime happened on a bus from Oxford city centre to Blackbird Leys, where a man inappropriately touched a woman in her twenties before getting off the bus at a bus stop on Cowley Road.

The police continue to appeal for witnesses, and the man has been released under investigation.

Today's red sun seen from central Oxford...

Seaside towns in England and Wales - and the young families living in them - are suffering the worst levels of debt in the country, new figures reveal.

The Isle of Wight has the highest level of insolvencies among young adults, according to the Insolvency Service, followed by Torbay and Scarborough.

Overall the number of 18 to 34-year-olds becoming insolvent rose by 31.3% between 2015 and 2016.

It comes ahead of a possible rise in interest rates as soon as next month.

Any increase would be the first in the UK for over ten years - and would inevitably make borrowing more expensive.

Cannabis factory among properties closed by police

Image caption: Cannabis plants seized from a factory in Carterton

Thames Valley Police has obtained closure orders preventing people from entering three properties in West Oxfordshire for three months.

The force said over the last month its West Oxfordshire problem solving team has been investigating links between anti-social behaviour and local drug users.

As a result three addresses were issued with closure orders:

373 Thorney Leys, Witney, on 28 August
22 Bourton Close, Witney, on 2 October
A cannabis factory in Heather Close, Carterton, on 7 October

Quote Message: We will not tolerate drug dealing and the issues this brings to our communities, especially the impact this has on the vulnerable. from PC Tony Miles West Oxfordshire problem solving team

Damaged listed Blandford Cemetery wall 'to be partly rebuilt'

A Victorian cemetery wall which was saved from demolition after a Dorset resident succeeded in having it listed by Historic England is to be partly rebuilt.

Copyright: Blandford Town Council

The town council originally wanted to replace a section of Blandford Forum Cemetery wall with a wooden fence due to its poor condition.

However, Historic England said the entire wall, cemetery gateway and two chapels had been granted a Grade ll listing in September last year following resident Madeleine Bridle's request.

The council has since submitted plans to dismantle and rebuild the section that was damaged by the roots of several lime and sycamore trees.

Motorcyclist dies in three-vehicle crash

A motorcyclist has died in a crash involving two cars near Winchester.

The accident happened on the A272, north of Morestead just after 12:40 yesterday.

The 45-year-old rider died at the scene. No one else was injured.

Police are appealing for witnesses to the collision, which involved at grey Land Rover Freelander and a blue Skoda Fabia.

Severe accident: M4 Berkshire westbound

BBC News Travel

M4 Berkshire westbound severe accident, between J12 for A4 and J13 for A34 Chieveley.

M4 Berkshire - Queuing traffic and one lane closed on M4 westbound between J12, A4 (Theale) and J13, A34 (Chieveley), because of an accident. In the roadworks area.

To report traffic and travel incidents dial 0330 123 0184 at any time

Southampton 2-2 Newcastle United: Mauricio Pellegrino positive after 'chaotic' draw

Southampton boss Mauricio Pellegrino says a point is a "positive" after a "chaotic" 2-2 draw as the Saints twice came from behind to deny Newcastle United victory at St Mary's.

Tottenham 1-0 Bournemouth: Eddie Howe satisfied with Cherries' game plan

Bournemouth boss Eddie Howe says his side defended "very well" and had "good chances" during their 1-0 defeat away at Tottenham.

Flybe flights cancelled at Southampton Airport due to weather

Flybe has cancelled a number of flights to and from Southampton Airport as a result of the disruption caused by Storm Ophelia.

Jersey, Paris, Amsterdam, Newcastle, Glasgow, Belfast and Dublin flights have been affected.

More details are available on the airline's website.

Image caption: Flybe planes at Southampton Airport

Severe disruption: A3(M) Hampshire northbound

BBC News Travel

A3(M) Hampshire northbound severe disruption, between J2 for B2149 Horndean and J1 for A3.

A3(M) Hampshire - One lane closed and very slow traffic on A3(M) northbound between J2, B2149 (Horndean) and J1, A3 (Clanfield), because of a broken down bus.

To report traffic and travel incidents dial 0330 123 0184 at any time

Sherborne's Pack Monday Fair

Thousands of people are expected to visit Sherborne's annual Pack Monday Fair today.

Copyright: Hannah Wilkins

The street market dates back to medieval times and is held on the first Monday after Old Michaelmas Day on 10 October.

It traditionally marks the feast of St Michael the Archangel and is associated with the beginning of autumn. In medieval times, it was also the time of year when agreements were made between farmers and farm labourers.

It came to be known as a pack fair, which is thought to have come from the word pact meaning agreement.

The town also hosts a fun fair.