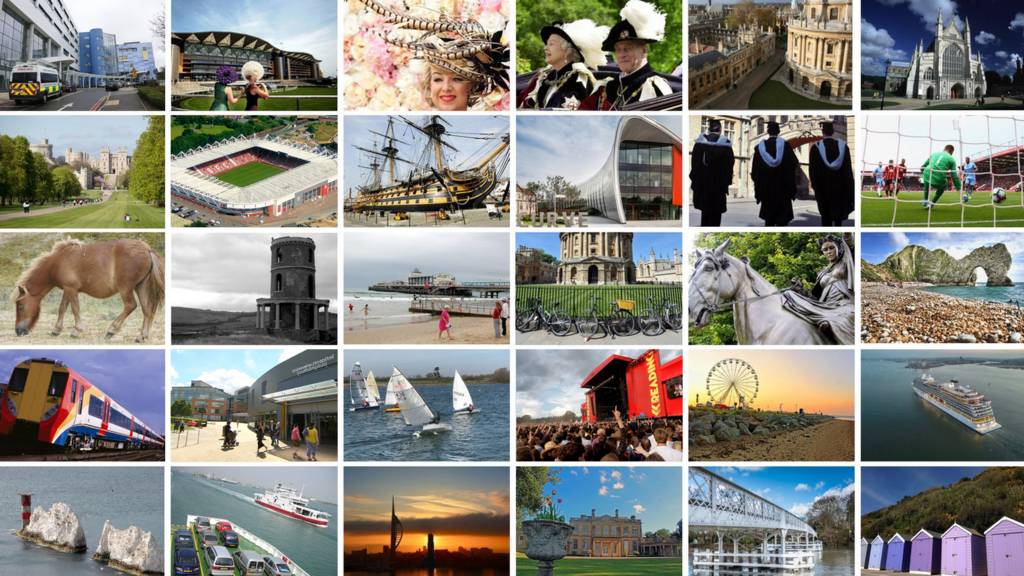 South Live: Thursday 14 December
You can get in touch by email, on our Berkshire, Oxford, Hampshire and Dorset Facebook pages or on Twitter @BBCBerkshire @BBCOxford @BBC_Hampshire and @BBCDorset.
Summary
Updates from Thursday 14 December
That's all for today, but we will be back from 08:00 on Friday.

Have a great evening!

Improvement needed at Oxford hospital

A hospital in Oxford has been told it must review staffing levels and improve security following an unannounced inspection.

The Care Quality Commission (CQC) visited the Oxford Centre For Enablement at the Nuffield Orthopaedic Centre in Oxford in August.

It provides specialist neurological rehabilitation for up to 26 patients and the inspection was in response to a report of an incident in July where avoidable harm had occurred to a patient.

The CQC's report said the centre must also look at how it keeps patient records and make sure care plans are reviewed regularly.

Oxford University Hospitals NHS Foundation Trust - which runs the hospital - said it has since reduced the number of beds to ensure staff provide safe care to patients.

Fourth man charged after robbery spate

A fourth man has been charged after a series of 18 robberies in 16 days in Hampshire.

John Beesley, 39, of no fixed address, is accused of robbing Glitz hair salon on Janson Road, Southampton, on 28 November.

Mr Beesley, who is due before Southampton magistrates on Friday, also faces two charges of fraud.

Police have linked 18 raids at premises in Southampton and Eastleigh between 19 November and 4 December.

Emergency repair following gas leak

An emergency repair is taking place on Launton Road in Bicester following a gas leak.

Thames Valley Police said it had closed the road at the junctions with Churchill roundabout, Jubilee Way, Bessemer Close and Murdock Road.

A spokesperson for gas company SGN said it was "too early to say how long the repair will take" but the road is likely to be closed for the rest of the evening

Severe disruption: M4 Berkshire eastbound

BBC News Travel

M4 Berkshire eastbound severe disruption, between J11 for A33 and J10 for A329.

M4 Berkshire - One lane closed and queuing traffic on M4 London-bound between J11, A33 (Reading) and J10 A329(M) Wokingham, because of a broken down vehicle.

To report traffic and travel incidents dial 0330 123 0184 at any time

Reading man pleads guilty to manslaughter of policeman

Chris Browning

BBC Radio Berkshire

A man has admitted killing a police officer in Reading.

PC Gareth Browning was on patrol in Whitley in November 2013 when he was hit by a car he was trying to stop.

He never recovered from his injuries and died in April this year.

Today, 32-year-old Luke Haywood from Reading pleaded guilty to manslaughter.

Haywood had previously admitted causing grievous bodily harm with intent and dangerous driving.

He's currently serving a nine-year prison sentence.

He'll be sentenced for manslaughter at the crown court at a later date.

Gas leak causes delays in Bicester

A gas leak has closed a road in Bicester and is causing delays.

Launton Road has been shut at the junction of Murdoch Road.

It's understood it is likely to remain shut for the rest of the evening.

Developer's 'disappointment' at New Forest hotel decision

The developers behind a plan to demolish a New Forest hotel to build 70 retirement flats and 15 affordable properties have criticised the decision by the national park authority to turn down its planning application.

The authority rejected the plans for the Lyndhurst Park Hotel site, saying there was "no guarantee the development would help cater for local needs".

Campaigners had found evidence which appeared to show Sherlock Holmes author Sir Arthur Conan Doyle sketched plans for part of the building in the early 20th Century, however, an application to have it listed was turned down by Historic England.

Quote Message: People over sixty want attractive, future-proof homes that will remain suitable for the rest of their lives. We know this from the enquiries we get every week from people living in Lyndhurst who are desperately keen to find a smaller, more manageable home to live in. from Guy Flintoft Public Policy & Planning Director, PegasusLife

Severe accident: M3 Hampshire southbound

BBC News Travel

M3 Hampshire southbound severe accident, at J5 for A287.

M3 Hampshire - Two lanes blocked and very slow traffic on M3 southbound at J5, A287 (Hook), because of an accident involving four vehicles.

To report traffic and travel incidents dial 0330 123 0184 at any time

New Oxford Library opening date approaches

The new Oxford Library in the redeveloped Westgate Centre is set to open on Monday.

Lorraine Lindsay-Gale, Oxfordshire County Council's cabinet member for cultural services, said: "We believe this is a classic example of what a 21st Century library should look and feel like.

"Before the old Central Library (pictured below) closed, it was ranked as the third busiest council-run library in the country.

"Opening the new library gives us a great opportunity to build on that strong support from the Oxfordshire community, and welcome more people than ever before."

The new facility has a dedicated area for community activities and workshops, a children's library, free wi-fi and 70 public computers.

Man, 21, wanted following burglaries

A 21-year-old man is wanted by police following two burglaries in the New Forest.

They both took place in the Ringwood area between May and November.

Hampshire police say members of the public should not approach William Sheen and should call 101 if they see him.

Condor Liberation to face delays tomorrow

Rob England

BBC News Online

The Condor Liberation sailings between Poole and the Channel Islands will be delayed tomorrow due to weather conditions.

The first sailing from Poole to Guernsey will now depart at 11:00, arriving in Guernsey for 14:00.

This means the Guernsey to Jersey sailing will also be pushed back to leave at 14:30, arriving at 15:30.

Leaving Jersey at 16:30 the Liberation will then not stop at Guernsey and instead go straight to Poole, arriving at 20:30.

Suspect released after port death

Copyright: Hampshire Constabulary

A man who was arrested following the death of a Portsmouth Port worker has been released with no further action, police have said.

Mieczyslaw 'Mitch' Siwak, 34, from Bognor Regis, died in an industrial accident at Flathouse Quay on 25 August.

A 35-year-old man from Sussex, who was arrested on suspicion of perverting the course of justice and theft, will not be charged, police said.

The Health and Safety Executive is continuing to investigate the death.

Nursery shut over safeguarding concerns

Image caption: Ofsted suspended Bubbles at St Paul's Church on Tuesday 9 November

Parents say they have been "kept in the dark" after a children's nursery was shut over safeguarding concerns.

Ofsted suspended Bubbles at St Paul's Church, Reading, on Tuesday 9 November after concerns were raised that a child "may be exposed to risk of harm".

Parents demanding answers said the silence a week on from the closure was "disgusting".

Greyfriars Ministries Ltd, owner of the nursery, said it had acted "swiftly" and was working with Ofsted.