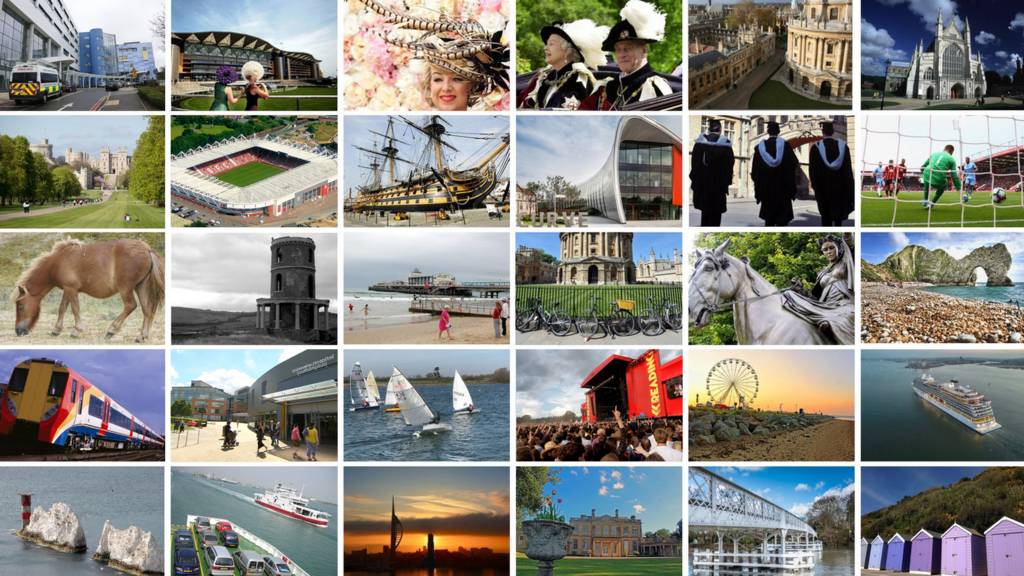 South Live: Monday 18 December
You can get in touch by email, on our Berkshire, Oxford, Hampshire and Dorset Facebook pages or on Twitter @BBCBerkshire @BBCOxford @BBC_Hampshire and @BBCDorset.
That's all for today. We'll be back from 08:00GMT on Tuesday.

Breaking

Cyclist dies in Itchen Bridge lorry crash

A 60-year-old cyclist has died in a collision with a lorry on the Itchen Bridge in Southampton.

Police said the crash happened by the roundabout at the Woolston entrance to the bridge shortly after 14:00.

A 50-year-old man from Stockport has been arrested.

Road closures remain in place - Portsmouth Road is closed from the Itchen to the Cricketers Arms and the eastbound carriageway of bridge is also closed.

Bogus police officer cons elderly woman

An 85-year-old woman has been conned out of £5,000 by a rogue builder and bogus police officer.

The pensioner paid a cold caller who carried out "minimal and poor quality" work at her home in Silvester Road, Waterlooville, police said.

Hampshire Constabulary said a man claiming to be a police officer then turned up on her doorstep on Friday, telling her she had been defrauded.

The fake officer, dressed in a suit, asked her to hand over cash from the same set of notes used to pay the builder so he could investigate further.

The force said a real officer would never ask for a victim to hand over money after cold-calling at their home without providing legitimate details.

It has issued advice to residents about spotting signs of a scam.

Reading Women reach Continental Cup last four

Image caption: Kirsty Linnett's goal was her second in 10 games for Reading Women

Reading Women reached the Continental Cup semi-finals for the first time by beating Everton Ladies on Saturday.

Reading had the better of the chances inside 90 minutes, with Remi Allen having a shot cleared off the line.

Kirsty Linnett fired in the opener from 25 yards out in the fourth minute of extra time, but Chloe Kelly turned in the equaliser with nine minutes left.

Grace Moloney saved from Kelly and Dan Turner in the penalty shootout before Linnett fired in the winning penalty.

Severe disruption: A34 Oxfordshire northbound

BBC News Travel

A34 Oxfordshire northbound severe disruption, at A44 Woodstock Road affecting A420.

A34 Oxfordshire - Heavy traffic on A34 Western By Pass Road northbound in Wolvercote at Peartree Interchange, because of an earlier broken down vehicle. All lanes have been re-opened. Congestion to Botley Interchange.

To report traffic and travel incidents dial 0330 123 0184 at any time

Breaking

Eastleigh appoint Andy Hessentaler as new manager

Eastleigh have appointed assistant boss Andy Hessentaler as their new manager.

Richard Hill has moved from manager to director of football as part of a restructure.

Hill's second spell at the club began back in February and he kept them well away from the National League relegation last season, but the club is currently just five points above the drop zone.

Dorset County Council criticised in abuse report

Dorset County Council has been named as the worst in the country for investigating abuse among adults.

The Action on Elder Abuse charity said the local authority received more than 3,200 concerns about reports of abuse in 2016 and 2017. In 11% of cases a safeguarding enquiry was launched. The UK average is 41%.

Reports cover abuse including beatings and thefts to sexual assault and neglect. The charity said has urged council leaders to address inadequacies as a matter of urgency.

Dorset County Councilsaid it was "very disappointed" by the research and insisted it responds to "all concerns ... but takes the approach which best suits the individual case - not always resulting in a full investigation."

Popping the question on Christmas shopping trip

A Christmas shopping trip ended with a surprise proposal for one woman from Dorchester this weekend.

Sophie Ricardo thought she was just watching a busker at a shopping centre. But her partner James Smith had arranged for the musician to play their special song.

He then appeared with a red rose and a ring, and popped the question.

Luckily, Sophie accepted and later said she was "overwhelmed".

Severe accident: A3025 Hampshire eastbound

BBC News Travel

A3025 Hampshire eastbound severe accident, between B3038 Albert Road North and Station Road.

A3025 Hampshire - A3025 Itchen Bridge in Southampton closed eastbound between the B3038 Albert Road North junction and the Station Road junction, because of a serious accident.

To report traffic and travel incidents dial 0330 123 0184 at any time

Crash partially closes Itchen Bridge in Southampton

The Itchen Bridge in Southampton has been partially closed following a serious crash involving a cyclist and a lorry.

The collision happened shortly after 14:00 GMT by the roundabout on the Woolston side. The air ambulance was called.

It means that Portsmouth Road is closed from the bridge to the Cricketers Arms and the eastbound carriageway of Itchen Bridge is also closed.

The westbound carriageway going from Woolston is still open, but there is no access from Portsmouth Road.

Police said the closures were likely to remain in place for some time.

Portsmouth midfielder signs new deal

Portsmouth midfielder Ben Close has signed a two-year contract extension with the League One club.

The 21-year-old, who scored his first goal in professional football in November, will now remain at Fratton Park until the summer of 2020.

Close has made 47 appearances since making his Pompey debut in 2014.

"It's a great feeling to commit myself to this club and I'm grateful to have had the chance to play more games this season," he told the club website.

Police give children Christmas gifts

Copyright: Hampshire Constabulary

Police officers have handed Christmas presents to sick children in Portsmouth.

The gifts were donated by businesses in the area and distributed at Queen Alexandria Hospital on Sunday.

PC Claire Marsh, of Hampshire Constabulary, said it was the seventh year officers had made the visit.

She said: "It's a great opportunity for us to be able to engage with children and their families and of course put a smile on children's faces at Christmas."

A yellow weather warning for fog has been issued by the Met Office.

Conditions are expected to be at their most disruptive between 20:00 this evening and 12:00 tomorrow.

Search for robbery convict

Copyright: Thames Valley Police

Police are searching for a man convicted of robbery who has been ordered to return to prison after he broke his licence conditions.

Thames Valley Police said it was trying to trace 27-year-old Ashley Appleby and believe he is in the Oxford area.

Appleby, who has also previously been convicted of theft and assault, is described as white, 5ft 6ins of medium build with short black hair and hazel-coloured eyes.

Drink and drug-drivers charged during campaign

Nineteen people in Dorset have been charged with drink or drug-driving since the start of December, police have said.

Dorset Police has released the information, which includes all offences recorded between the start of the month and Friday, as a part of a Christmas campaign.

The force said all drivers involved in crashes during December will be asked to do breath tests, regardless of whether they are suspected of drink-driving or not.

Severe accident: A3025 Hampshire both ways

BBC News Travel

A3025 Hampshire both ways severe accident, between Station Road and Fort Road.

A3025 Hampshire - A3025 Portsmouth Road in Woolston closed and very slow traffic in both directions between the Station Road junction and the Fort Road junction, because of a serious accident.

To report traffic and travel incidents dial 0330 123 0184 at any time

Ex-Saints footballer on weapon charge

Former Southampton midfielder Jason Puncheon has been charged with carrying a weapon after a fight near a Surrey nightclub.

The Crystal Palace player was arrested after the disturbance near the Mishiko bar on Church Street, Reigate. The 31-year-old was arrested in the early hours of Sunday.

He was later charged with possession of an offensive weapon, common assault, and a public order offence of causing fear or provocation of violence.

He has been released on bail to appear at Guildford Magistrates' Court on 5 January.