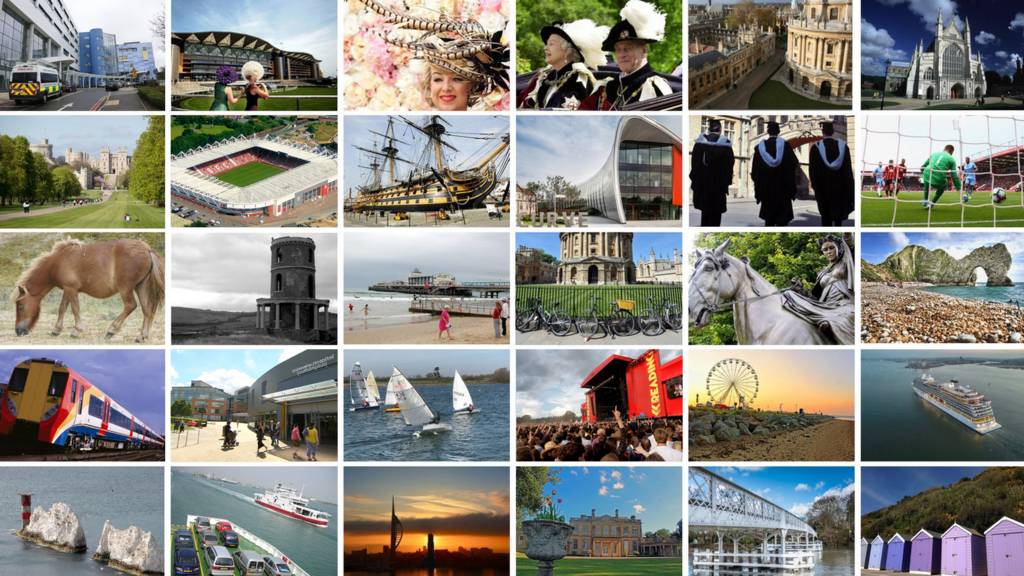 South Live: Tuesday 19 December
You can get in touch by email, on our Berkshire, Oxford, Hampshire and Dorset Facebook pages or on Twitter @BBCBerkshire @BBCOxford @BBC_Hampshire and @BBCDorset.
Council intervenes to save plan for new leisure complex

Image caption: Cherwell District Council said it will borrow money to buy Castle Quay and build the complex and repay it with the rents generated

A council is to intervene and save plans for a multi-million pound leisure complex in Banbury after an investor pulled out.

Cherwell District Council has agreed to buy Castle Quay shopping centre and build the complex next door.

The project called Castle Quay 2 was being brought forward by Aberdeen Standard Investments, Castle Quay's owner, until the plan was dropped.

The council said the price it will pay for Castle Quay was confidential.

The plan for Castle Quay 2, including a multi-screen cinema, supermarket, restaurants and hotel, already has planning consent and is expected to cost about £60m to build.

Severe accident: A340 Berkshire both ways

BBC News Travel

A340 Berkshire both ways severe accident, between Englefield Road and A4 Bath Road.

A340 Berkshire - A340 in Englefield closed in both directions between the Englefield Road junction and the A4 Bath Road junction, because of an accident.

To report traffic and travel incidents dial 0330 123 0184 at any time

Breaking

Missing ex-Uefa boss found in Switzerland

Copyright: Alexandre Fourtoy

Image caption: Bernard Ross was responsible for televising events like the Champions League and Euro 2016

A former Uefa executive, who was missing for two months, has been found safe in Switzerland.

Bernard Ross, 51, who was a director of TV at the football body, left Oxford on 18 October and told his wife he was travelling to London to see his sister.

He went to the south of France instead and earlier this month there was a possible sighting in Nyon, Switzerland.

Thames Valley Police said he was found earlier in Chene-Bourg just outside Geneva.

The married father of four has bipolar disorder but his wife said it was the first time he had ever disappeared in this way.

His discovery comes after Swiss police released CCTV footage appearing to show Mr Ross near Uefa's headquarters in Nyon on December 8.

Advice Bureau 'will close' due to cuts

A Citizens Advice Bureau (CAB) has warned that it will not survive if a local council reduces its funding.

West Berkshire Council said it was consulting on a proposal to cut support for the charity's local office from £220,000 to £40,000 over three years.

Image caption: West Berkshire Citizens Advice Bureau say it will close next year ithe council cuts funding

The authority said the reductions were necessary in order to make savings of £10m next year.

The bureau's chief executive said further cuts "will have a direct impact on the people who use the services".

Motocyclist dies in three-vehicle crash

A motorcyclist has died following a three-vehicle crash on a road in rural Dorset.

The crash involving a Mercedes C180 and a Volkswagen Polo happened on the B3091 near Shaftesbury shortly before 08:30.

The rider of the motorcycle, a 35-year-old man from Sturminster Newton was pronounced dead at the scene.

The driver of the Volkswagen, a woman aged in her 60s from Shaftesbury, sustained minor injuries. Police have appealed for witnesses.

Severe disruption: A34 Oxfordshire northbound

BBC News Travel

A34 Oxfordshire northbound severe disruption, at A415 Marcham Road.

A34 Oxfordshire - A34 in Abingdon entry slip road closed and very slow traffic northbound at Marcham Interchange.

To report traffic and travel incidents dial 0330 123 0184 at any time

Man released after fatal Itchen Bridge crash

Image caption: The crash happened at the Portsmouth Road entrance to the Itchen Bridge shortly after 14:00 GMT on Monday.

A man arrested after a cyclist died in a collision with a lorry near Southampton's Itchen Bridge, has been released while inquiries continue.

The cyclist, a 64-year-old man from Southampton, was pronounced dead at the scene following the crash on Portsmouth Road on Monday afternoon.

The 50-year-old man from Stockport was arrested on suspicion of causing death by careless driving.

Detectives have have appealed for a woman pushing a pram who was seen at a pedestrian crossing, as well as anyone with dashcam footage, to come forward.

A spokesman for transport company Robert Walker Haulage said it was assisting the police and would be conducting its own investigation.

"We would like to extend our condolences and heartfelt sympathies to the family of the victim. We would also like to express our gratitude to the emergency services for their efforts yesterday.," he added.

Image caption: Flowers have been left near the scene of the crash

Lottery winner to work on Christmas Day

A woman who won £1 million on the lottery has said that she will still do her 12-hour Christmas Day shift.

Patricia Aldridge, 55, a care assistant at an old people's home from Wexham, near Slough, won the money after the Lotto draw on 9 December.

Image caption: Patricia and Robert Aldridge say they will both keep working, despite becoming millionaires

She was announced as a new millionaire on Tuesday, along with her husband Robert, 57, who described the winnings as "life-changing".

Mrs Aldridge said: "You hear people say 'if I won a lot of money I'd give up work', but I love what I do."

Fishery faces action over 'no Polish' sign

Image caption: Fishery owner Billy Evans defended the sign saying "I know I'm right and I'm doing the right thing"

A fishery which has a sign banning Polish and "Eastern bloc" anglers is facing possible legal action.

The owner of Field Farm Fisheries in Oxfordshire said he had caught some anglers stealing fish.

Polish fisherman Rado Papiewski has crowdfunded £5,000 to pay for a private prosecution and have the sign removed.

The Equality and Human Rights Commission said the sign was unlawful and it would take "enforcement action" if necessary.

Man charged with Maidenhead rape

A 22-year-old man has been charged with rape after a woman was allegedly attacked in Maidenhead town centre.

The alleged attack happened in the early hours of Sunday morning near Nicholson Walk, Thames Valley Police said.

The accused man, from Slough, has been remanded in custody and will next appear at Reading Crown Court on 15 January.

Dippy the arthritic penguin dies

Sad news that Dippy the arthritic penguin who used to live on the Isle of Wight has died.

Dippy - a Humboldt penguin - moved to SeaLife Centre in Great Yarmouth in 2015 after Seaview Wildlife Encounter on the island closed and all its animals had to be rehomed. Staff in Great Yarmouth built a special ramp to help him waddle into the pool.

SeaLife Centre said he was "very popular character and much loved".

Severe disruption: M27 Hampshire westbound

BBC News Travel

M27 Hampshire westbound severe disruption, between J8 for A3024 Bursledon and J7 for A334.

M27 Hampshire - Heavy traffic and one lane closed on M27 westbound between J8, A3024 (Bursledon) and J7, A334 (Hedge End), because of a broken down vehicle.

To report traffic and travel incidents dial 0330 123 0184 at any time

Weather: Dry afternoon ahead

After a cold and foggy start to the day, it is expected to remain dry this afternoon with temperatures reaching 7C.

It will remain overcast overnight and tomorrow.

Elizabeth Line joins the Tube map

A new tube map featuring the Elizabeth Line has been produced 12 months ahead of its opening.

The line, which includes Berkshire hotspots such as Reading, Maidenhead and Slough on its route through central London to Shenfield and Abbey Wood in the East.

The construction of the line has entered its final stages and it will open to the public in phases from December next year.

Fifteen trains per hour will run through the tunnels, increasing to 24 trains through the central section by May 2019, Transport for London said.