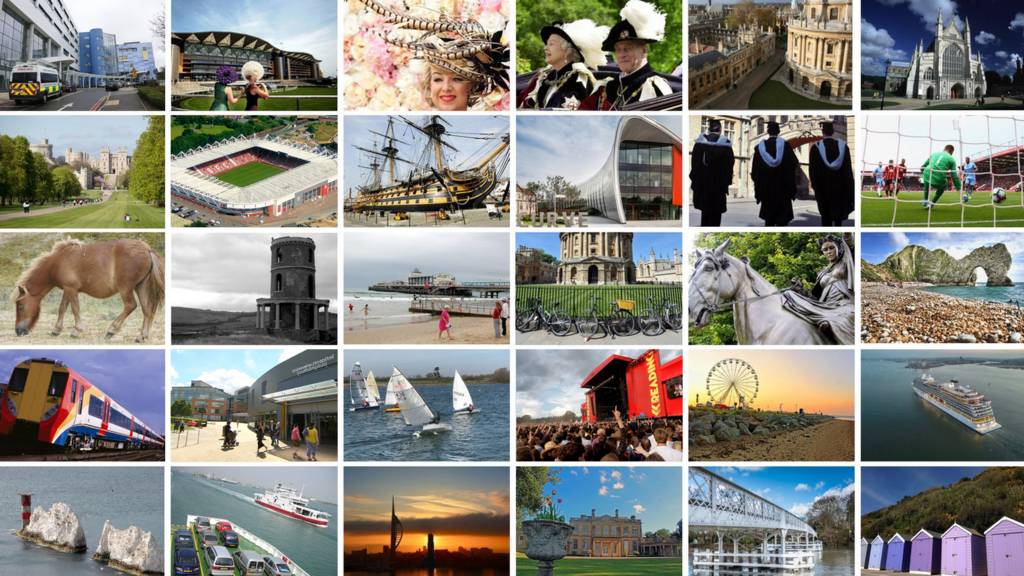 South Live: Wednesday 20 December
You can get in touch by email, on our Berkshire, Oxford, Hampshire and Dorset Facebook pages or on Twitter @BBCBerkshire @BBCOxford @BBC_Hampshire and @BBCDorset.
Rail strikes in new year over guards row

Train strikes are looming in the new year as rail workers plan a series of 24-hour walkouts in the long-running row over the role of guards.

RMT members at five train operating companies will walk out on 8, 10 and 12 January.

Those involved are South Western Railway, Greater Anglia, Merseyrail, Arriva Rail North and the Isle of Wight's Island Line.

Workers at Southern will take industrial action on 8 January.

Health bosses look to keep maternity and paediatric services

Health bosses have announced they're going to try and keep overnight beds for children at Dorset County Hospital.

Dorset Clinical Commissioning Group (CCG) announced over two years ago they were looking at a radical shakeup to a host of services.

Proposals included scaling back paediatric care at the Dorchester Hospital, meaning no overnight beds for children on the Kingfisher Ward.

Instead there were plans to forge a partnership with a hospital in Somerset to provide care for children.

Dorset Clinical Commissioning Group (DCCG) say they will now look to maintain an overnight children's service in Dorchester.

It also intends to keep a consultant-led maternity service.

Concerns over increase in so-called 'mate crime'

Vulnerable adults are being bullied or exploited by people they consider to be friends, according to charities on the Isle of Wight.

The Island's independent consumer champion on health fears it's a growing problem.

It says so-called 'mate crime' is under-reported so the true extent of the impact isn't known.

Oxford historians object to empire project

Image caption: The Ethics and Empire project is being hosted by the McDonald Centre based at Christ Church college

Nearly 60 Oxford University academics have signed a letter in opposition to "the agenda" pursued by a project assessing the ethics of empire.

The programme is led by Prof Nigel Biggar, who in an article in The Times, recently said there are aspects of empire Britain can be proud of.

In their letter the academics said they wished to express their .

Prof Biggar said none of the academics had raised concerns in person.

Waterlooville mobility scooter crash woman sought

Motorist's lost presents returned

A woman has been reunited with her Christmas presents after a motorist spotted them falling out of a moving car.

Janet Cox's wrapped gifts, including a gold necklace, tumbled from the broken boot of her friends' car on Hayling Island, Hampshire, on 13 December.

Her neighbour spotted an online appeal after driver Kelly John, 32, picked them up from the road.

Ms Cox, 69, said she was "so pleased" and had been "crying" after believing the presents were gone.

Tent camp set up in homelessness protest

Our reporter Hannah Bewley has been speaking to a group that has set up camp in Southampton...

Cliff said he was demonstrating because he needs a "safe place to go after being urinated on in doorways".

Councillor Dave Shields said there was rarely a night when there wasn't enough hostel beds in the city and claimed some of the people in the encampment "have homes to go to".

Severe accident: M25 Berkshire anti-clockwise

BBC News Travel

M25 Berkshire anti-clockwise severe accident, at J15 for M4 affecting J17 for A412.

M25 Berkshire - Queuing traffic on M25 anticlockwise at J15 M4, because of an accident, which is now on the hard shoulder. All lanes have been re-opened. Congestion to J17, A412 (Maple Cross).

To report traffic and travel incidents dial 0330 123 0184 at any time

Breaking

Rail companies to strike in new year

Workers at six rail companies are planning to stage a series of 24-hour strikes in 2018 in the long-running dispute over the role of guards.

Members of the Rail, Maritime and Transport Union (RMT) at South Western Railway, Greater Anglia, Merseyrail, Arriva Rail North and the Isle of Wight's Island Line will walk out on 8, 10 and 12 January, while those on Southern will strike on 8 January.

The union said it had made "every single effort" to resolve the bitter disputes, which it insisted were about safety.

New Year's Day Poole Harbour bath tub race called off

A New Year's day bath tub race in Dorset has been cancelled on health and safety grounds.

Poole Harbour Commissioners (PHC) said it would not permit the race, which has run for 43 years, to take place as "safety criteria has not been met".

The annual event on 1 January sees teams race in Poole Harbour in homemade craft, made out of old bath tubs.

Organisers, The Blue Boar said they were "unable to comply at such short notice" with the requests made by PHC.

Manager, Adam Morris, said "It was sprung on us at the last minute. We will be working hard with local authorities for future years".

It is hoped the event will be staged again in 2019.

Royals offer £5 tickets to mark 500th game

Reading have reduced tickets to £5 for both home and away supporters at the Madejski Stadium on Saturday.

Jaap Stam's side host Burton Albion in their 500th match at the stadium, prompting entry for just 500p.

Burton manager Nigel Clough said: "I think it's a brilliant gesture from Reading and to extend it to the away supporters is great.

"It means it's not too expensive for all our supporters that go down there, we just don't want it to be that sort of carnival day where they're celebrating their 500th with a great performance and a great atmosphere and we're lambs to the slaughter again."

Two coffee drinking Thames Valley Police officers dismissed

Two police officers have been sacked after failing to attend two emergencies and going for coffee prior to another.

Thames Valley Police said three incidents involving PC Ataul Ahmad and PC Robert Ashcroft happened between January and March this year.

In January they failed to attend a report of a man with a knife outside a house in Langley, Slough and deliberately went to a different location.

Also in January, they were called to a report of a group of men hare coursing in the Langley area. The force said it was found they had delayed attending the scene by getting coffee at a petrol station.

In March they were in a position to attend a report of an assault of a man in Langley but failed to turn up.

They were dismissed from the force yesterday following a misconduct hearing on Monday.

Quote Message: For the public to have confidence in the police, we expect the highest of standards from all of our officers and their commitment to serving the public. PC Ashcroft and PC Ahmad failed to adhere to these standards of behaviour and there is no place in our force for those who behave in the manner they did. from Ch Supt Chris Ward Thames Valley Police

Arthur Collins Man jailed for nightclub acid attack

A man who threw acid across a packed London nightclub injuring 22 people has been jailed for 20 years.

Arthur Collins, the ex-boyfriend of reality TV star Ferne McCann, threw the corrosive substance at revellers in Mangle E8 in Dalston on 17 April.

The 25-year-old admitted throwing the liquid but had claimed he believed it was a date rape drug.

He was sentenced at Wood Green Crown Court to 20 years in prison with an extra five years on licence.

A total of 22 people were injured as a result of the attack, 16 of whom suffered serious burns.

One of his victims Sophie Hall, from Poole, Dorset, said she had hoped for a life sentence, but felt justice had been served.

She said after the sentencing: "Arthur showed no signs of remorse in court. I have to live with my scars for life."

David Prever welcomed two unusual guests on to his BBC Radio Oxford breakfast show this morning.

Tinsel and Snowflake stopped by the station's car park earlier and even give hugs!