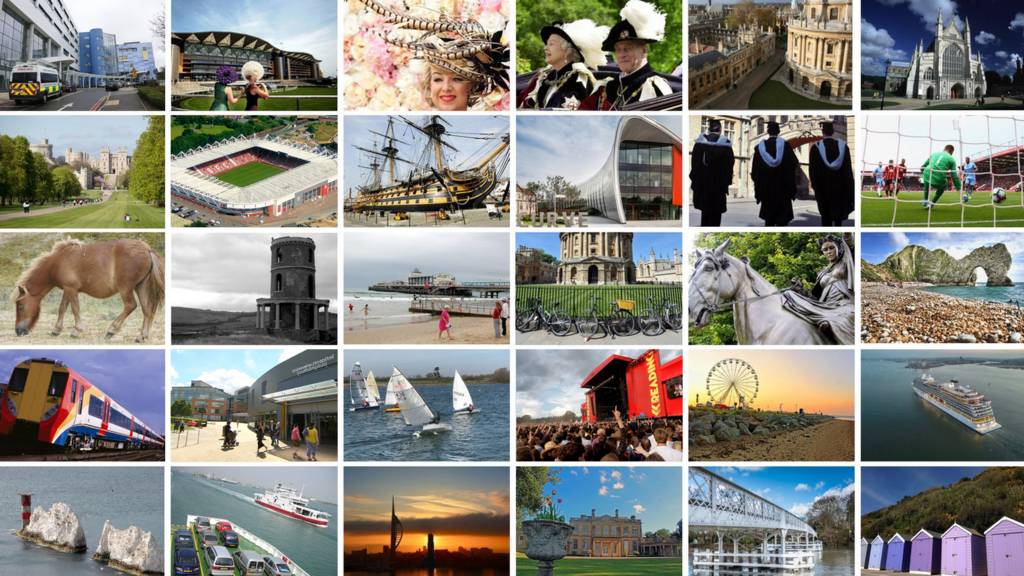 South Live: Tuesday 6 February
You can get in touch by email, on our Berkshire, Oxford, Hampshire and Dorset Facebook pages or on Twitter @BBCBerkshire @BBCOxford @BBC_Hampshire and @BBCDorset.
Summary
Updates from Tuesday 6 February
So long, farewell, auf Wiedersehen, goodbye!

That's all of from us on South Live folks.

Have a great evening, and we will be back at 8:00 GMT tomorrow.

Provisional driver who "crushed" woman apologies to family

Copyright: Family handout

Image caption: Caixia Sun was hit by a Ford Galaxy in the grounds of Sunningdale's Boys' School.

A provisional driver who hit and killed a woman with a car he was driving said he "can't express how sorry" he is to the mother-of-two's family.

Caixia Sun, 50, of Sunningdale, Ascot, was hit by a Ford Galaxy in the grounds of Sunningdale's Boys' School on 5 November 2015.

Reading Coroner's Court heard how provisional driver Melvin Owusu Ansah "lost control" of the automatic vehicle, which reversed and crushed Mrs Sun against her parked Ford Focus.

Earlier, Mr Owusu Ansah said he "regretted accepting a request to park the vehicle".

The kitchen assistant, who had been working at the school's fireworks display on the evening of the incident, said he tried to put the car "into the park position".

He said: "It wouldn't go then my foot went onto the gas."

He told the court the car "accidentally" propelled backwards and he didn't know he was in reverse.

The inquest will continue to Friday.

Trial of former Tesco executives abandoned

The trial of three former Tesco executives charged with fraud and false accounting has been abandoned.

Chris Bush, Tesco's former UK boss, John Scouler, Tesco's former commercial food director and Carl Rogberg, its former UK finance boss have been on trial for more than four months.

It emerged on Tuesday that Mr Rogberg from Oxfordshire had a heart attack last Thursday.

The Serious Fraud Office will decide in early March whether to pursue a re-trial. The men deny the charges.

Image caption: Former Tesco executives Chris Bush (left), John Scouler (centre) and Carl Rogberg (right)

Trapped dog freed after three days in pipe

Copyright: Christ Church college

Image caption: 'Votes for Women' flag flies at Christ Church college

Earlier we told you the 'Votes for Women' flag was flying above Wadham College.

Well its not the only place its being flown today, in fact, they've been seen above colleges all over the city to mark 100 years since The Representation of the People Act.

It's been organised by TORCH (The Oxford Research Centre in the Humanities) along with the city and county councils and other cultural bodies in Oxford.

Image caption: 'Votes for Women' flag flies at Keble College

Homeless £2.5k fine threat within Oxford council's rules

Council staff acted "appropriately" when notices threatening homeless people with fines of up to £2,500 were issued in Oxford, a review has found.

The city's council ordered the report after it was criticised for attaching them to bags belonging to rough sleepers in central Oxford.

Image caption: Oxford City Council said the abandoned bags were blocking fire exits and posed a hazard to pedestrians

It found they were used correctly against rough sleepers on five occasions last year.

But the Green Party said independent legal advice contradicted the finding.

Police raid nine properties in major drug bust

Copyright: Thames Valley Police

Image caption: Officers raided nine properties and searched three other addresses in Slough on Tuesday.

Police say they have taken out a "significant tier of criminality" after 10 people were arrested on suspicion of dealing cocaine and class A drugs.

Officers raided nine properties and searched three other addresses in Slough earlier in an operation which has disrupted a "violent organised crime group" in the town.

Six men aged between 18 and 44, a 42-year-old woman and two boys aged 16 and 17 from Slough were arrested and are in police custody

One man was arrested for failing to appear at court.

Council tax rise in Oxford

Bills for council tax could be set to rise by 2.99% in Oxford in 2018/19.

This amounts to an extra £8.67 per year for the average household, according to Oxford City Council.

Ed Turner, board member for finance, said it was facing "significant pressures on services with reductions in funding".

The rise is part of budget proposals which must be approved by the executive board and the full council before they take effect.

Also included in the plan is a freeze on park and ride charges "for most stays" and an extra £187,000 of funding to address homelessness.

'Anti-homeless' bars removed overnight

A council has removed "anti-homeless" bars from public benches overnight.

The devices to stop people lying on benches were installed by Bournemouth Borough Council at a cost of £3,650.

However, protestors including rapper Professor Green said they were "inhumane" and more than 23,000 people signed a petition for their removal.

The council confirmed all 28 were taken away on Monday night. It said it decided to act in light of "the depth of feeling" over the issue.

Oxford college fly 'Votes for Women' flag

Copyright: Wadham College

The 'Votes for Women' flag is being flown from Wadham College in Oxford as part of events to mark 100 years since some women won the right to vote.

The Representation of the People Act was passed on 6 February 1918 and gave women over 30 and "of property" the right to vote.

Wadham College has its own link to the suffrage movement. It owns 35 Holywell Street in Oxford which was the address for the National Union of Women's Suffrage Societies in 1899.

It was also one of the first five all-male Oxford University colleges to admit women, in 1974.

Copyright: Wadham College

Image caption: 35 Holywell Street was the 1899 address for the National Union of Women's Suffrage Societies

Student in a bottle makes her debut

No, it's not a song by The Police.

A student at the University of Southampton has made her debut as the Circus of Horror's "Pickled Person".

Sarah Twist, 25, squeezes her body into a bottle 2ft high and 18in wide (60cm high, 45cm wide).

The psychology student says her physical flexibility and love of the "macabre" make the job a perfect fit.

'Plastic pig' trains undergo revamp in Eastleigh

Trains nicknamed "plastic pigs" in the 1980s are set to come back into service later this year after being refurbished in Eastleigh, Hampshire.

The revamped trains will run on the Portsmouth-London Waterloo route.

CCTV released in bar pint throwing probe

CCTV footage has been released of a man Thames Valley Police wish to speak to after a man was headbutted in a bar in Oxford.

At around 01:00 GMT on 30 January, a 21-year-old victim was sat in The Baron bar when a man sat up against him in one of the booth areas of the bar. When asked to move, he became aggressive and threw a pint glass at him.

Copyright: Thames Valley Police

The victim received facial and dental injuries.

The offender also head-butted another man in the group, who sustained minor injuries, before leaving the bar.

Jane Austen's house among top cultural spots

One of our local cultural hotspots is included in this list of the top spots for literature and music in the UK.

Jane Austen's house in Chawton, Hampshire, was her home for the last eight years of her life. It's where Sense and Sensibility, Pride and Prejudice and Northanger Abbey were refined and finished; and Mansfield Park, Emma and Persuasion were written.

Copyright: HISTORIC ENGLAND

Her works interpret and satirise England's middle and upper classes, for whom class and money dictated prospects and social standing. With biting irony, Austen used her novels to comment on society, people and the events she observed in her corner of the world.

Austen lived a happy but humble life in Hampshire, where she, her mother and sisters depended on their brother, who had inherited a vast estate, and the dependence of women on marriage for economic security is a common theme in her works.

Courier died after hospital visit fine

Image caption: Ruth Lane said her husband Don was "terrified" of taking time off work

A delivery driver from Christchurch, Dorset, died months after his firm fined him £150 for attending a hospital appointment.

Don Lane, 53, who had diabetes, died on 4 January after collapsing in December.

Ruth Lane said her husband, who had missed numerous hospital appointments due to work pressures, had become "terrified" of taking time off work.

In a statement, courier firm DPD said it was "profoundly sorry" about the fine, but added: "We refute the claim that he was under pressure."

Read more here.

Paul lives the life of a nomad, travelling the country in his wagon pulled by his horse, Barney.