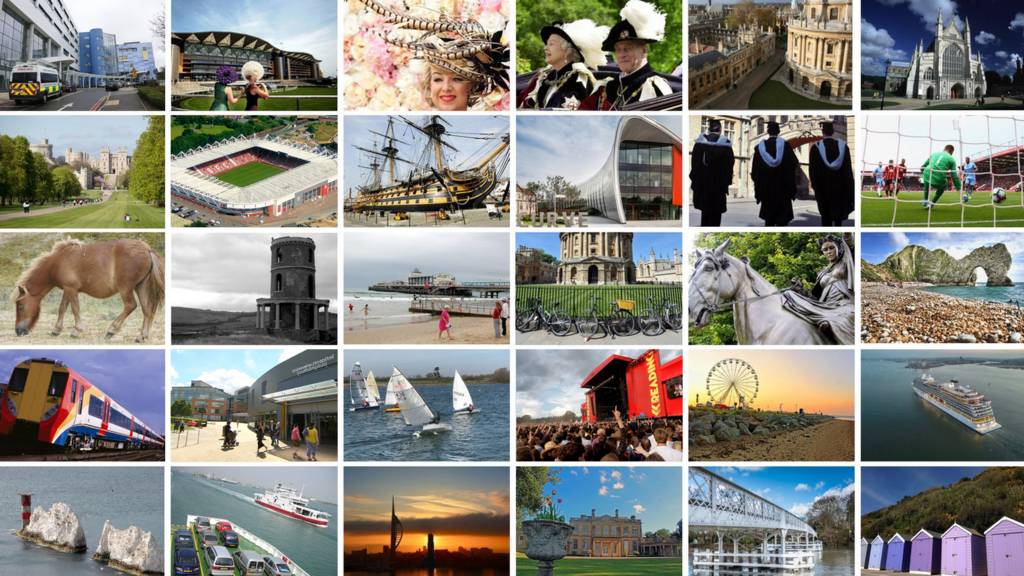 South Live: Wednesday 7 February
You can get in touch by email, on our Berkshire, Dorset, Hampshire and Oxfordshire Facebook pages or on Twitter @BBCBerkshire @BBCDorset @BBC_Hampshire and @BBCOxford.
Summary
Updates from Wednesday 7 February
Thank you for joining us today.

We will be back at 08:00 tomorrow with all of the region's latest news, travel, sport and weather.

Floating bridge: Ferry troubles have 'hurt island's image'

The ongoing issues with the Isle of Wight's £3.2m chain ferry have "really hurt" the island's image, tourism and local business, a councillor has said.

It has broken down repeatedly since it started service in May and is currently not running after the chain which works its prow broke on Friday night.

Isle of Wight Council said: "It is important to remember that we are still in commissioning trials."

It added it hoped the ferry would be back in service "by the end of the week" - it had been anticipated it would resume on Monday.

Quote Message: "The replacement launch means shift workers are not able to get home, community activities between both parts of Cowes are curtailed and tourists are not able to use restaurants and eat out. This bridge has really hurt our island's image, tourism and local business." from Karl Love Councillor for East Cowes (Ind)

Flats explosion 'likely' to have been an accident

David Lumb

BBC News Online

Copyright: Alexander Hammonds

Image caption: Three properties collapsed in the blaze on Gibbs Crescent

An explosion that destroyed three flats and killed a man was likely to have been an accident, an inquest has found.

Guido Schuette, 46, died in the blast in Gibbs Crescent in Oxford on 14 February last year.

Oxford Coroner's Court heard Mr Schuette was heard making threats "to blow this place up" in a row over noise several days before the blast.

But firefighter Bob Speakman suggested a petrol vapour cloud may have accidentally ignited inside the flat.

In a narrative verdict, the coroner said he could not rule out the chance it was caused deliberately but considered it was "less likely".

Police cuts and homelessness subjects of PMQ questions

South of England MPs quiz Theresa May at Prime Minister's Questions.

Graduate loses bid to sue Oxford over 2:1

Image caption: Faiz Siddiqui sued Oxford university for £1m in damages

A graduate who sued Oxford University over his failure to get a top degree has had his claim dismissed by the high court.

Faiz Siddiqui claimed "inadequate teaching" contributed to his low mark in a final year history paper in 2000.

He alleged this cost him entry to a top US law college and sought £1m from the university.

But in his ruling, Mr Justice Foskett said he was not convinced teaching was "negligently inadequate".

Pensioners' bars of silver stolen by conmen

An elderly couple's £40,000 life savings, including sovereigns and silver bars, have been stolen by bogus water officials.

The three men asked to check taps and the boiler at the property in West Moors, Dorset, on Monday.

When they were gone, the victims found sovereign coins and 6 kg (13 lb) of silver bars had been taken from a safe.

The men were described as having Irish accents, with one being about 6ft 4in tall and well-built with short brown hair, police said.

Severe disruption: M4 Berkshire westbound

BBC News Travel

M4 Berkshire westbound severe disruption, between J6 for A355 Slough and J7 for A4 affecting J4B for M25.

M4 Berkshire - Queuing traffic on M4 westbound between J6, A355 (Slough) and J7, A4 (Slough West), because of an earlier broken down vehicle. Congestion to J4b M25.

To report traffic and travel incidents dial 0330 123 0184 at any time

The woman who opposed the right to vote

The extension of the right to vote to some women in 1918 was a victory for female suffrage campaigners, but was not supported by every woman.

Mary Humphrey Ward, from Oxford, founded the Women's National Anti-Suffrage League and wrote books and articles criticising women's suffrage campaigners.

Southampton chosen for drone research

Southampton has been chosen as one of five areas in the UK to design drone technology to support local needs.

The city council and the University of Southampton will develop ways to use drones including gathering weather data and monitoring pollution and traffic.

The five-month project is led by the charity Nesta, which supports innovation.

Timelapse shows ferry's construction

A new ferry that will sail between Portsmouth and the Isle of Wight has been launched off Turkey where it has been built.

Wightlink's new Victoria of Wight vessel is due to enter service in the summer.

Work to construct the ferry started in November 2016.

Planning row over Beckham's tree house

Image caption: The Beckham's bought their property on the Great Tew estate in December 2016

David and Victoria Beckham have been told they can have a tree house in the garden of their home near Chipping Norton.

They've been given planning permission despite claims it had already been built before approval was granted.

A submission to West Oxfordshire District Council from Great Tew Parish Council said it was built in December.

Another comment from David Holland said it made a "mockery" of planning procedure and "normal folk" would have had to take it down.

The Beckham's moved into the area in December 2016 and have been in the process of converting their property, which had consisted of a set of abandoned farm buildings, into a home.

Documents prepared for West Oxfordshire District Council said the tree house would be a "play area" for the owner's children.

The snowboarder going for Olympic glory

A Southampton snowboarder will be competing for medals at the 2018 Winter Olympics in Pyeongchang.

Billy Morgan, 28, finished 10th in the Sochi Games four years ago.

Da Vinci drawings to go on show

Copyright: Tajan/Getty Images

Image caption: A Da Vinci sketch (left) which was unearthed in 2016 has been valued at £12.4m by a French auction house.

Drawings by Leonardo Da Vinci will go on display in Southampton and 11 other cities next year to mark the 500th anniversary of the Renaissance master's death.

Each venue will simultaneously show 12 drawings taken from the Royal Collection.

Da Vinci's 'designs for gun-barrels and mortars' will be among the works on display at Southampton City Art Gallery from February to May 2019.

The entire collection of 144 works will be exhibited afterwards at The Queen's Gallery in Buckingham Palace.

Oxford flats explosion: Threat to blow up flats 'wasn't genuine'

David Lumb

BBC News Online

Dr Janet Patterson, a consultant psychiatrist, said at the inquest into the death of Guido Schuette that his threat to blow up his flat could be interpreted as a "playground threat" to get what he wanted.

There was no clear evidence of a psychotic illness and no genuine signs he would commit suicide, she said.

She added: "He was a difficult character who had his way of doing things. He didn't get on with a lot of people."

Severe disruption: A350 Dorset both ways

BBC News Travel

A350 Dorset both ways severe disruption, at A3049.

A350 Dorset - A350 in Poole closed in both directions at Holes Bay North Fire Station Roundabout, because of recovery work.

To report traffic and travel incidents dial 0330 123 0184 at any time

Towersey Festival headliners revealed

Copyright: BBC / BBC / Getty Images

The Proclaimers, the Richard Thompson Electric Trio and Beth Orton have been named as headline acts at this year's Towersey Festival.

The event, established in 1965, takes place at Thame, Oxfordshire, over the August bank holiday weekend.

Veteran duo The Proclaimers will be making their first-ever appearance at Towersey, topping the bill on Saturday 25 August.

Oxford flats explosion: Deceased man 'warned about storing containers in flats'

David Lumb

BBC News Online

Dawn Wightman from A2 Dominion said they had no knowledge of how Guido Schuette was using his flat.

There was no record of anyone going inside it for some time.

But he had been warned about storing containers in the communal area of the flats.

He could be aggressive towards staff and therefore a restriction was imposed on workers' dealings with him.

They'd also sent him a letter inviting him to an appointment to discuss the ongoing noise row.

Oxford flats explosion: Police visited flat days before explosion

David Lumb

BBC News Online

Police were called to Guido Schuette's flat on 10 February 2017, four days before the explosion, the inquest has heard.

A neighbour reported hearing him banging and shouting: "Everyone wake up, it's the master, the master's awake".

The inquest also heard from Michael Gurvitz, who spoke to Mr Schuette on the day of the explosion.

Mr Gurvitz said Mr Schuette was distressed, saying no-one was listening to his problems.

He said Mr Schuette been upset with housing association A2 Dominion, and was angry that no-one listening to him about his noise row with Annie May.

A statement from Michael Gurvitz said Mr Schuette had previously burnt out a car in Botley Road.

Police have confirmed a car was found but didn't make any arrests.