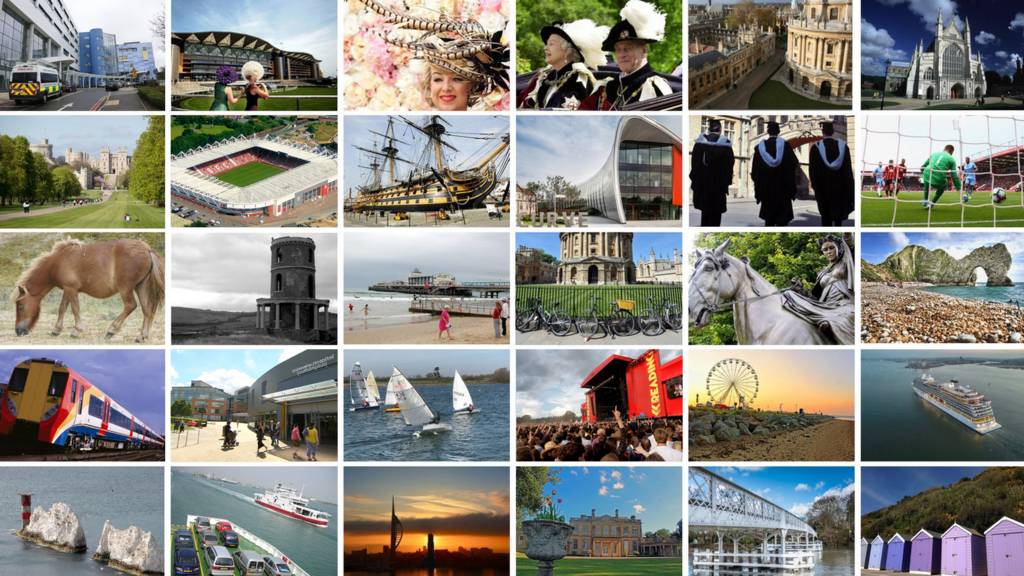 South Live: Friday 9 February
You can get in touch by email, on our Berkshire, Dorset, Hampshire and Oxfordshire Facebook pages or on Twitter @BBCBerkshire @BBCDorset @BBC_Hampshire and @BBCOxford.
Thank you for clicking on South Live today.

We won't be here tomorrow (it's the weekend, hurrah) but we'll be back from 08:00 on Monday with the latest headlines, sports news and travel updates as the new week gets under way.

Grant to visit Oxford to discuss his media battles

Copyright: Oxford Playhouse

Image caption: Hugh Grant studied at New College, Oxford, before launching his acting career

Hugh Grant will be discussing his battles with the press during an evening at the Oxford Playhouse next month

It comes after the actor recently settled a phone-hacking damages claim against Mirror Group Newspapers at the High Court.

The evening is being supported by Hacked Off, a group which pushes for greater press accountability.

Grant has campaigned for them and is donating his settlement from the Mirror Group to Hacked Off.

The Four Weddings and a Funeral and Notting Hill actor will be familiar with the city having studied at Oxford University before launching his film career.

Teenager missing for nearly 10 days

Image caption: Dorset Police is asking anyone who has seen Mike Balliu to contact them

Police are looking for a 17-year-old from Bournemouth who's gone missing.

Mikel Balliu was last seen at an address where he was staying in Stanley Road at about 20:00 GMT on Wednesday 31 January

PC Steve Boston of Dorset Police said they had "no information to suggest Mikel has come to harm" but want to ensure he is safe.

Electric buses return to Oxford

Copyright: Oxford Bus Company

Image caption: Oxford's open-top sightseeing buses are operated by Oxford Bus Company

Five of Oxford's open-top sightseeing buses are to become fully electric thanks to a £1.7m grant from the government.

It'll be the first time entirely electric buses have been used in the city since four were trialed in the 1990s.

The money from the Department for Transports's Clean Bus Technology Fund will also be used to upgrade 78 local buses to make them less polluting.

Oxford City Council leader, Susan Brown, says Oxford city centre currently has illegal air pollution levels and it was looking at possible measures to reduce it.

Upside-down jellyfish discovered in Weymouth

Copyright: Weymouth Sea Life Centre

Image caption: The rare jellyfish were found when a supervisor was cleaning out a tank

A bloom of upside-down jellyfish has been found at Weymouth Sea Life Centre for the first time in 10 years.

Displays supervisor Kico Iraola discovered them while cleaning out the garden eels' tank.

Cassiopea, or upside-down jellyfish as they're commonly known, are rare but had been kept in the same tank many years ago.

The centre believes some polyps similar to sea anemone must have been dormant in the tank's rock and something must have triggered them to breed.

The jelly fish are being moved to the park's nursery where they will be on display to the public,

Charity Commission: Oxfam allegations 'risk undermining public trust'

A Charity Commission spokeswoman has said allegations in The Times that Oxfam staff paid Haiti earthquake survivors for sex "risk undermining public trust".

She added: "In August 2011, Oxfam made a report to the Commission about an ongoing internal investigation into allegations of misconduct by staff members involved in their Haiti programme."

But she said it did not detail the "precise allegations, nor did it make any indication of potential sexual crimes involving minors".

"At the time, and based on the information provided, we were satisfied that the trustees were handling matters appropriately and did not have regulatory concerns. The commission did not see a final copy of the report."

A Department for International Development spokesperson said it had an "absolute zero tolerance of sexual assault or harassment".

"We expect all our partners to have robust systems in place to prevent such unacceptable behaviour, fully investigate complaints in compliance with the Charity Commission, and support those who have been affected."

Shop staff threatened with hammer in Reading

Staff at a newsagents in Reading were threatened with a hammer during an attempted robbery yesterday.

Police say a man armed with the weapon entered Butts Convenience Store in Park Lane at about 20:30.

No money was taken and he later fled towards School Lane.

Officers believe he got into a red car near to a bus stop and drove away along Chapel Hill.

It follows a raid at a McColl's store in Basingstoke on Sunday when a shopkeeper was threatened with a hammer and restrained with cable ties.

It's not known whether police are linking the two incidents.

Warning over rise in cold-calling rogue traders in Slough

Rogue traders in Slough have walked away with £20,000 this week alone, according to Slough Borough Council's trading standards team.

They received two complaints in the past week from vulnerable residents who revealed the cold-calling criminals used high pressure sales techniques on their doorsteps.

The organisation is urging people to be cautious and say they will be patrolling the borough on the lookout for any suspicious activity.

Andy Clooney, trading standards manager, said: "We will use all our resources to rid the borough of these unscrupulous traders and will work closely with partners such as the police in doing so."

Prison suicide training 'omitted by MoJ'

Copyright: Family handout

The government allowed staff from contractor Carillion to work in prisons without mandatory suicide prevention training, it has emerged.

The Ministry of Justice did not specify the training when the firm's £75m-a-year prison contract began in 2015, the Prison Service said.

The service was responding to a coroner's inquiries into the death of prisoner Sean Plumstead, 27, at HMP Winchester in 2016.

The father-of-two was found hanged in his cell but his death could have been prevented by trained staff, an inquest jury previously ruled.

Oxfam aid workers 'slept with prostitutes'

Copyright: AFP/Getty Images

The The Times has accused Oxfam of covering up the use of prostitutes by senior aid workers in Haiti after the earthquake of 2010.

The paper says three managers were allowed to resign, while a further four were sacked - and the incidents were not reported.

A report by the Oxford-based charity is said to have concluded that some of the prostitutes may have been under the legal age of 18.

In a statement, Oxfam said the behaviour of some of its staff was "totally unacceptable".

It added: "As soon as we became aware of the allegations we immediately launched an internal investigation.

"Our primary aim was always to root out and take action against those involved and we publicly announced, including to media, both the investigation and the action we took as a result."

It says it has since set up a dedicated safeguarding team and a confidential whistleblowing hotline.

Breaking

Bus driver who hit man sentenced

A bus driver who knocked over a pedestrian with his double-decker bus has been given a suspended eight-month prison term and a 24-month driving ban.

Cheikh Daouda Senghor, 40, from St Johns Road in Wallingford, Oxfordshire, had previously admitted dangerous driving on 24 June last year.

CCTV footage showing Simon Smith being knocked down in Reading before getting up and walking into a bar went viral.

Mr Senghor was sentenced at Reading Crown Court.

The judge also ordered him to carry out 250 hours of unpaid work and five days of rehabilitation activity.

Mr Senghor will have to take an extended driving test at the end of his ban.

Top stories across the South

Oxford activates homeless cold weather plan

Image caption: Extra beds are opened in Oxford when temperatures fall to zero or below for three consecutive days

Extra beds for homeless people in Oxford will be available until at least Sunday due to cold weather.

The Met Office is predicting temperatures will drop below zero on Friday and Sunday.

Normally the beds are only open when temperatures fall to freezing or below for three consecutive days but the city council has used its discretion to make an exception.

It says it will decide whether to extend the measure on Monday.