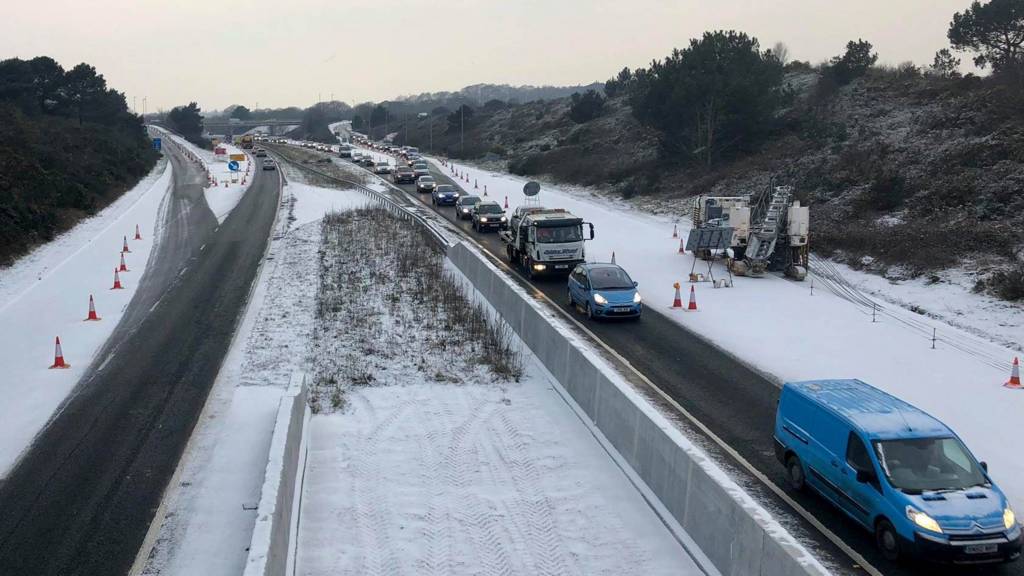 Travel chaos as snow storm bites
You can get in touch by email, on our Berkshire, Dorset, Hampshire and Oxfordshire Facebook pages or on Twitter @BBCBerkshire @BBCDorset @BBC_Hampshire and @BBCOxford.
That's it for today, but BBC South Live will start earlier than usual tomorrow at 06:00 to make sure you get all the latest news.

More snow is expected and amber warnings are in place, so stay safe and keep warm.

Severe disruption: A35 Hampshire both ways

BBC News Travel

A35 Hampshire both ways severe disruption, between Rhinefield Ornamental Drive and A337 Shrubbs Hill Road.

A35 Hampshire - A35 in Lyndhurst blocked in both directions between the Rhinefield Ornamental Drive junction and the A337 Shrubbs Hill Road junction, because of a jackknifed lorry.

To report traffic and travel incidents dial 0330 123 0184 at any time

Oxford Mini Plant closed for workers

The Mini Plant in Oxford has cancelled its night shift as a result of the bad weather.

The plant told workers not to turn up this evening.

100 vehicles stuck on Puddletown bypass

Image caption: The A35 Puddletown bypass pictured earlier in the day when one lane was closed

About 100 vehicles are believed to be stuck on the A35 Puddletown bypass in Dorset, police have said.

The force said it wanted to send a message of reassurance to all of those involved on the closed stretch of road between Bere Regis and the Stinsford roundabout.

Ch Insp Alan Setchell of Dorset Police said: "I would make a special plea to anyone who has a particular urgent medical need or requires immediate assistance to contact us on 101 and give us your precise location so we can assist you as a priority.

"People are urged to stay in their vehicles and we will get to you as soon as possible."

Severe disruption: A36 Hampshire both ways

BBC News Travel

A36 Hampshire both ways severe disruption, between A3090 and Peters Finger Road.

A36 Hampshire - A36 Salisbury Road blocked, long delays and stationary traffic in both directions between West Wellow Services Roundabout in Ower and the Peters Finger Road junction in Britford, because of snow.

To report traffic and travel incidents dial 0330 123 0184 at any time

Met Office updates weather warnings

Four-hour delays and 'snowploughs stuck' on M27 and A31

Evening headlines in Berkshire

The A34 near Newbury will be closed until further notice, Hampshire Police say. It's now 11 hours since it was closed after a fatal crash
Drivers say they've been stranded on the A339 between Basingstoke and Newbury for three hours. An amber warning for heavy snow is in place into tomorrow morning
British Gas, which is owned by Windsor-based Centrica, says its call centres are struggling to cope with a high number of calls due to the snow
Detectives are hunting for a man posing as a taxi driver accused of two rapes in Newbury in the past six weeks. Both women were picked up in the early hours of the morning after leaving a nightclub and a pub in the town centre

'Snow canoeing' in Bere Regis

Two men have been spotted "snow canoeing" in rural Dorset.

A BBC cameraman filmed the pair as they were towed by a 4x4 through the streets of Bere Regis.

Severe disruption: A4130 Berkshire eastbound

BBC News Travel

A4130 Berkshire eastbound severe disruption, between Remenham Lane and Aston Lane.

A4130 Berkshire - A4130 Wargrave Road in Henley-On-Thames closed and queuing traffic eastbound between the Remenham Lane junction and the Aston Lane junction, because of snow.

To report traffic and travel incidents dial 0330 123 0184 at any time

South Western Railway 'pre-cancels' trains

Here's the latest statement we have from South Western Railway as snow continues to affect the rail network.

Quote Message: More snow is forecast across much of the south western network on Thursday and Friday. We are working hard with Network Rail to keep passengers on the move and unfortunately will need to pre-cancel some trains on both days to help deliver as reliable a service as possible in these challenging conditions." from South Western Railway

Chiltern Railways services still in action

Chiltern Railways continues to operate all its routes but said some services may be delayed "due to severe weather conditions".

The company said this is likely to be the case for the rest of the day, and possibly into tomorrow.

All travel restrictions are being restricted for the day.

Power back on in parts of Berkshire

Power supplies in parts of Berkshire have been restored after a substation exploded.

SSE told BBC Berkshire that 400 homes across Wokingham, Barkham and Finchampstead were without power following a small explosion at a substation.

Earlier, 1,400 homes were left in the dark following the incident.

SSE spokesman Duncan McDonald apologised to customers and confirmed all power had been restored.

A34 remains closed after fatal crash

Closures on the A34 will remain in place "until further notice" following a fatal crash this morning, police have said.

Hampshire police released a statement this evening confirming work to repair barriers near the Tot Hill services is ongoing.

Earlier it said Highways England hoped to have closures lifted by 18:00.

The northbound closure runs from Bullington Cross to Tot Hill, and the southbound closure runs from Tot Hill to Burghclere.

A 46-year-old man from Southampton died in a crash involving a van and a lorry.

Police close road for sledging

After sledgers on Athelstan Road in Southampton helped a police car get up the hill, the officers helpfully closed the road allowing the sledging to continue.

Apparently, they're hoping for some success in the Beijing Winter Olympics in 2022.

Thanks to Phil Wilkinson for sending in the picture.

Copyright: Phil Wilkinson

Severe weather website created for Oxford

Oxford City Council has created a severe weather webpage.

It will be posting updates on its services including gritting, rubbish collections and bus services.

You can find it here.