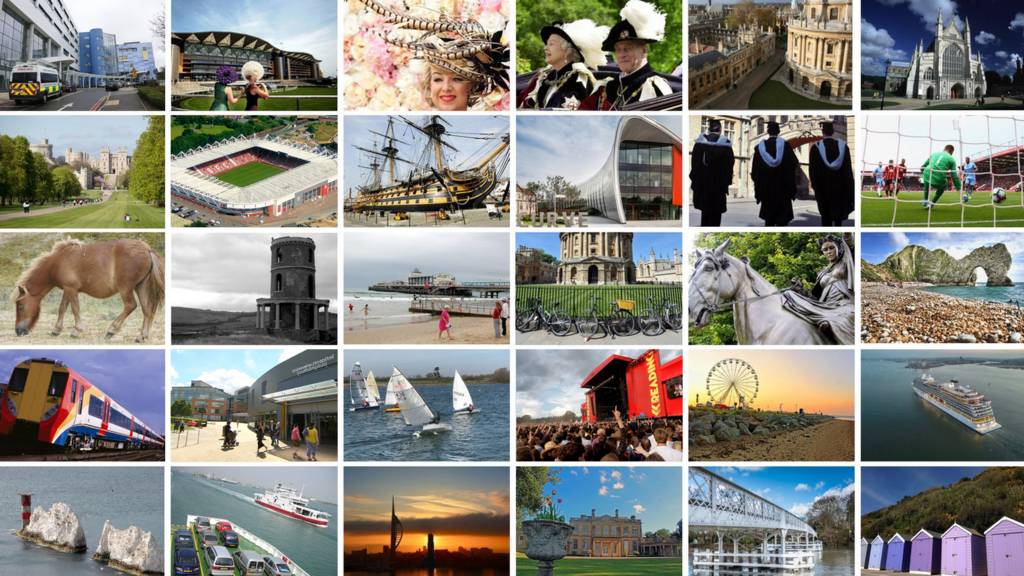 South Live: Tuesday 3 April
You can get in touch by email, on our Berkshire, Oxford, Hampshire and Dorset Facebook pages or on Twitter @BBCBerkshire @BBCOxford @BBC_Hampshire and @BBCDorset.
That's all for Tuesday. We'll be back at 08:00 BST on Wednesday.

Police gender pay gap figures released

Dorset Police is among the forces with the highest gender pay gaps in England and Wales, paying its female staff more than a quarter less than men, figures show.

Derbyshire Constabulary has a median gender pay gap of 28.8%. When comparing hourly rates, women earn 71p for every £1 men earn.

Forces in Kent (27.5%), Durham (27.0%) and Dorset (27.0%) follow in the list of those with the biggest gaps. In Thames Valley, the gap was 18.7% and Hampshire's gap was 18.7%.

Every force in England and Wales submitted its figures Government Equalities Office. The gender pay gap is calculated as the difference between the average salaries of men and women.

Abingdon hall could house new cinema

Abingdon's Abbey Hall could house a new single-screen cinema if plans are passed.

The town council has received a formal offer from the Regal Cinema to rent the hall until summer 2020.

After that time it is being transformed into a community hub with a library and other council services.

Some updates are needed to the hall before the cinema can be opened this Summer.

Image caption: Abingdon's Abbey Hall

CCTV released after Henley assaults

Copyright: Thames Valley Police

Image caption: Police wish to speak to three men in connection with the assaults

Images of men wanted in connection with an assault in Henley which has left a woman needing surgery have been released.

She suffered a fractured eye socket in an attack outside Smoky Flame in Greys Road between 22:00 and 22:30 on Wednesday 14 March.

Police say she was attacked by a group of males. A 45-year-old man was also assaulted and sustained cuts and bruises.

A 38-year-old man from Reading has been arrested and released under investigation, police added

Child sexual exploitation 'ongoing issue in Oxford'

Image caption: The men were convicted at Oxford Crown Court

The NSPCC is warning that child sexual exploitation is an ongoing child protection issue in Oxford.

The warning comes after the conviction of seven men in Oxford last month.

The charity says it's important that parents, carers and community members look out for signs of child sexual exploitation and act to stop abuse.

The NSPCC's 'Speak Out Stay Safe' scheme reached more than 20,000 children right across the primary school age groups in the county in the last school year.

The eighth member of a "cynical and predatory" grooming gang that sexually exploited girls in Oxford was named last week after a court order was lifted.

Police appeal after attempted rape in Poole

A woman has escaped from an attempted rape in Poole by elbowing her attacker in the stomach and kicking him between the legs.

She was walking close to the junction of Verity Crescent and Adastral Road in Canford Heath at about 20:00 BST on Monday.

A man approached her from behind, grabbed her around the waist and put a hand over her mouth before she managed to kick him, causing him to fall to his knees. She was able to escape on foot.

Dorset Police said it was a "traumatic incident" for the victim and have appealed for information from anyone who saw a man acting suspiciously in the area.

Explosive material found at recycling centre

Image caption: Drayton Household Recycling Centre is being re-opened, Oxfordshire County Council says

A recycling centre in Oxfordshire was closed earlier after explosive material was found.

Oxfordshire County Council says the "historic ordnance" was discovered at Drayton Household Recycling Centre.

Specialists were called to deal with the situation and the site is now being reopened, the council adds.

Men scammed £800 from 88 year old

Image caption: The offence happened at about 13:30 BST on Thursday 29 March, police said

Two men are wanted by police for conning an 88-year-old in Wallingford out of hundreds of pounds.

Officers say they told the woman, who lives on Station Road, her roof needed repairs before convincing her to hand over £800.

The men - who were wearing orange high visibility tops - took the cash before trying to steal her bank card.

When the victim challenged the pair they ran to a white van and drove off.

Star Walks for stormtrooper fundraiser

Isle of Wight man Ben Allen plans to walk to the French capital in a Star Wars stormtrooper suit.

Allen's bicycle kick seals win for Reading

Watch the best action from the WSL including Remi Allen's bicycle kick as Reading beat high-flying Manchester City 2-0

Video content

One of our Dinosaurs is Moving

The behind-the-scenes story of how Dippy the diplodocus came to Dorset on the first stop of his nationwide tour.

As the nation's favourite dinosaur is squeezed into Dorset County Museum, Jon Cuthill discovers how Dippy was originally made and explores the world-famous Jurassic Coast.

14 officers 'assaulted' over Easter weekend'

Hampshire Police Federation has said officers were punched, kicked and spat at.

Warning over tax refund scam

Police officer barred after having 'sexual relationship' with witness

A Dorset Police officer has been barred from service after he had a sexual relationship with a "vulnerable witness" who he had met in the course of his duty, a misconduct hearing found.

The former officer, who Dorset Police said cannot be named for legal and safeguarding reasons, breached the "police standards of professional behaviour".

The force said the officer, who resigned before the end of the investigation, met the female witness when he attended and investigated a road traffic collision in 2017.

The officer became aware the witness had previously been a victim of domestic abuse and just days after the collision the officer started to communicate privately with the witness, which quickly led to a sexual relationship.

Chief Constable Debbie Simpson concluded the former officer would have been aware of the vulnerability of the witness.

Stomach bug outbreak on US school trip

Forty-eight children and three teachers from a British school were taken to a US hospital following an outbreak of a stomach bug, emergency services say.

Ambulance crews were called to Hotel Harrington in Washington DC on Sunday evening after reports that a party from Crookhorn College in Waterlooville, Hampshire, had fallen ill.

Thirteen people had suffered with "gastrointestinal distress", an emergency services spokesman said.

Others were treated as a precaution.

De la Rue given more time to challenge passport decision

The UK government has granted a two-week extension to the bidding process to make the new British passports.

Basingstoke-based company De La Rue had requested the longer "standstill period", which has been agreed by the Home Office.

It now means a decision will now be made on Tuesday, 17 April.

De La Rue had lost the £490m contract to French-Dutch Gemalto in March. The British firm had earlier said it was preparing to take the government to court over the proposed move.

De La Rue's bid was not the cheapest but it said it was "the highest quality and technically most secure".

Experienced officers could turn around detective 'crisis'

Recruiting experienced police officers into detective roles could be key in turning around a 'crisis' in the force, according to Thames Valley Police federation.

PC Craig O'Leary, chairman of the federation, said the "best way" to recruit experienced officers was to "make it appealing for them to apply".

In a national survey last year 73% of detectives said they were not able to provide the service victims need "most or all of the time", the federation said.

More than half believe that cuts have had a negative impact on team morale, while a quarter stated that they had impacted on physical and mental health.

Image caption: Craig O'Leary

Runners taking part in the Maidenhead Easter 10 stopped in their tracks to grab a selfie with Theresa May who was marshaling the event.