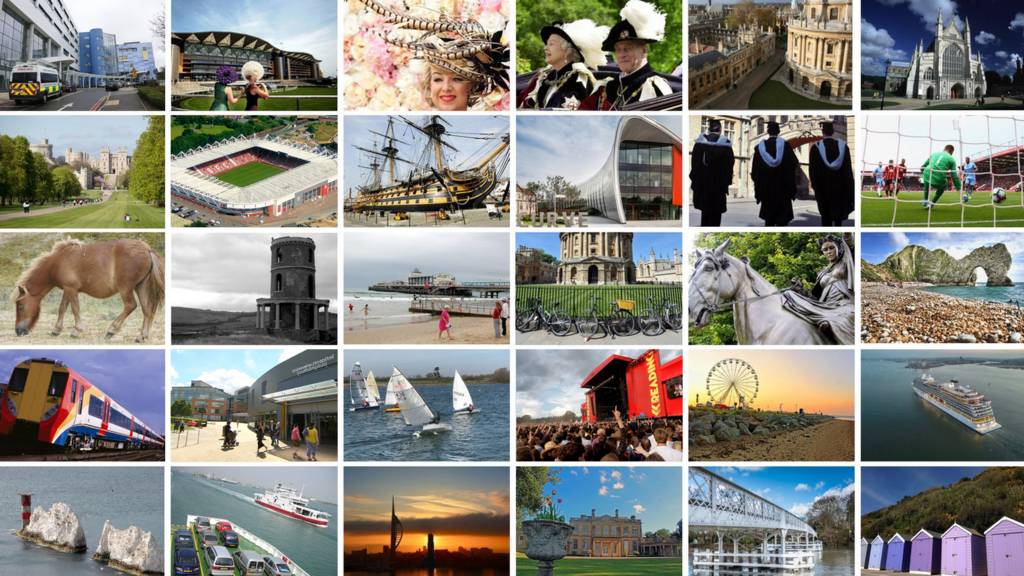 South Live: Thursday 5 April
You can get in touch by email, on our Berkshire, Oxford, Hampshire and Dorset Facebook pages or on Twitter @BBCBerkshire @BBCOxford @BBC_Hampshire and @BBCDorset.
That's all for today on BBC South Live. We'll be back at 08:00 tomorrow.

We hope to see you then.

Family tribute after Hampshire road death

Tributes have been paid to a driver who died when his car left the road on the A3090 in Hursley early this morning.

Ryan Mayhew, 26, of Woodley Lane, Romsey, was driving a silver Ford KA which was found by the side of the road by Deer Park Farm shortly before 05:30.

A statement issued by his family said: "Ryan is a very well-loved husband, son, brother, son-in-law and friend.

"We are hugely shocked and saddened by his sudden passing. He will be greatly missed by all who knew him."

Hampshire police said investigations were continuing into the exact circumstances of the crash.

Copyright: Hampshire Constabulary

Copyright: Spotted: Thame

Blue lights over parts of Oxfordshire and Buckinghamshire caused a bit of a stir among residents last night.

James Lidington told us: "We saw some strange blue lights moving across the sky.

"I live in Princes Risborough but I know people in Thame, Banbury, High Wycombe and Aylesbury who also spotted the odd lights.

"We're tryng to solve the odd mystery of what they could have been. Some people are saying it's a UFO while others think it was light from a train carriage."

Jack Shurrock told the Spotted: Thame Facebook page: "I saw it too driving from Thame to Chilton. I was worried my Christmas lights had blown away in the wind."

So we ask you readers, do YOU know why the sky turned blue? Email us here.

Gas works causing delays in Oxford

Could you be saving money on train fares?

National Poo Museum aims for new home on Isle of Wight

The National Poo Museum has launched a crowdfunding appeal to help give it a permanent home on the Isle of Wight.

The mobile attraction features faeces from animals such as elks and lions as well fossilised poo (coprolites) dating back 140 million years and a tawny owl pellet containing bones and teeth.

It also covers issues such as dog mess and the lack of access to sanitation in developing countries.

Directors have launched a £10,000 appeal to renovate Sandown Battery as a base for the exhibits.

BBC Springwatch presenter Kate Humble has already tweeted her backing to the scheme.

Travellers move on to park and ride in Oxford

Thief tips over woman in her mobility scooter

Image caption: The woman was targeted on Carberry Avenue at about 16:15 BST yesterday

A woman in her 70s suffered a broken arm when a man pushed over her mobility scooter as she was riding it in Bournemouth.

He also grabbed her handbag from the basket.

Dorset Police said the offender, who was riding a bike, had approached from behind on Carberry Avenue and grabbed the bag before pushing the scooter and riding away towards Southbourne.

It happened at about 16:15 BST yesterday and the victim's mobile phone was later recovered in Ruffold Gardens.

Det Cost Matt Loader said the women had been left "shaken" by the robbery.

By Jonathan Morris

BBC News Online

Yoga class takes place on train

A yoga class took place on a Chiltern Railways train yesterday.

The rail operator teamed up with the University of Oxford Mindfulness Centre on the Birmingham to London route and invited passengers to join in.

Commercial director Eleni Jordan said: "People are glued to their phones everywhere they go.

"Whilst a crucial part of our lives, there is great benefit in taking time to switch off.

"We wanted to create a space to promote mindfulness - where our passengers can sit back, reflect and re-energise."

Cemetery suspends late visits after burglary

Garden equipment and hand tools have been stolen from a cemetery in Bracknell.

Bracknell Forest Council said it was temporarily suspending informal out of hours visiting to Easthampstead Park Cemetery and Crematorium as a result.

Steve Loudoun, chief officer for environment and public protection, said: "We know that some people have found the ability to visit later on in the afternoon and early evening beneficial.

"However, due to the burglary... we need to review security measures as we cannot risk any more equipment being stolen.

"We're sorry that the actions of callous and opportunist burglars has compromised the informal out of hours visiting arrangements we had in place but hope that people understand we need to protect the cemetery and crematorium from any further possible criminal activity."

Consultation concern for Oxford-Cambridge link

Image caption: Oxford to Cambridge Expressway is aimed at promoting economic growth in the area between the cities

Concerns about the amount of consultation for the Oxford-Cambridge Expressway have raised with the Transport Secretary by the leader of a south Oxfordshire council.

A new road route connecting the cities is part of the government's post 2020 Road Investment Strategy.

But Matthew Barber said the "lack of proposed public facing decision making and consultation" on the proposed route was of "great concern".

The Vale of White Horse District Council leader made the comments in a letter to Chris Grayling sent last week.

He asked for Highways England to be required to carry out more public engagement to ensure all the impacts have been considered.

Women cross-dressed to join English Civil War

Image caption: The Battle of Marston Moor in the English Civil War was painted by John Baker

Accounts of women dressing as men to join the English Civil War have been uncovered by a historian from the University of Southampton.

Professor of Early Modern History, Mark Stoyle, investigated claims rival armies of King Charles I and Parliament were frequently accompanied by women who dressed in men's clothing in order to go unnoticed.

The Unversity of Southampton said hundreds of original manuscripts and printed works were scrutinised as part of the project.

It shows varied reasons for women choosing to cross-dress; some women appear to have been motivated by a desire to fight for the cause, while others didn't want to be parted from their husband.

The study, has been published in The Journal of the Historical Association, History.

Abbey Gateway to open next week

Copyright: Reading Council

Image caption: The Heritage Lottery Fund contributed £1.7m towards the refurbishment

The Abbey Gateway in Reading is to be opened by the town's mayor next week after refurbishment.

Reading Museum's Victorian Schoolroom experience will move into the space from September 2018.

It will also be used for events like history tours in the summer.

Mayor of Reading, Rose Williams, will open it in a private ceremony on Thursday 12 April before the public can visit on Saturday 14 April.

Deputy leader of Reading Council, Tony Page, said:"I'm delighted to finally see the newly restored Abbey Gateway open to the public.

"The building has a rich and varied history, including its claim to fame as the former classroom of the writer Jane Austen."

School stabbing case sent to crown court

A teenager who is accused of stabbing a girl in the stomach in a school canteen has been ordered to appear before Southampton Crown Court.

The 15-year-old boy is charged with maliciously wounding the girl with intent to do grievious bodily harm and with possessing a knife at Testwood School in Totton on 26 March.

He gave no indication of any pleas in a brief appearance at Southampton Youth Court and was remanded in youth detention by magistrates to appear at the crown court on 20 April.

Police previously said the girl's wound was not life-threatening.