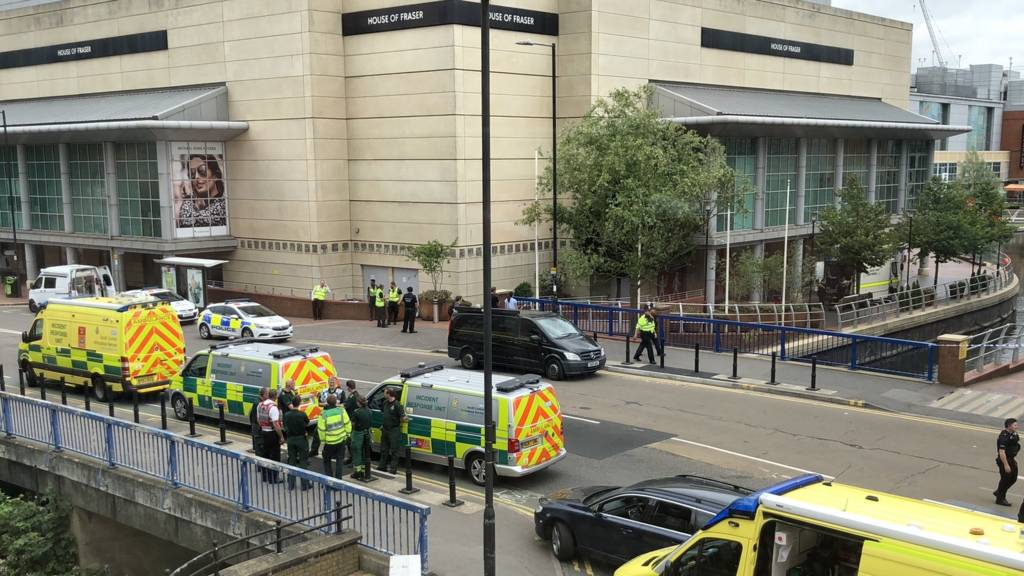 South Live: Tuesday 12 June
The Oracle shopping centre in Reading was evacuated at 09:00 BST today after reports of a "suspicious package". We are bringing you live updates from the scene, as well as headlines from across the South.
Summary
Reading shopping centre evacuated
Bomb disposal team on site
All closed roads reopen
Oracle's Riverside car park reopens
Holy Brook car park remains closed
Oracle car park users 'will not be charged'
Police were called at 09:00 BST
Politics: Bracknell MP quits government job over Brexit
Thanks for joining BBC South Live.
The service will resume at 08:00 on Wednesday with all the latest news, travel, sport and weather.
Have a good evening.
An email claimed the "social conscience" of students was drawing homeless people to Oxford.
Read more
High security planned for Royal Ascot
There will be a high level of security at Royal Ascot next week, according to Thames Valley Police.
The force said there will be armed response officers, plain clothes officers, and bag and vehicle searches on top of a number of measures "that cannot be seen".
More than 300,000 people are expected to attend the five-day event.
Reading evacuation: Oracle car park users 'will not be charged'
Car park joy for some, misery for others

Imagine turning up for a brief shopping trip on a Tuesday morning, only to find your car trapped in a car park for more than eight hours.
That's what some people had to endure today after visiting the Oracle, with a security incident closing the site for the day.
Those in the Riverside car park can now go home, the relief palpable on those I spoke to. One said he had been waiting to leave since 10:00 BST, and had to shop for the whole day.
However, those in the Holy Brook car park will still have to wait, with no update as to when that will open. It should be noted that is closer to the shopping centre.
The Oracle itself remains closed until "further notice".
Reading evacuation: Police measures 'aimed to ensure safety'
The measures put in place by Thames Valley Police after a suspicious item was found at The Oracle shopping centre in Reading were to "ensure safety", the force has said.
Ch Insp Emma Burroughs, deputy local police area commander for Reading, said: "The measures we have put in place have been required in order to ensure that everyone remained safe throughout the day.
"We appreciate there has been disruption in the area and I would like to thank people in Reading for their patience throughout the day while we have been working to safely resolve the incident."
Reading evacuation: Police comment
Thames Valley Police press office has confirmed the road closures around Reading's Oracle Shopping Centre are now being lifted.
It added that "investigations are continuing to determine if a suspect bag did contain a credible device".
Police were called first at 09:00 BST today.
Reading evacuation: Car parks opening this evening

All of the roads surrounding The Oracle shopping centre in Reading have now reopened.
Police on the scene are prioritising letting out cars that are trapped on side roads first, then plan to let all traffic though.
The Oracle car parks will open this evening, but as yet police don't have a timescale for that.
An officer on the scene has told me that the Riverside car park is more likely to be opened sooner than Holy Brook car park - he expected to know the timings within the next half hour.
The bomb squad and majority of police have now left the scene but The Oracle remains closed.
Schoolgirl 'grabbed by stranger' in Bournemouth
Police are investigating after an 11-year-old schoolgirl was grabbed by the wrist by a stranger in Bournemouth.
The girl was walking near to the junction of Luther Road and Cranmer Road in Winton, between 08:00 and 08:15 BST, when the man, described as white and clean shaven, grabbed her wrist.
Dorset Police said the man did not say anything and the girl pushed him away before running off to school, where she alerted teachers who then contacted the force. The girl was uninjured.
Breaking
Reading evacuation: Road closures being lifted

The cordons on Bridge Street, Castle Street and Gun Street, which run around The Oracle shopping centre in Reading are being lifted.
Shoppers were evacuated and closures were put into place at 09:00 BST after the discovery of a suspicious package.
The Oracle Shopping Centre remains closed.
Chance £60 fare costs taxi driver thousands
A taxi driver has been handed fines and costs totalling £2,785 after offering to illegally carry an undercover council officer during Reading Festival last year.
A covert licensing officer approached taxi driver Syed Hamdani, 44, from Slough, near the festival site, at about 23:30 on 25 August.
Mr Hamdani, a hackney carriage driver licensed by the Royal Borough of Windsor & Maidenhead, agreed to take the undercover officer to Bracknell for £60 without a booking.
If the journey had gone ahead, neither the driver, car nor passenger would have been insured in the event of an accident.
Severe disruption: M27 Hampshire eastbound
BBC News Travel
M27 Hampshire eastbound severe disruption, at J5 for A335 Wide Lane affecting J4 for M3.
M27 Hampshire - Stationary traffic on M27 eastbound at J5, A335 (Southampton Airport), because of a lorry having a tyre changed and all traffic being temporarily held. Congestion to J4 M3.
To report traffic and travel incidents dial 0330 123 0184 at any time
Severe disruption: M3 Hampshire southbound
BBC News Travel
M3 Hampshire southbound severe disruption, at Winchester Services.
M3 Hampshire - M3 lane closed on slip road into the services and slow traffic southbound at Winchester Services, because of a broken down vehicle.
To report traffic and travel incidents dial 0330 123 0184 at any time
Severe disruption: M4 Berkshire eastbound
BBC News Travel
M4 Berkshire eastbound severe disruption, between J13 for A34 Chieveley and J12 for A4.
M4 Berkshire - One lane closed on M4 London-bound between J13, A34 (Chieveley) and J12, A4 (Theale), because of a lorry having a tyre changed. Traffic is coping well.
To report traffic and travel incidents dial 0330 123 0184 at any time
Crow attacks in Sherborne 'like scene from Hitchcock's The Birds'
Crows are vandalising cars, waking residents and "throwing themselves" at houses in an area of Dorset.
The birds have mainly targeted window and door seals in St Marys Road and Ridgeway in Sherborne since last month.
Residents have been forced to cover their cars, with some social media users likening events to those in Alfred Hitchcock's film The Birds.
The RSPB said the actions of the crows were "territorial" and common during breeding season.
Hengistbury Head reopening on cards
Dorset could have a new National Coastwatch Institution lookout later this summer.
A group of volunteers is currently working towards transforming a disused coastguard station at the top of Hengistbury Head into an NCI lookout.
There are currently five in Dorset: Charmouth; Lyme Bay; Portland Bill; St Alban's Head and Swanage.
'Highly unlikely' Oracle will reopen
From the scene in Reading

A few hours ago, these areas were packed with shoppers and retail staff, expected to be let in at any moment.
Now, the emptiness highlights that firstly, shoppers have packed it in, but also that retailers have given up any hope of opening today.
Having spoken to police officers and Oracle staff, it is "highly unlikely" it will open again today, but police do hope to open the road tonight to let trapped cars out of the shopping centre car park.
It is a worry for some, including a man I spoke to who said he would be going away for three days tomorrow, so couldn't pick up his car if nothing opened today.
There is still no official update on the "suspicious" item found earlier by the force.
A man is in a critical condition after his bike was involved in a collision with a car in Fareham.
Officers were called to Highlands Road, at the junction with Hill Drive on Monday afternoon.
The 20-year-old cyclist is being treated at Southampton General Hospital.
No one else was injured in the crash and police are appealing for witnesses.
Severe accident: M4 Berkshire westbound
BBC News Travel
M4 Berkshire westbound severe accident, between J8 for and J10 for A329.
M4 Berkshire - One lane closed and queuing traffic on M4 westbound between J8 and J10 A329(M) Wokingham, because of an accident.
To report traffic and travel incidents dial 0330 123 0184 at any time