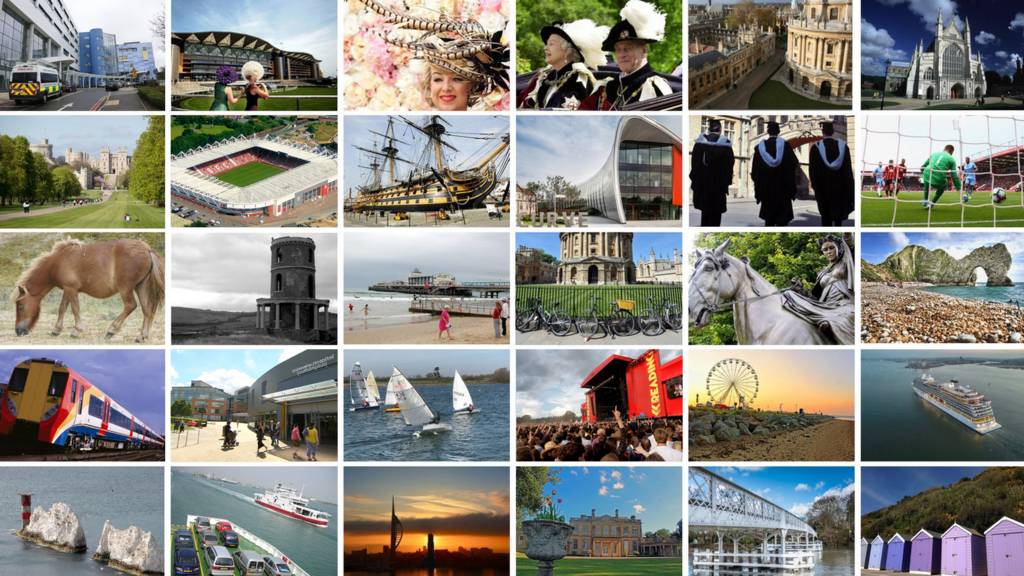 South Live: Thursday 7th June
You can get in touch by email, on our Berkshire, Oxford, Hampshire and Dorset Facebook pages or on Twitter @BBCBerkshire @BBCOxford @BBC_Hampshire and @BBCDorset.
That's all for BBC South Live today.

The service will resume at 08:00 on Friday. Please join us then.

Appeal to find missing Afghan teenager

Police are trying to trace a teenager who went missing in Bournemouth.

Hanif Sherzad, who is from Afghanistan and doesn't speak much English, was staying at an address in Alum Chine Road and last seen on Friday 18 May.

The 16-year-old said he was going to meet friends but has not been seen since.

Woman in hospital after two-car crash

Natalie Verney

BBC Radio Oxford

A woman's in a serious condition in hospital after a two-car crash in East Hanney, Oxfordshire.

It happened just before midday on Monday on the Oxford Road.

The woman, who's in her 70s and was driving one of the cars at the time, is being treated at the John Radcliffe Hospital.

The driver of the other car escaped with minor injuries.

Police investigated over Grindr rapist inquiry

Copyright: HAMPSHIRE CONSTABULARY

A police force has been told to change its procedures following its investigation into a registered sex offender who used gay dating app Grindr to commit further offences.

Sam Ashley, 30, was jailed for drugging and attacking men he met on the app.

The Independent Office for Police Conduct recommended changes to Hampshire Constabulary's management of sex offenders.

Its report concluded no police staff had a case to answer for misconduct.

Ashley received a 23-year prison sentence at Portsmouth Crown Court last week.

CCTV plea over Southampton tattoo studio alley rape

Copyright: Hampshire Constabulary

Police have released CCTV images of a man on a bike they want to trace after a woman was raped behind a tattoo studio in Southampton.

The victim was riding her bike when she was approached by a man, also on a bike, in Shirley High Street at about 01:30 BST on Sunday.

He then assaulted the 28-year-old in Howards Grove behind Guys and Dolls Tattoo and Piercing Studio.

Police said the man in the CCTV footage is white, wearing a black holdall bag across his body and riding a mountain bike.

Officers believe he is British as he spoke with a local accent.

Copyright: Man on bike in CCTV picture

Flock of sheep stolen in Dorset

About 70 sheep have been stolen from a field in Dorchester.

Police say about 25 ewes and 45 lambs were taken from the site off Maiden Castle Road at some point between last Sunday evening and Monday morning after the gates to the field were smashed.

Police community support officer Sarah Pilcher said: "A large cattle trailer with a 4x4 or a small lorry would have been required to remove the sheep from this field."

Oxford University starts sexual violence service

Oxford University says it's stepping up the specialist support it offers to students who have experienced sexual assault or harassment.

It says the improvements show that it does not tolerate sexual harassment of any sort, and set it up following recommendations made by its sexual violence working group in a report.

The service will act as a "central point of advice for the university, which all colleges can direct their students".

It launches in the autumn to coincide with the new academic year.

Black cabs in Reading to accept card payments

Sam Clayton

BBC Radio Berkshire newsreader

All black cabs in Reading will have to take card payments by next year.

Reading Borough Council's licensing committee approved the installation of electronic payment devices in all Hackney carriages after recent requests from members of the public.

The new conditions come into force next January.

Tony Page, lead member for strategic environment, planning and transport, said: "A growing number of people no longer carry cash and only use card payments on a day to day basis.

"It makes sense therefore to require all licensed black cabs in Reading to offer their passengers this choice of payment going forward."

Muntjac deer inside multi-storey car park rescued

RSPCA staff have helped a Muntjac deer which was trapped on the sixth floor of the Madeira Road multi-storey car park in Bournemouth.

Animal collection officer Sue Brooks said: "This was a first for me and I was amazed to find this little muntjac on the sixth floor at the top of a multi-storey car park.

"With the help from my colleagues, Insp Patrick Bailey, who prevented people entering the car park and Insp Tina Ward who acted as a backstop, I was able to walk the deer all the way down to the entrance.

"Inspector Bailey then held the traffic to allow her to safely go on her way - quite a relief as these are nervous animals and there was the risk that the deer could get spooked and injure itself."

Man arrested after 160mph car chase on M4

A man has been arrested after a high-speed pursuit on the M4 in Berkshire.

A white Volkswagen Scirocco was spotted by police over the speed limit on the eastbound carriageway at about 4:10, and accelerated to speeds of up to 160mph when police gave chase between junctions 15 and 13.

The car left the carriageway and crashed into a field, with the driver running away but caught minutes later hiding nearby.

He had very minor injuries, Wiltshire Police said.

A 28-year-old man from Kent was arrested on suspicion of failing to provide a specimen of breath, dangerous driving and failing to stop, and is in police custody.

Stables and caravans catch fire in Shedfield in Hampshire

Consultation launched on medieval village

Katie Newmarch

BBC Radio Berkshire newsreader

A consultation has been launched on how to protect the character of the village of Cookham in Berkshire.

The Cookham Village Conservation Area covers the core of the medieval village which features 12 buildings dating back to the 14th, 15th and 16th centuries.

The village and many of its views featured prominently in the work of renowned artist Sir Stanley Spencer.