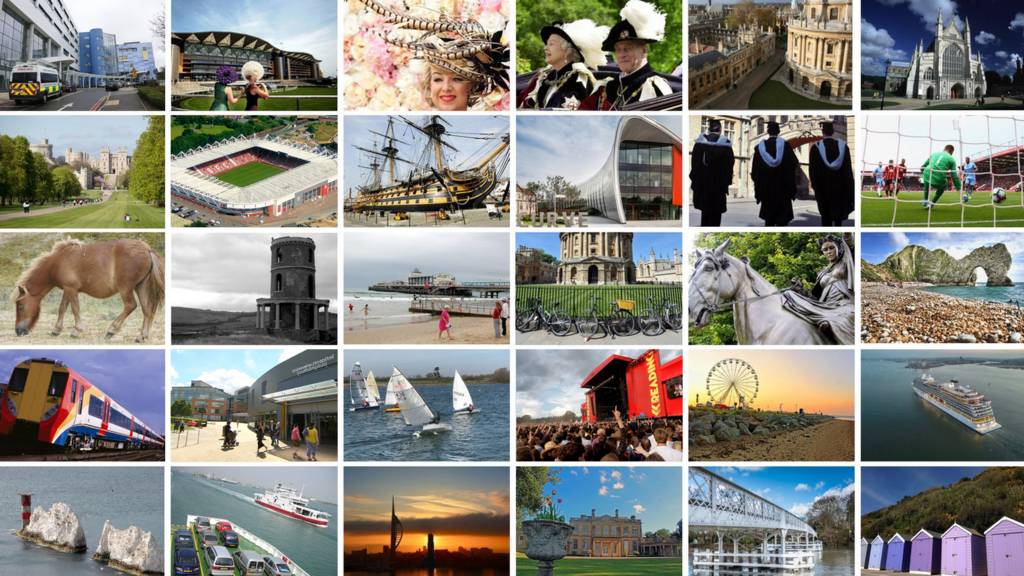 South Live: Monday 2 July
You can get in touch by email, on our Berkshire, Oxford, Hampshire and Dorset Facebook pages or on Twitter @BBCBerkshire @BBCOxford @BBC_Hampshire and @BBCDorset.
The BBC South Live service will resume at 08:00 on Tuesday.

Thanks for joining us today. Have a good evening.

Demolition of Hamworthy's former Crown Closures Factory tower begins

Man pulled out of River Thames dies

A man who was pulled from the River Thames in Oxford has died.

Police were called to reports of a man's body spotted in the water near the Isis Tavern on Saturday morning. He later died in hospital.

Officers say his death is "unexplained" and the man's identity is not yet known.

Image caption: The man's body was spotted in the water near the Isis Tavern

'No consent' for fatal blast tank

A tank which "exploded" did not have the authorisation needed to operate on the day two men died, an inquest heard.

Royal Tank Regiment corporals Matthew Hatfield, 27 and Darren Neilson, 31, died after the incident at Castlemartin Range, Pembrokeshire, on 14 June 2017.

Copyright: Wales News Service

The inquest heard the men were only in the tank because they were taking a senior soldier out for a "guest shoot", which did not have written consent.

Two other soldiers were injured in the blast but survived.

Maj John Poole, who was in overall charge of Castlemartin Range, told the inquest in Solihull, West Midlands, Warrant Officer Two Stuart Lawson, from Southampton, asked to do a "guest shoot".

New Reading traveller site plans 'on hold'

Planned Eynsham homes 'should be built in Oxford'

What are the effects of a week-long heatwave?

The heatwave which has left much of Britain sweltering is set to continue until at least the end of this week.

Although we are yet to see a repeat of 1976 - one of the most prolonged heatwaves in living memory - temperatures are forecast to hit 30C today and again later in the week, BBC Weather said.

But for the UK, used to more moderate summers, what is the effect of the prolonged hot weather?

Click here to read more.

Hampshire travel latest: Rail lines reopen after trespass between Winchester and Eatleigh

Hampshire travel latest: A34 and M3 delays at Winchester

'He only wore sunglasses'

Dorset AONB pylon removal plans approved

Plans to remove a section of overhead pylons in Dorset's Area of Outstanding Natural Beauty (AONB) have been approved.

National Grid will remove 22 pylons along about a five-mile (8km) stretch of the county near the villages of Martinstown and Winterbourne Abbas.

Overhead power lines will then be buried in the area. The aim is to reduce their visual impact on the AONB, the utility company had said.

The application, which was approved by West Dorset District Council, is subject to a legal agreement to secure money for ecological and landscape enhancements.

Dorset travel latest: 'Long delays' on A356 at Maiden Newton

Heatwave warning for south

The Met Office has issued a level three heatwave warning for the south of the country.

Forecasters have put out the alert and expect the heatwave last until 21:00 BST tomorrow, but temperatures are expected to stay above 20°C for the rest of the week.

Public Health England is urging people to look after children, elderly or vulnerable people and pets.

It's the first time this year that a heatwave warning has been issued.

Theatre closed by water damage

Extensive water damage has closed the Lighthouse Theatre in Poole for the "immediate future".

A spokesman said there was an accident on Sunday which triggered the sprinkler system and led to serious damage to the theatre, dressing rooms and technical equipment.

Image caption: A spokesperson for the Lighthouse Theatre said the accident happened during a fit up

Sara St George, Deputy CEO, said: "The safety of our staff and customers is paramount so we have taken the precaution to shut the building to review the extent of the damage.

"Although investigations and related follow-up activities will continue for several days or weeks, all other spaces will be fully operational."

Staff are hoping to open the building again tomorrow. Ticketholders of theatre events will be contacted by the box office.