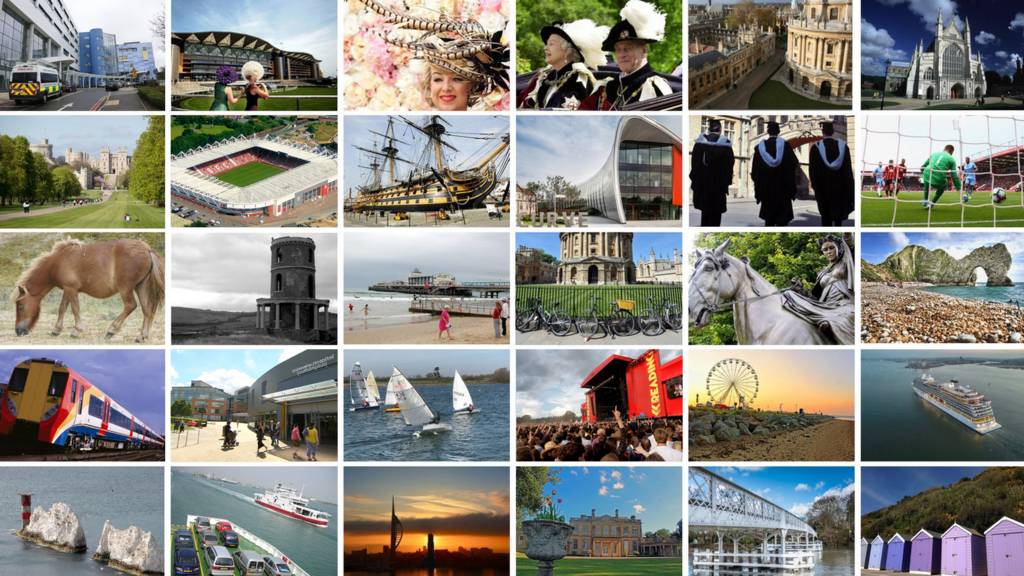 South Live: Tuesday 17 July
You can get in touch by email, on our Berkshire, Oxford, Hampshire and Dorset Facebook pages or on Twitter @BBCBerkshire @BBCOxford @BBC_Hampshire and @BBCDorset.
Summary
Updates from Tuesday 17 July
Thanks for joining BBC South Live today.

The service will resume at 08:00 on Wednesday with all the latest news, sport, travel and weather updates for the region.

Have a good evening.

Anti-drug graffiti gets mixed reception in Reading

Anti-drug graffiti has sprung up in a Reading street overnight.

Residents in Cambridge Road told the BBC they do not know who is responsible but many said the area has a drug problem and applauded the secret artist's "message".

Others described the writing and sign drawn on the road as "disgusting".

One resident, who wants to remain anonymous, said: "There's been an epidemic for needle use and intravenous drug use with anti-social behaviour.

Severe disruption: M3 Surrey southbound

BBC News Travel

M3 Surrey southbound severe disruption, from J3 for A322 Bagshot to J4 for A331 Frimley Interchange.

M3 Surrey - One lane closed on M3 southbound from J3, A322 (Bagshot) to J4, A331 (Camberley), because of a broken down vehicle. Traffic is coping well.

To report traffic and travel incidents dial 0330 123 0184 at any time

Bere Regis three-car crash victim was 'loved by all'

A man who died in a three-car crash "was loved by all that knew him", his family has said in a tribute.

David Grant-Jones, 49, died at the scene of the collision, involving a BMW, a Land Rover Freelander and a Mercedes, on the A35 near Bere Regis on Saturday.

Four other people were seriously injured, including his 59-year-old wife Heather.

A 38-year-old man was arrested on suspicion of causing death by dangerous driving and causing serious injury by dangerous driving. He has since been released while enquiries continue, Dorset Police said.

No council u-turn on charges for disabled students

Bethan Phillips

Political reporter, BBC Radio Oxford

Councillors have stopped short of a u-turn on controversial new transport charges for students with disabilities.

Oxfordshire County Council was set to charge families up to £733 a year.

The policy, set to affect special educational needs children up to the age of 16, was called "inept" by Labour at a meeting today.

The cabinet has been ordered to look again at the plan - they agreed to defer a decision until the autumn - and set up a cross party group to carry out a review.

Reading A33 closures warning over new bus lanes

Duncan Jones film based on Rogue Trooper announced

The next film by Moon and Source Code director Duncan Jones is based on a comic character from the 2000 AD strip.

Rogue Trooper is a blue-skinned, mohawk-sporting, genetically-engineered soldier who debuted in print in 1981.

Chris Kingsley, co-founder of Oxford-based publisher Rebellion, said Jones had a "unique level of commitment and passion" for the character.

Jones, who also directed Warcraft and Mute, said he was "so excited" to bring the character to the big screen.

Conservation area extension proposed

Plans to extend the St Peters conservation area in Caversham have been put forward by the council.

The revised plans would include Caversham Bridge and the shops around Barclays Bank and the former telephone exchange.

This is the first of a series of revisions to conservation areas planned by Reading Borough Council.

A consultation is open now and runs until 14 September.

Copyright: Reading Borough Council

Severe accident: A351 Dorset both ways

BBC News Travel

A351 Dorset both ways severe accident, from Soldiers Road to B3075 Corfe Road.

A351 Dorset - A351 in Norden closed and queuing traffic in both directions from the Soldiers Road junction to the B3075 Corfe Road junction, because of a serious accident involving car and motorcycle. Diversion in operation - People having to divert from Corfe Castle due to road closure further north.

To report traffic and travel incidents dial 0330 123 0184 at any time

Oxford woman, 82, 'was minutes from losing £12K to scammers'

M27 bridge works 'delayed'

Severe disruption: A329(M) Berkshire both ways

BBC News Travel

A329(M) Berkshire both ways severe disruption, at M4 J10 Wokingham.

A329(M) Berkshire - Long delays and queuing traffic on A329(M) in both directions at M4 J10, Wokingham, because of all traffic being temporarily held.

To report traffic and travel incidents dial 0330 123 0184 at any time

Severe accident: M4 Berkshire eastbound

BBC News Travel

M4 Berkshire eastbound severe accident, from J13 for A34 Chieveley to J12 for A4 Bath Road.

M4 Berkshire - One lane closed and slow traffic on M4 eastbound from J13, A34 (Chieveley) to J12, A4 (Theale), because of an accident.

To report traffic and travel incidents dial 0330 123 0184 at any time

Severe disruption: M4 Berkshire both ways

BBC News Travel

M4 Berkshire both ways severe disruption, at J10 for A329.

M4 Berkshire - Queuing traffic on M4 in both directions at J10 A329(M) Wokingham, because of all traffic being temporarily held and a police incident.

To report traffic and travel incidents dial 0330 123 0184 at any time

Fire breaks out opposite Bournemouth hotel

Hampshire travel latest: Building fire closes B3403 at Farnborough

Dorset travel latest: A351 closed between Stoborough and Corfe Castle

Appeal after sexual assault in Bloxham

A man walked towards a 13-year-old girl and wolf whistled at her before he touched her inappropriately, police have said.

The victim challenged the man about his behaviour and he ran away.

He was wearing a black rain coat with a hood over his face and black jeans.

The sexual assault took place in Goggs Lane, Bloxham, near Banbury at about 18:00 on 13 July.

Boy, 16, charged in connection to car and motorbike thefts

A 16-year-old boy has been charged with two counts of burglary after two cars and a motorbike were stolen from homes in Southampton.

An 18-year-old man has also been arrested on suspicion of burglary.

The charges relate to a burglary at a home in Wilderness Heights on 16 July where a Ford Ecosport and red Yamaha motorbike was stolen and a burglary in Whites Road on 12 June where a Renault Clio was stolen.

The boy will appear before Southampton Youth Court today.