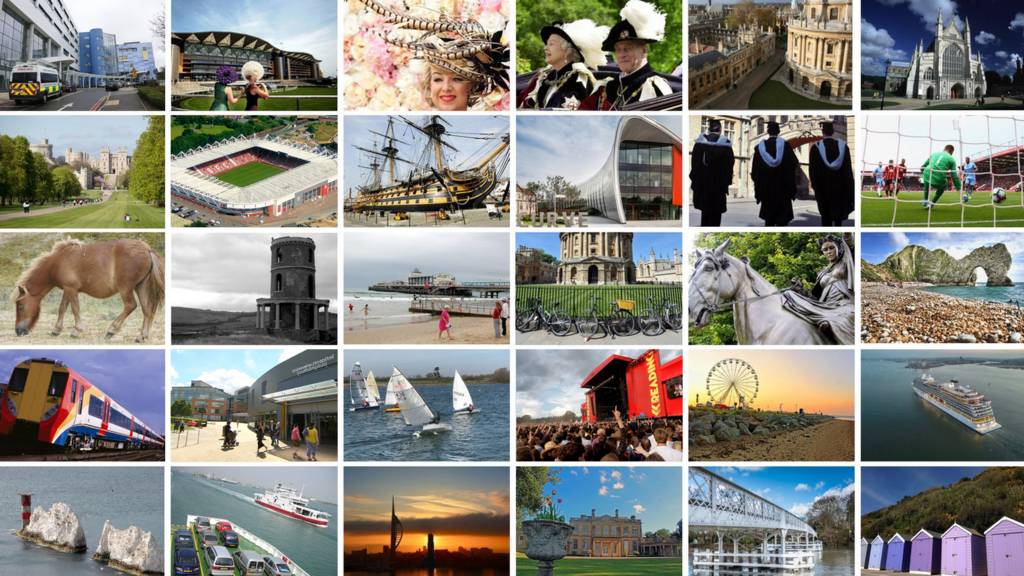 South Live: Tuesday 24 July
You can get in touch by email, on our Berkshire, Oxford, Hampshire and Dorset Facebook pages or on Twitter @BBCBerkshire @BBCOxford @BBC_Hampshire and @BBCDorset.
That's it for today, but BBC South Live will return at 08:00 GMT on Wednesday for all the latest news, sport, weather and travel.

Boy arrested in cat cruelty probe

A 17-year-old boy has been arrested after a cat was believed to have been killed by a group of youths in Burnham.

The boy was taken into custody today on suspicion of criminal damage and malicious communications.

Thames Valley Police said an investigation into the incident was still ongoing.

Severe accident: A354 Dorset both ways

BBC News Travel

A354 Dorset both ways severe accident, at Belfield Park Avenue.

A354 Dorset - A354 Buxton Road in Wyke Regis closed and queuing traffic in both directions at the Belfield Park Avenue junction, because of two vehicles accident.

To report traffic and travel incidents dial 0330 123 0184 at any time

Man sentenced for multiple child sex offences

A man has been sentenced to 11 years in prison after being found guilty of multiple sexual offences against children under the age of 11.

Robert Robinson, aged 56, committed the offences in Oxfordshire and Buckinghamshire between 1975-2000 on four child victims.

Copyright: Thames Valley Police

Image caption: Robert Robinson was convicted on 17 counts of sexual offences against children

He was sentenced on Friday after being found guilty of six counts of indecent assault of a girl under 14, six counts of indecency with a child, and five counts of indecent assault on a boy on 20 June.

Det Sgt Sarah Berry, from Thames Valley Police, said: "Robinson is a dangerous offender who never admitted to his horrific offences".

Funeral costs help for 'Botley Bag Lady'

Reading trains tenth most overcrowded in UK

Reading's commuter trains are among the top 10 most overcrowded in the country, a study has revealed.

The Department for Transport said almost 0.7% of services from Reading had more passengers than the allowed capacity, which includes those who are standing.

On average, 89,000 people arrived at the station every day, the fourth highest total in the country.

Transport Secretary Chris Grayling said the network was overcrowded, but the government was investing more money than at any time since the steam age in expanding capacity.

Read more here.

Lifting bridge to close for 'urgent repairs'

Poole Bridge will close during the daytime on Thursday and Friday for "urgent repairs".

The 91-year-old lifting bridge in the old town was closed for 21 months, between September 2016 and January 2018, seven months longer than planned, for £4.2m repair works.

It closed again for nine days in April to repair damage to safety gates caused by a "technical problem".

Remains to be exhumed from graveyard

The remains of more than 100 people are to be exhumed from a graveyard in Bournemouth.

Developer Jaydem Homes gained permission in February to remove remains from Pokesdown United Reformed Church in Southbourne Road.

Chester Pearce Funeral Service is to carry out the work and study the burials before reinterring them at Kinson Cemetery, the Bournemouth Echo reported.

According to planning reports, the process is expected to take two weeks.

Bournemouth Borough Council planners have allowed an existing hoarding around the site, which was erected without permission, to remain there until October.

According to planning documents, when the exhumation and research is complete, a QR code will be erected at the site which will link to online information about the graveyard.

Hamworthy 'milk thief' returns

Man Booker Prize: Oxford's Daisy Johnson on longlist

Everything Under by Daisy Johnson is among 13 books to make it onto this year's Man Booker Prize longlist.

A modern re-imagining of the Greek myth of Oedipus, it is the Oxford writer's debut novel.

Ms Johnson is the winner of the Harper's Bazaar Short Story Prize, the A.M. Heath Prize and the Edge Hill Short Story Prize.

The longlist for the £50,000 prize will be whittled down to six in September before the final winner is announced on 16 October.

Duchess and Dame visit Queen Victoria's hideaway

The Duchess of Cambridge and Dame Judi Dench have met at Queen Victoria's former home, Osborne House, on the Isle of Wight.

Dame Judi, who is patron of the Friends of Osborne House and who has played Queen Victoria in a number of films, showed the duchess the restored Durbar Room - one of the locations for Victoria And Abdul.

Woman 'bitten' by suitcase stowaway scorpion in Waterlooville

Shropshire struggling to avoid defeat to Berkshire

Shropshire are struggling in their second innings against Berkshire in the minor counties championship.

Earlier today they were set an unlikely 413 to win the match at Finchampstead, but they've since slipped to 58-6.

Severe disruption: M4 Berkshire westbound

BBC News Travel

M4 Berkshire westbound severe disruption, from J7 for Huntercombe Spur to M4 J8.

M4 Berkshire - One lane closed and slow traffic on M4 westbound in Buckinghamshire from J7, Huntercombe (Slough West) to M4 J8, because of a lorry having a tyre changed.

To report traffic and travel incidents dial 0330 123 0184 at any time

British sailing must take on new challenges and opportunities, according to Royal Yachting Association director Ian Walker.