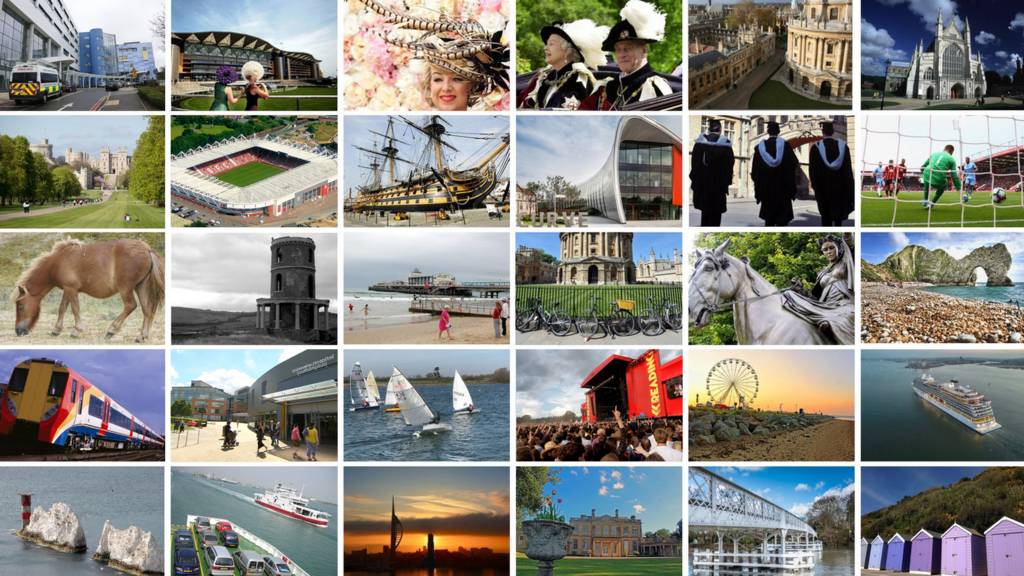 South Live: Wednesday 5 September
You can get in touch by email, on our Berkshire, Oxford, Hampshire and Dorset Facebook pages or on Twitter @BBCBerkshire @BBCOxford @BBC_Hampshire and @BBCDorset.
That's all for BBC South Live today.

The service will resume at 08:00 on Thursday.

Enjoy your evening.

Elderly woman scammed out of £2,500 for drainage works

An elderly woman was scammed out of hundreds of pounds for drainage works by a cold-calling company in Hampshire.

The workers arrived unannounced at the woman's Lymington home on Monday, initially using a camera to obtain images of her drains before carrying out the work they said was needed, Hampshire Constabulary said.

The victim then used her bank card to pay a bill of £2,514.

Officers have warned local residents to be vigilant.

Severe accident: A354 Hampshire both ways

BBC News Travel

A354 Hampshire both ways severe accident, at Martin Drove End.

A354 Hampshire - A354 in Martin Drove End closed and queuing traffic in both directions at the Martin Drove End junction, because of an accident.

To report traffic and travel incidents dial 0330 123 0184 at any time

Bournemouth charity back on the water after boat arson

An update on the boat that was destroyed in an apparent arson attack earlier this week, after being refurbished by a group of young people with learning disabilities.

Almost £1,000 has been raised through online crowdfunding, and Christchurch Round Table has donated a further £1,000 to Bournemouth-based charity Access Dorset after the boat was destroyed.

A group of young people, with autism and Asperger syndrome, had spent a year renovating the boat.

A statement from the charity said: "We are going to discuss our next steps as a group and we have started discussing with Bournemouth Boating Services the best way to get on the water, whether buying another boat or hiring."

Have you seen missing 14-year-old Fabian Pawlowski?

Flats plan scrapped in former Bournemouth hotel scheme

Dorset and Hampshire travel latest: A31 New Forest lane blocked after coach fire

More than 20 sheep killed in suspected attack

More than 20 sheep have been found dead near an Isle of Wight Farm.

Hampshire Constabulary said the bodies of 22 ewes and one lamb were discovered in Arreton this morning.

It is thought they were attacked by another animal.

The force added inquiries were ongoing.

China blamed for £200,000 Bournemouth council waste overspend

Local Democracy Reporting Service

New waste controls in China are being blamed for a forecast £200,000 overspend in Bournemouth council's environment budget.

At the start of the year, the Chinese government introduced a ban on importing plastic waste increasing costs of having rubbish recycled elsewhere.

A report to Bournemouth council's cabinet says: "Since China implemented tight new controls on the kind of waste it will take for recycling, there has been a substantial cost increase in the market for the affected materials, though the pressure is reduced from when forecasts were last calculated."

The report also said there had been an increase in the volume of waste deposited at Millhams recycling centre as well as kerbside collections from households, businesses, litter bins and the seafront.

Fire breaks out on Shanklin cliff

Last journey for Eastleigh Lakeside Steam Railway

Severe accident: M3 Hampshire southbound

BBC News Travel

M3 Hampshire southbound severe accident, at J8 for A303.

M3 Hampshire - M3 partially blocked and queuing traffic southbound at J8, A303 (Andover), because of an accident.

To report traffic and travel incidents dial 0330 123 0184 at any time

Wellington College to house fire fighters

A public school is to provide an alternative fire station while Crowthorne's Fire Station is rebuilt.

The on-call crew and fire engine will relocate to Wellington College around Easter 2019. The works due to be complete towards the end of the summer 2020.

Royal Berkshire Fire and Rescue Service (RBFRS) said it would ensure that a "swift and effective response" is maintained to all emergencies during the re-location.

Copyright: Royal Berkshire Fire and Rescue Service

Bournemouth Royal Bank of Scotland branch to close

Royal Bank of Scotland's Bournemouth branch is one of 54 which is set to close.

The branches will be shut in January 2019 and are in addition to162 branch closures already announced this year with the loss of 792 jobs.

The bank said the closures are a result of the collapse of plans to float off a new "challenger bank" under the name Williams & Glyn.

Arrest made over Shoreham stabbing

Bob Dale

BBC Live reporter

A 32-year-old man has been arrested in connection with a stabbing in Shoreham.

Police were called to Sussex Wharf around 20:15 BST last night, where they found a 36-year-old woman who had been stabbed several times.

She was taken to the Royal Sussex County Hospital in Brighton, where her condition is described as serious but not life-threatening.

A man, who walked into Slough Police station in Berkshire at lunchtime, has been arrested on suspicion of attempted murder.