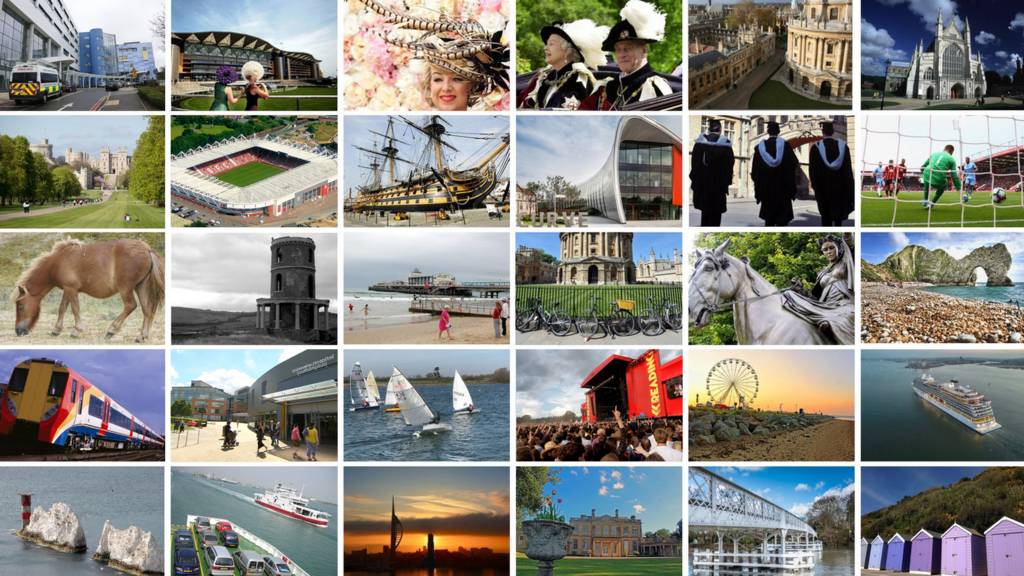 South Live: Wednesday 31 October
You can get in touch by email, on our Berkshire, Oxford, Hampshire and Dorset Facebook pages or on Twitter @BBCBerkshire @BBCOxford @BBC_Hampshire and @BBCDorset.
That's all for today.

Join us again tomorrow from 08:00.

Man who sexually assaulted child has sentence increased

A man who sexually assaulted a girl has had his sentence increased after it was referred to the Court of Appeal for being "unduly lenient".

Tony Baker, 50, carried out a series of sexual assaults against the victim over a period of several years, the Attorney General's Office said.

Solicitor General Robert Buckland referred the case to the Court of Appeal after Baker was jailed for two years and three months at Bournemouth Crown Court in August.

The Court of Appeal has now increased his sentence to four years.

"Baker repeatedly sexually abused his victim over a number of years, robbing her of her youth," Mr Buckland said.

Man sought in Southsea over club glass assault

A CCTV image of a man has been released after a nightclub doorman was hit in he face with a glass in a bar in Southsea.

Hampshire police said the incident occurred last month at Kingsley's Bar and Nightclub in Osborne Road, Southsea. The 31-year-old doorman had to have 20 stitches and has been permanently scarred.

Copyright: Hampshire Constabulary

Man jailed for Bournemouth office block fire

A man who deliberately started a fire in the toilets of an office block in Bournemouth in May has been jailed for three years.Graham Barry Barnes, 55, of Richmond Park Road in Bournemouth, pleaded guilty to arson with intent at a previous hearing at Bournemouth Crown Court.

Dorset Police said Barnes started a fire in a ceiling void in toilets on in the Abbey Life building on Holdenhurst Road, which is rented by a number of call centre companies.

The blaze was extinguished when it melted a water tank which put out the flames.

He was caught when CCTV footage showed him entering the toilet area.

PM: No chance of Brexit day alteration

House of Commons

Parliament

During Prime Minister's Questions earlier, New Forest East MP Julian Lewis asks for an assurance from the PM that "under no circumstances" will "any alteration in the exit day from the European Union" by considered.

The prime minister says she is "happy to give that reassurance, we're leaving the European Union on the 29th of March 2019".

Baby hedgehogs rescued from wood pile.

An abandoned litter of hoglets in Ryde has been rescued with help from Isle of Wight Hedgehog Rescue.

The baby hedgehogs' mother had used a log pile as a nest but abandoned them after it partially collapsed.

Volunteer Will Taylor dismantled the pile and rescued the five babies - one since died but four are described as recovering well and already weigh about 550g.

They will be kept throughout the winter and released next spring.

Copyright: Isle of Wight Hedgehog Rescue

Quote Message: "Autumn is the time of year when log piles make perfect nests and we can also assist them by putting out some food such as tinned dog or cat food (not fish based), wetted unsweetened muesli, chopped boiled eggs and a shallow bowl of water. With a little help and a few simple measures we could become a hedgehog friendly Island which will ensure the future of this endearing little creature. from Will Taylor Isle of Wight Hedgehog Rescue

Arrests following Poole crash

A motorcyclist has been arrested after being injured in a collision with a car in Poole.

The crash happened on Tuesday morning on Creekmore Lane, Poole.

The 17-year-old male motorcyclist was flown to hospital in Southampton. He has since been discharged.

The car driver was arrested on suspicion of driving without due care and attention and released while enquiries continue.

The motorcyclist was arrested on Tuesday on suspicion of driving a motor vehicle dangerously and other motoring offences

Woman found dead after house fire

A woman has been found dead following a property fire in Christchurch.

Police crews were called shortly after 15:00 on Tuesday after a report the body was found at an address in Irvine Way after a fire at the premises.

Police said the death is not being treated as suspicious and investigations are continuing into the cause of the fire.

Cash boost for Romsey flooding scheme

Another £350,000 has been given to Romsey's flood defence scheme as community leaders look to avoid a repeat of the winter flooding in 2013 and 14.

The cash, which came from the Southern Regional Flood and Coastal Committee - an environmental arm of central government - will go towards the £5.15m scheme. It has already contributed £807,000.

It is hoped the proposed works will protect nearly 200 homes by improving defences in Middlebridge Street, Winchester Road, Mainstone and on the River Test. Work, which started earlier this year, is due to finish by next winter.

Mary Shelley app celebrates Frankenstein at 200

An app is revealing stories about the graveyard where Frankenstein author Mary Shelley is buried.

The Shelley's Heart app, which accompanies a stage show of the same name, has been developed for Bournemouth's Shelley Frankenstein Festival.

The event celebrates the 200th anniversary of when the novel was first published.

New World War One memorial in Fareham

A new war memorial has been created in a Hampshire town to commemorate the 100th anniversary of the end of World War One.

The stone monument has been erected in West Street in Fareham.

Artist Innis Marlow got his inspiration from a trip to a small town in Belgium, which was the scene of a gas attack, where 50 of the Hampshire Regiment died in one night.

New Winchester leisure centre set for go-ahead

A new leisure centre for Winchester is set to take a step forward with planners recommending approval for the scheme at a Planning Committee meeting today.

The new centre would replace the 42-year-old River Park Leisure Centre which needs at least £3m of repairs.

In 2016 Winchester City Council had agreed to develop plans to build a new out-of-town centre at Bar End.

Three years earlier, it sparked protests when it announced plans to rebuild the existing centre and expand it into what campaigners called "Winchester's only park".

Copyright: Winchester City Council

Quote Message: This outcome reflects all of the effort and work that has gone into our thorough and inclusive engagement and resulting high-quality design. There is still some more detailed work that needs to be done but this is such a positive outcome for the project and we look forward to starting work to deliver this fantastic facility." from Lisa Griffith Winchester City Council portfolio holder for health and wellbeing

A gardening blogger has given her outside space a Halloween make-over

"There were cars stopped with bodies in them"