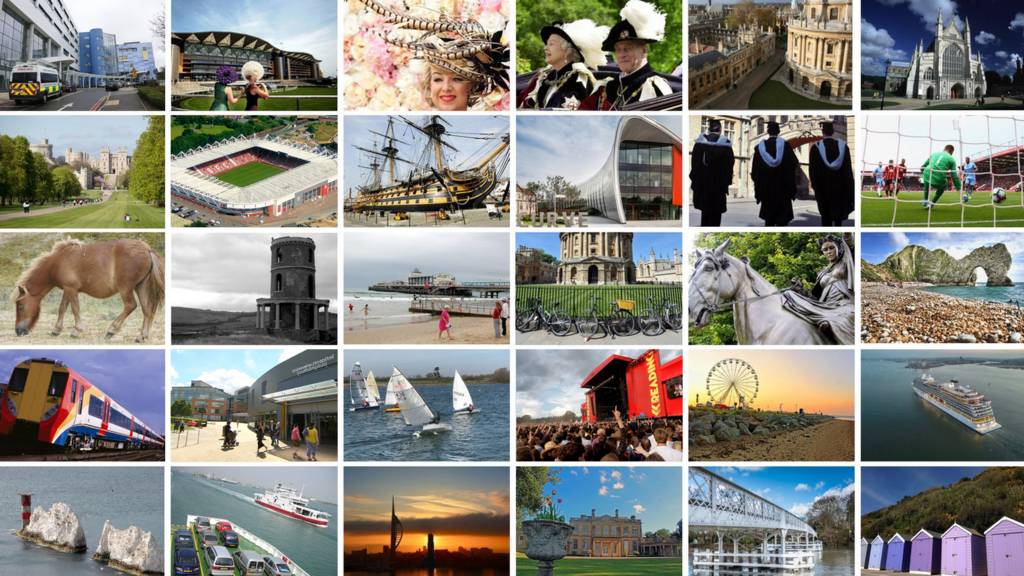 South Live: Friday 2 November
You can get in touch by email, on our Berkshire, Oxford, Hampshire and Dorset Facebook pages or on Twitter @BBCBerkshire @BBCOxford @BBC_Hampshire and @BBCDorset.
By Mark Mitchener

BBC Sport at the Vitality Stadium

Thanks for reading today.

We'll be back with more news, sport, weather and travel from 08:00 on Monday.

Have a good weekend!

Severe disruption: M4 Berkshire westbound

BBC News Travel

M4 Berkshire westbound severe disruption, from J8 for J9 A404 to J10 for A329.

M4 Berkshire - One lane closed and queuing traffic on M4 westbound from J8 J9 A404(M) Maidenhead to J10 A329(M) Wokingham, because of a broken down vehicle.

To report traffic and travel incidents dial 0330 123 0184 at any time

Hundreds are dying every year because "critical" checks are not taking place, campaigners warn.

Lulworth Ranges closed to public over the weekend in Dorset

Severe accident: M3 Hampshire southbound

BBC News Travel

M3 Hampshire southbound severe accident, at J11 for Hockley Link.

M3 Hampshire - Two lanes closed and queuing traffic on M3 southbound at J11, Hockley (Winchester South), because of a multi-vehicle accident.

To report traffic and travel incidents dial 0330 123 0184 at any time

Large fire reported in Hampshire

Hampshire fire crews have reported a "large fire" which can be seen from the M27.

Trains between Wareham and Weymouth at a standstill

Arson attacker jailed for two years

A 23-year-old man has been jailed for two years after he set fire to a property in Reading.

Copyright: Thames Valley Police

Grzegorz Kremienowski, 23, previously of Winslet Place, Reading, pleaded guilty to arson and drugs offences.

Reading Crown Court heard how he set fire to a property in Winslet Road on 7 August.

He was also found in possession of cannabis.

Children and adolescents 'account for half of sports A&E attendances'

Children and adolescents account for nearly half of A&E attendances for sporting injuries, research suggests.

An analysis of A&E data of 11,676 accident and emergency attendances at two Oxfordshire hospitals between 2012 and 2014 found 47% of attendances for sport-related injuries were made by under-19s.

Football, rugby union and rugby league were linked to the most injuries in boys. For girls, it was trampolining, netball and horse-riding. Fourteen-year-old boys and 12-year-old girls were most likely to be injured.

The study, a collaboration between researchers at Newcastle University and Oxford University Hospitals NHS Foundation Trust, has been published by the Journal of the Royal Society of Medicine.

Antique gold ring discovered by detectorist

A detectorist has dug up a gold ring which could be 500 years old.

The seal ring, found by driving instructor Paul Wood from Upton, near Poole, was buried at Bampton in Oxfordshire.

Mr Wood said: "I've been metal detecting since the mid-1970s and this is a find of a lifetime for me... It's in beautiful condition. There isn't a blemish on it."

The ring has been examined by the British Museum and will be auctioned later this month. It's expected to fetch up to £10,000.

Fence post crash victim had 'voracious appetite for life'

The family of man who died when his car crashed into a fence post in Hampshire have paid tribute to him.

Alexander Fletcher, 40, died at the scene in Froyle Road, near Lower Froyle, last Friday morning.

His family said: "Alexander was a true gentleman with a voracious appetite for life.

"As a greatly respected consultant anaesthetist at the Royal Surrey County Hospital, he touched the lives of so many patients, families and colleagues. He will be missed beyond measure."

Image caption: Alexander Fletcher was a "much-loved father", his family said

Dorset sportswomen win Sunday Times awards

Bournemouth's Geva Mentor (left) and the rest of the England netball team have won Team of the Year at the Sunday Times Sportswomen of the Year Awards.

It follows their remarkable achievement in beating Australia in the final of the Commonwealth Games.

Bournemouth golfer Georgia Hall won Young Sportswoman of the Year after her first major win at the British Open.

Alpine skier Menna Fitzpatrick - along with her guide Jennifer Kehoe, who's from Bournemouth - won Disability Sports Woman of the Year.

Colleges announce plans to merge

Luke De Costa

BBC Radio Solent reporter

Eastleigh College and Southampton City College have announced plans to merge in a move that will create the largest college of technical and professional education in south Hampshire, for 28,000 students annually.

The proposed merger follows the Department for Education's plans for restructuring the post-16 education and training sector.

Following consultation and review, the two colleges would look to merge in March next year, bringing together four campuses in Eastleigh, Winchester, Southampton and the Marine Skills Centre.

New Forest residents urged to keep animals safe during Bonfire Night

New Forest residents are being urged to only visit organised public fireworks displays, rather than setting off their own, while celebrating Bonfire Night.

The ponies and livestock which graze the open forest can easily be frightened by loud bangs and bright lights and may injure themselves running into fencing or across roads.

Tony Hockley, chairman of the Commoners Defence Association, said: "We'd also stress that flying lanterns can travel great distances, and are not safe to use. They pose a serious risk of fire to homes and can cause great harm if swallowed by animals."

Anyone planning a local firework display is urged to speak to neighbouring landowners to allow them to take precautions to safeguard their animals.