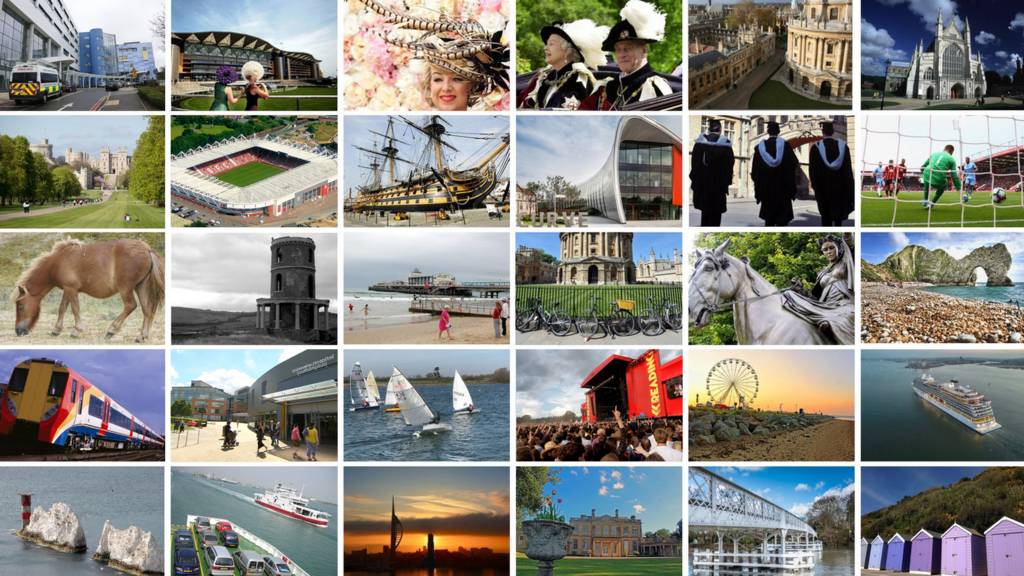 South Live: Tuesday 29 January
You can get in touch by email, on our Berkshire, Oxford, Hampshire and Dorset Facebook pages or on Twitter @BBCBerkshire @BBCOxford @BBC_Hampshire and @BBCDorset.
Summary
Updates from Tuesday 29 January
Thanks for tuning into South Live today.

We will be back at the usual time of 08:00 GMT tomorrow.

In the meantime, have a pleasant evening.

Severe accident: M25 Buckinghamshire clockwise

BBC News Travel

M25 Buckinghamshire clockwise severe accident, from J16 for M40 J1A to J17 for A412 Denham Way.

M25 Buckinghamshire - Two lanes closed and queuing traffic on M25 clockwise from J16 M40 J1a to J17, A412 (Maple Cross), because of an accident.

To report traffic and travel incidents dial 0330 123 0184 at any time

What sort of biscuit would represent your favourite classical composer?

Have you ever thought about what sort of biscuit might represent your favourite classical composer?

An Oxford academic has become a social media sensation after comparing some of the world's best-known composers to sweet snacks.

Dr Leah Broad compared Bach to a Chocolate Leibniz, because it's a biscuit you "cannot go wrong with", while Vivaldi should be a Garibaldi biscuit because they are "inexplicably wildly popular".

Dr Broad, who lectures in music at Christ Church College, said the idea came to her while having a snack.

Oxford Union 'should pay to police protests'

Image caption: The Oxford Union debating society has a long history of inviting controversial figures to speak, including co-founder of the English Defence League (EDL) Tommy Robinson

The Oxford Union should pay to police protests outside its debates, according to the leader of Oxford City Council.

Labour councillor Susan Brown criticised a succession of "increasingly right wing" speakers at the debating society.

Last week, a talk by far-right French activist Marion Marechal-Le Pen sparked protest.

Ms Brown told a meeting last night that the resulting protests were taking officers away from other important work.

Girl, 16, assaulted in Portsmouth

A teenage girl was left with a broken nose after being attacked near a McDonald's in Portsmouth.

The 16-year-old was assaulted in Commercial Road at about 04:00 on Saturday before being chased down the road and hit again.

Police said the victim recalled hearing car horns during the attack.

Officers have appealed for any drivers who may have witnessed the attack to come forward.

Appeal after driver, 53, dies in collision with petrol tanker

A 53-year-old man has died after his Ford Mondeo collided with a petrol tanker in Faringdon.

Thames Valley Police has appealed for witnesses following the crash on 22 January at about 15:45 GMT on the A417.

The driver of the blue Mondeo died at the scene, while the driver of the articulated tanker, a 41-year-old man, suffered serious injuries but has been discharged from hospital.

PC Sandra Terry said: "We are hoping to speak to anyone who saw either vehicle before the collision, or who may have dash-cam footage of the incident."

Severe disruption: M27 Hampshire westbound

BBC News Travel

M27 Hampshire westbound severe disruption, from J7 for A334 Charles Watts Way to J5 for A335 Stoneham Way Southampton Airport.

M27 Hampshire - One lane closed and queuing traffic on M27 westbound from J7, A334 (Hedge End) to J5, A335 (Southampton Airport), because of a lorry having a tyre changed.

To report traffic and travel incidents dial 0330 123 0184 at any time

Police appeal after 12-year-old has purse stolen

A 12-year-old girl had her purse stolen in Gosport, Hampshire.

Police said the incident happened at around 8:30 GMT on Monday.

Hampshire police has appealed to the public for information about the suspect, described as a white man with a blue hoodie.

Severe disruption: A337 Hampshire both ways

BBC News Travel

A337 Hampshire both ways severe disruption, at B3055.

A337 Hampshire - Queuing traffic on A337 Lymington Road in both directions in Brockenhurst at the B3055 junction, because of a level crossing failure.

To report traffic and travel incidents dial 0330 123 0184 at any time

Gritters out amid weather warnings

The Met Office has issued a yellow weather warning for snow and ice across areas of the south for Thursday and Friday, including all of Berkshire.