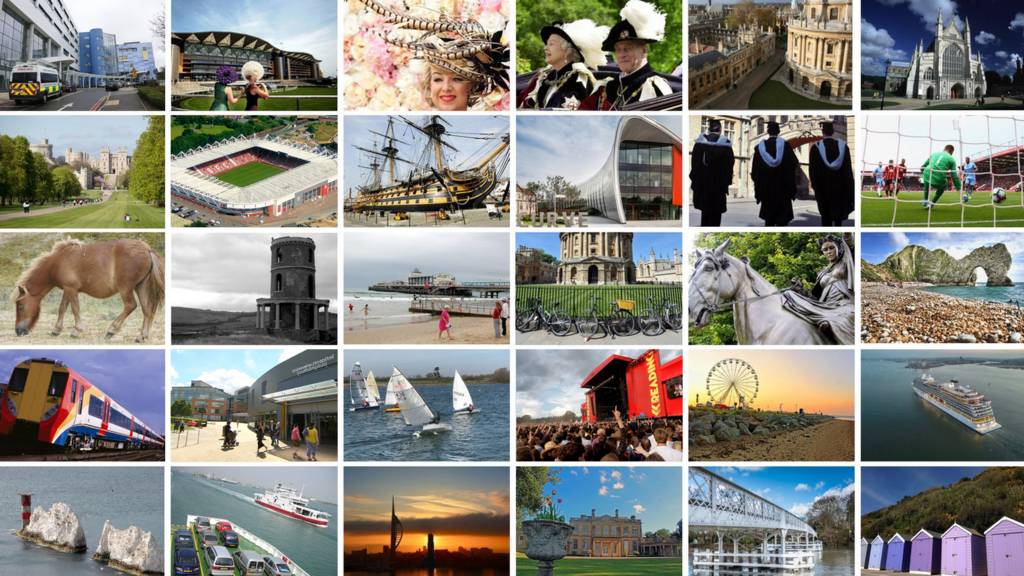 South Live: Monday 25 February
You can get in touch by email, on our Berkshire, Oxford, Hampshire and Dorset Facebook pages or on Twitter @BBCBerkshire @BBCOxford @BBC_Hampshire and @BBCDorset.
That's all for today.

We will be back tomorrow from 08:00.

Eddie Howe to be given Freedom of Bournemouth

AFC Bournemouth manager Eddie Howe is to be awarded the Freedom of the Borough, Bournemouth Council has announced.

The authority said it was in recognition of his "exceptional" achievement in leading the Cherries from League Two to the top flight in just six seasons.

Council leader John Beesley said: "He is a unifying force, the driver behind unprecedented civic pride that descended on the town."

The Freedom entitles recipients to a reserved seat at council meetings and church services, and to be addressed as "Mr Freeman", the council said.

It said approving the award would be the "final decision that Bournemouth Borough Council ever takes", before it merges with other authorities.

Images released after kebab shop attack

Copyright: Thames Valley Police

An 18-year-old man was struck in the head with an unopened can in a kebab takeaway restaurant in Newbury, police have said.

Thames Valley Police has released CCTV images of a man who may have "vital" information on the attack, which happened in Market Place at 04:10 GMT on Saturday.

The victim suffered a cut to his eyebrow and was taken to Royal Berkshire Hospital for stitches. He has since been discharged.

Hampshire travel: Delays at Eastleigh and Colden Common

South Western Railway engineering works

Your pictures: A glimpse of spring...

Thanks to Suzy Hamilton for her snap of crocuses at Petersfield churchyard in Hampshire, as well as to BBC Weather Watchers "the fleet" and "Rebecca" for their pictures of Wyke Regis in Weymouth, Dorset, and Woodstock in Oxfordshire.

Send us your photos of the region via our Berkshire, Dorset, Hampshire and Oxford Facebook pages, or on Twitter: @BBCBerkshire, @BBCDorset, @BBC_Hampshire and @BBCOxford.

Universal Credit blamed for rent arrears

Local Democracy Reporting Service

The number of council tenants in rent arrears is increasing with the city council authority blaming Universal Credit.

The pattern in Oxford mirrors other areas around the country.

In some areas, one in 12 people are behind on paying their rent after receiving the new welfare payment.

It was introduced across Oxford for people who were making new claims for housing benefit in October 2017.

The percentage of the council's rent collected from tenants fell from 99.4% in 2017/18 to 95.4% so far this year, the Local Democracy Reporting Service said.

Decision due on city music venue

Local Democracy Reporting Service

Plans to demolish a music venue and bar in Southampton and replace it with flats is due to be considered by councillors later.

Developers want to replace the Firehouse with a 13-storey apartment block.

At least 3,000 people have signed a petition to save the bar.

Owners say they will relocate the venue, according the Local Democracy Reporting Service.

The planning committee takes place this evening.

Delays after plane blocks runway

Copyright: Southampton Airport

Air passengers at Southampton Airport have been enduring delays after a tyre blowout on an aircraft forced it to suspend flights.

Operations have resumed but a number of incoming flights were diverted when the private Pilatus aircraft became stranded on the runway after landing early this morning.

Airport managing director Neil Garwood said the tyre that burst was on a wheel with a brake which locked on, making it difficult to move the plane from the runway.

Some inbound passenger flights were diverted to Bournemouth.

The stranded aircraft was eventually towed clear at about 10:00.

Hospital pioneers online records service

A hospital trust has become the first in the country to give patients the ability to manage their health records online.

University Hospital Southampton NHS Foundation Trust's my medical record system allows people to see upcoming appointments, test results and consultant advice at home or on their smart phones.

The system also allows patients to upload from home data such as blood pressure and communicate with medical professionals without attending hospital.

Hundreds attend Pride parade

Copyright: Hampshire Constabulary

Hundreds of people paraded through the streets to mark Saturday's Hampshire Pride event.

These pictures, taken by Hampshire Police, show the colourful event in Winchester - the first Pride event of 2019.

Spur Road set for overnight closures

Bournemouth's A338 Spur Road will be closed overnight between Ashley Heath and Blackwater roundabouts this week while a contraflow is installed.

For more details, visit the Bournemouth road schemes website.