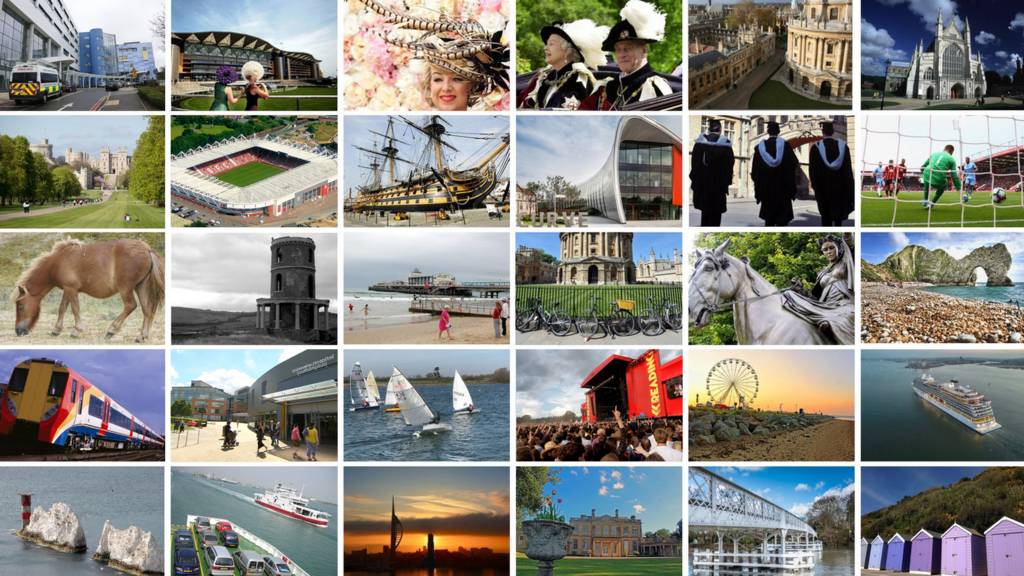 South Live: Tuesday 23 April
You can get in touch by email, on our Berkshire, Oxford, Hampshire and Dorset Facebook pages or on Twitter @BBCBerkshire @BBCOxford @BBC_Hampshire and @BBCDorset.
Thanks for tuning into South Live today.

We will be back at the usual time of 08:00 BST.

In the meantime, have a pleasant evening.

Call for inquiry to expand reservoir

Senior councillors are set to repeat a call for a public inquiry into a huge new reservoir in Oxfordshire.

Oxfordshire County Council's cabinet have met this afternoon to discuss the plans in response to a consultation by Affinity Water, which wants to jointly develop a facility near Abingdon with Thames Water.

Richard Aylard, Thames Water's Sustainability Director, told BBC Countryfile the reservoir would store water from the River Thames in the Winter.

He added: "We can then treat some of that water for the local area. The majority of it we can put back in the river...and it will flow the 75 miles down to London and then we can take it out to treat for our customers in London."

The Abingdon plan was originally rejected in 2011 after the government decided there was "no immediate need" for the reservoir, following a public inquiry.

But Thames Water revived the plan after admitting in 2015 that the proposals were still "on the table".

Correction 25th June 2019: A previous version of this entry wrongly referred to Farmoor and has since been amended. It has also been updated to provide some additional background information about the proposals.

Group of men threaten each other with weapons in Quarry

A fight broke out between two groups of men at a disused quarry in Chinnor, Oxfordshire.

Police said weapons were used by both groups to threaten each other at about 16:30 BST on Easter Sunday before they left the scene.

Officers believed that members from one of the groups were driving a white Peugeot van that came off the road and hit a grass verge in Chinnor Hill at around 16:55 BST. The occupants of the van then got into another vehicle which was driven away.

PC Matthew Huard said: "We are appealing for anyone who may have witnessed this incident or saw anything suspicious in the area of the quarry.

"I would like to remind residents that the quarry is not open to the public and is very dangerous."

Newbury-based Vodafone rated worst phone network in country

Newbury-based Vodafone has been rated the worst mobile phone network in the country according to Which?

The consumer publication's satisfaction survey gave the company just one-star ratings for customer service, value for money and technical support.

One in five Vodafone customers reported problems with the service.

The company has apologised and said staff were working hard to "understand the issue and what more we can do".

Free travel on Newbury and District buses for concessionary pass holders is being scrapped.

From today people who have a pass will have to pay £1 to travel before 9.30 BST on weekdays.

The charges are part of changes to timetables and fares by the bus company's new owner Reading Buses.

Staff member threatened in Basingstoke shop robbery

A member of staff was threatened with a "sharp point" during a robbery at a Basingstoke shop, police said.

It happened at about 19:40 on Sunday at the McColl's store in Buckland Parade, when a man entered the shop and threatened a staff member from behind.

No weapon was seen but the staff member felt a sharp point at his back and he was forced to open a till, from which £230 was stolen.

The suspect was white, 40 to 50 years old, about 6ft tall, slim, with short, brown hair.

He also had a bandage on his right hand, was wearing a grey hooded top, grey jeans and black flip flops, and was carrying a brown satchel over his shoulder.

Arrest after pedestrian 'seriously hurt' in crash

A man from Ascot has been arrested on suspicion of drink and drug driving after a pedestrian was seriously hurt in a crash in Fleet, Hampshire.

A 20-year-old man from Farnborough was taken to hospital for treatment to serious arm and head injuries, after the collision at about 3:00 BST on Monday.

The 21-year-old driver from Ascot has been released from custody following the incident in Fleet Road, but remains under investigation.

Horndean man found 'safe and well'

Pedestrian 'seriously injured' by car crash in Fleet

Image caption: The accident happened outside a Lloyds Bank

A pedestrian has been seriously injured in a car crash in Fleet.

Police officers were called to Fleet Road at 03:14 yesterday after a blue Vauxhall Corsa hit a pedestrian outside Lloyds Bank.

A 20-year-old man from Farnborough was taken to hospital for treatment to serious arm and head injuries.

A 21-year-old man from Ascot was arrested in connection with this incident on suspicion of driving while unfit through drugs and drink driving.

He has been released from custody but remains under investigation.