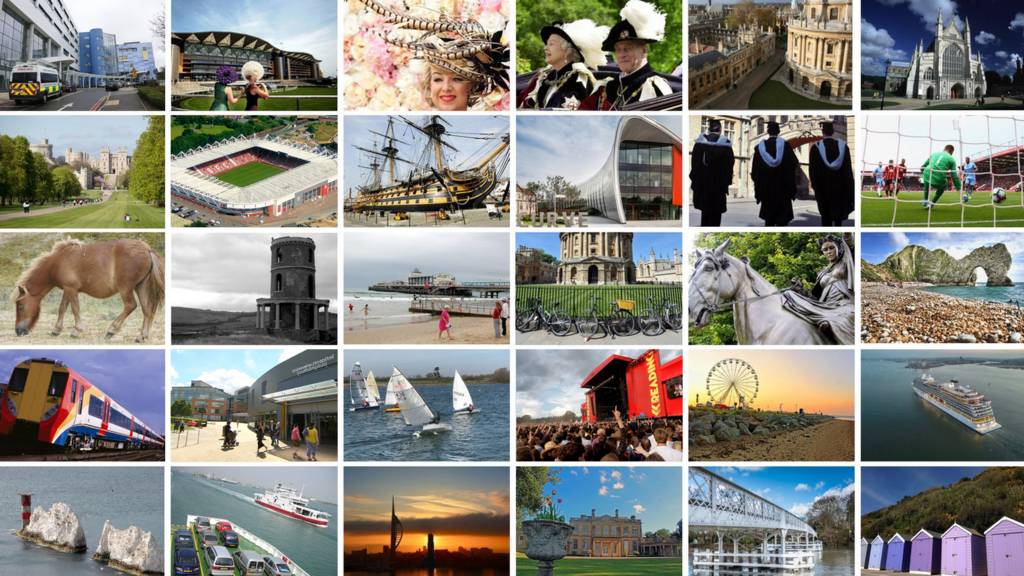 South Live: Wednesday 10 July
You can get in touch by email, on our Berkshire, Oxford, Hampshire and Dorset Facebook pages or on Twitter @BBCBerkshire @BBCOxford @BBC_Hampshire and @BBCDorset.
That's all for today.

We will be back from 08:00 on Thursday with more news, travel and sport.

CCTV issued after fight and robbery

Copyright: Thames Valley Police

CCTV has been issue of a man police want to trace after a fight involving a group of men in which one person was hit with a wooden bat.

The fight happened in Woodlands Avenue, Slough, at about 19:30 on Sunday.

Police said, after the altercation a man went into the nearby 8 Till Late store and punched a member of staff before stealing two cans of energy drink.

Det Con Benjamin Walker-Hall of Thames Valley Police said: "I am releasing these images as I believe that this man may have information which is vital to this investigation."

Humboldt penguin chicks go on show in Bournemouth

Two Humboldt penguin chicks that hatched at Bournemouth Oceanarium during the Easter period have gone on public display.

The 12-week-old chicks, of parents Twiglet and Chile, will be named by a public competition.

Humboldt penguins are native to Chilean and Peruvian coasts and are currently listed as vulnerable, with the current population of 32,000 decreasing.

Copyright: Bournemouth Oceanarium

Residents urged to formally organise bonfire

Local Democracy Reporting Service

The future of a popular community bonfire event in Dorchester could be in jeopardy unless residents step forward to formally organise it.

Town councillors heard concerns about the £1,500 cost and the risks of the annual Elizabeth Place bonfire. A report found potentially dangerous items, including freezers, car tyres and gas cylinders were removed by the council for safety reasons.

Quote Message: "The bonfire has been a traditional community event for many years and is undoubtedly well liked by some local residents but, at present, no local group has come forward to manage the event. In the absence of such a group the bonfire remains an unauthorised event on council land and will continue to be treated as such." from Steve Newman Deputy town clerk

Bid to reveal Dorchester's 'hidden' Roman villa

Local Democracy Reporting Service

A little-known "hidden" Roman town house is to undergo work to make it easier to find.

The villa, behind Dorset County Hall in Dorchester, is "poorly signposted" and its access route is "rather convoluted", according to a planning report.

Permission is being sought to reopen an entrance on West Walks - the town's old Roman defences - and create new seating, lighting, disabled parking, steps and landscaping.

The site, which includes mosaic floors, was discovered in the 1930s when construction began on County Hall, the Local Democracy Reporting Service said.

It dates back to the third and fourth centuries AD and includes hypocausts - underfloor warm air heating.

New segregated cycle lanes open

Local Democracy Reporting Service

New cycle paths have opened in Southampton.

A one-way (with the direction of traffic) segregated cycle lane path has been created on each side of Inner Avenue.

The new £1.4m route will allow cyclists to ride from Southampton to Chandler's Ford.

New kerbs separate the new cycle lanes from traffic, including buses, and the existing footpath.

The bus stops on Inner Avenue have new layouts which means people getting on and off the bus are separated from the cycle lane.

The work is part of the SCN5 Northern Cycle Freeway scheme led by Southampton City Council (SCC).

Copyright: Southampton City Council

Burst water main floods road and causes traffic disruption

A burst water main has forced the closure of a road in Winchester.

Bereweeke Road is flooded after the 12in pipe burst outside Peter Symonds College, leaving residents without water.

Southern Water says the main has been isolated and repairs are under way.

The closure - between Bereweeke Avenue to Stockbridge Road - has caused traffic problems elsewhere in the city, including delays to bus services.

South West Water 'on track to cut pollution incidents'

Andrew Segal

BBC South West

South West Water (SWW) says it is "on track" to deliver "zero serious and significant pollution incident" targets by 2020 after being strongly criticised by the Environment Agency.

The utility achieved just two stars out of a possible four after an "unacceptable level of performance", the Environment Agency said in its annual report.

It was also given a red rating for pollution incidents for "consistently demonstrating unacceptable performance".

SWW said it achieved its "best ever wastewater performance in 2018", but it also recognised "there is still more to do and we have an action plan in place to continue to drive improvement".

It added that, as well as aiming for zero serious and significant pollution incidents, it was working on "a further reduction in other incidents and 100% compliance with wastewater permits".

"We will continue to work alongside the Environment Agency to achieve this," it said.

SWW provides water and sewerage services to Devon, Cornwall, plus parts of Dorset and Somerset.

Boutique black tie festival gets underway

Henley Festival kicks off later.

Acts on stage over the next five days include Jessie J, Tom Odell and Bjorn Again and Boy George.

The pop star will perform on the festival's Floating Stage tonight.

Set on the banks of the River Thames, the festival, which has a strict black tie dress code, runs between 10-14 July.

Copyright: Henley Festival

Tribute paid to motorcyclist Jack Burgess

The family of a motorcyclist who died following a crash involving two cars and a lorry have paid tribute to him.

The crash happened on the A32 at Warnford, Hampshire, on 29 June just before 19:00 BST.

Jack Burgess, 22, from Waterlooville, was seriously injured and taken to Southampton General Hospital but died the next day.

His family said Mr Burgess was "a funny, adventurous and caring person who was loved by all that knew him".

CCTV released after cat stolen

CCTV has been released of a man police want to trace after a cat went missing in Dorset.

Shortly before midnight on Monday, a man was seen on camera picking up Tinkerbell, the tortoiseshell, from outside Super Clean dry cleaners in Wimborne Road, Bournemouth.

The cat has not been microchipped and is not wearing a collar.

Anyone with information is urged to contact Dorset Police.

CCTV has been played in court showing schoolgirl Lucy McHugh and a man, prosecutors say, is Stephen Nicholson who is accused of her murder.

Severe disruption: M27 Hampshire westbound

BBC News Travel

M27 Hampshire westbound severe disruption, from J10 for A32 Wickham Road to J9 for A27 Segensworth Link Road Segensworth.

M27 Hampshire - One lane closed on M27 westbound from J10, A32 (Wickham) to J9, A27 (Segensworth), because of a break down. Traffic is coping well.

To report traffic and travel incidents dial 0330 123 0184 at any time

Heath fire in Dorset 'splits in two'

A fire on Bindon Hill near Lulworth Cove has split into two areas, the fire service says.

There are now 35 firefighters tackling the two blazes which started at about 10:00.

The largest fire is about 80m by 50m and crews are expected to remain there most of the day.

Police shut road following crash at railway bridge

A lorry has crashed into a railway bridge in Maidenhead.

As a result, the A308 Gringer Hill is closed bothways.

It caused trains between Maidenhead and Bourne End to be stopped - services are returning to normal but may still be delayed or revised.

Thames Valley Police said no-one was injured.