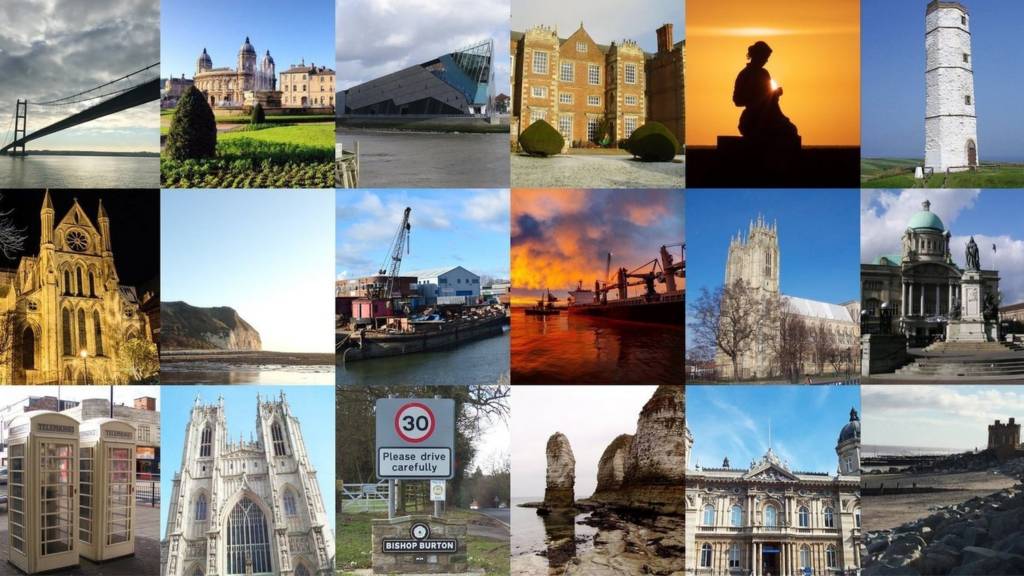 Breaking news in East Yorkshire and northern Lincolnshire
Summary
Flood defence scheme for Isle of Axholme to start in January
Work begins on Virgin Trains' East Coast Main Line fleet
Apprentice winner to stand for Hull seat in general election
Updates on Friday 5 May 2017
Five things we learned today

Kimberley Metcalfe

BBC Local Live, Hull and East Yorkshire

Thank you for joining us today. 

I'll be back with you on Monday morning from 08:00 but before I go, let's have a look at five things we didn't know this morning: 

Have a great weekend! 

The people's manifesto needs you!

BBC Look North

East Yorkshire and Lincolnshire

There's still time for you to let us know what you think should be the one priority for our next prime minister after the general election on 8 June.

What is the one thing you want the next government to do? 

If you could speak directly to the politicians what would you say? 

There are plenty of ways for you to get in touch with your election demand for our manifesto. You can email us, send us your thoughts via Facebook and Twitter.

Happy birthday Thomas Ferens

Kimberley Metcalfe

BBC Local Live, Hull and East Yorkshire

If you love art and cake then head down to the Ferens Art Gallery tomorrow to celebrate the 170th anniversary of the birth of Hull industrialist, philanthropist and politician Thomas Ferens. 

While you're there why not take a stroll around the whole gallery and enjoy what they have on offer.

Rooting out the next generation

#GetInspired

Know any young children who might be interested in having a go at cricket?

Now's the time to get them involved with the England & Wales Cricket Board's (ECB) grassroots programme for five- to eight-year-olds called All Stars Cricket.

All Stars Cricket is an eight-week course that is being introduced in May through local cricket clubs and centres, offering youngsters a first experience of the sport.  

Sign up here and children will receive a backpack of cricket gear. 

Sarah Walton

Reporter, BBC Look North

Preparations are under way for the Bee Lady's 95th birthday with a party organised by BBC Radio Humberside. 

Jean Bishop has raised more than £100,000 for charity, in Hull, dressed as a bee. 

I went to have a look at the hundreds of cards that are on display for her - these are just a handful of them: 

Severe accident: A1084 Lincolnshire both ways

BBC News Travel

A1084 Lincolnshire both ways severe accident, at A18 Barnard Avenue.

A1084 Lincolnshire - A1084 Bigby Road in Brigg blocked in both directions at the A18 Barnard Avenue junction, because of an accident.

To report traffic and travel incidents dial 0330 123 0184 at any time

Police are appealing for witnesses after a man was assaulted at the Zero Dregree North bar on Cleethorpes High Street. 

It took place in the earlier hours on Monday 1 May.

A 33 year old man sustained a fractured jaw, lost a tooth and had bruising to his face and body. 

One of the men involved was believed to have been wearing a polo shirt and shorts.

Last minute preparations for parade

Hayley Ritchie

BBC Local Live

Hull's Orchard Park community are making their final preparations for a parade this weekend. 

Copyright: The Extraordinary Orchard Park Parade

People living on the estate have been taught for free how to make giant puppets and stilt walk by professionals. 

The project has been funded by the Hull 2017 Creative Communities Programme. 

The Extraordinary Orchard Park Parade will take place at 14:00 tomorrow on the Orchard Park Estate.

The Listening project: Conversations kept in the British Library

Carl Wheatley

BBC Radio Humberside

The Listening Project is a collection of conversations recorded between people from our area and across the country which will be kept forever in the British Library.

Meet Helen and Laura, engineers for the Siemens Blade factory in Hull. 

They met for the first time in 2016 at the Blade School in Denmark whilst preparing to work for one of the region's most exciting new business operations. 

For the Listening Project they discuss their latest job as women working in engineering. 

North Lincolnshire's £13m flood defence work to start in January

Pritti Mistry

BBC News Online

Work on a £13m flood defence scheme in North Lincolnshire is due to start in January.

Sheet piles are be installed on a 3.5km length of the River Trent, between the M180 motorway and Keadby Bridge, to protect the villages of Burringham, Gunness and East Butterwick.

Copyright: North Lincs Council

The council said it would also raise existing barriers to defend homes in the Isle of Axholme area.

It is part of the council's £1.2bn Lincolnshire Lakes plan to build six new villages to the east of the River Trent.

Construction work for the entire project is expected to be completed by March 2019.  

Watch: Goole rugby club prepare for best day of their lives

Simon Clark

BBC Radio Humberside Sport

A rugby union club from East Yorkshire is preparing for what will be the biggest day in its history. 

Goole are playing at Twickenham for the first time tomorrow in the final of the Junior Vase competition and for one family the match is extra special. 

Your headlines this lunchtime

Richard Madden

BBC Radio Humberside

Here are the latest headlines across East Yorkshire and Humber

Is Marco your Manager of the Month?

Hull City boss Marco Silva has been nominated as Premier League Manager of the Month for April, ahead of their home game against relegated Sunderland. 

The Tigers won their last match at the KCOM stadium by two goals to nil despite playing with 10 men for most it. 

City sit just above the relegation zone with just three games to go.

Your weather... looks good!

Keeley Donovan

Weather presenter, BBC Look North

A dry day to continue for the rest of the afternoon with plenty of sunshine. 

A cool northeasterly breeze will continue to take a few degrees off the temperatures, especially along the coast.  

Highs of 13C.

BBC Radio 1's Academy comes to Hull

Kofi Smiles

BBC Face of Hull 2017

Tickets will be released tomorrow for BBC Radio 1's Academy. 

It's happening in Hull from the 21 to 25 May and it's a chance for young people to find out more about creative industries. 

If you want a ticket, pop along to the Albemarle Music centre from 11:00 tomorrow as tickets have been especially reserved for local people. 

After that, on the 8 May, they'll be available to anyone online.

Sally Fairfax

BBC Radio Humberside Live

As we reported yesterday, Bridlington South Beach has been recognised by Volleyball England as a great place to do the sport. 

The town is now a national hub for GoSpike Beach Volleyball, which aims to get more people having a go at the sport. 

Weather Watchers: Hello Mr Blue Sky

Hello weather watchers,

It's looking like a beautiful day across East Yorkshire and Northern Lincolnshire, thank you for your weather reports and pictures. 

Keep them coming through the day. If you're not a weather watcher you can find up how to become one here, its really simple and the best way to get your weather shots to Look North. 

Copyright: Weather Watchers

Watch: Hungry for some culture?

Kofi Smiles

BBC Face of Hull 2017

Here I am again with a few ideas of what you can do in the UK City of Culture. 

There's also an unmissable opportunity for creative young people.