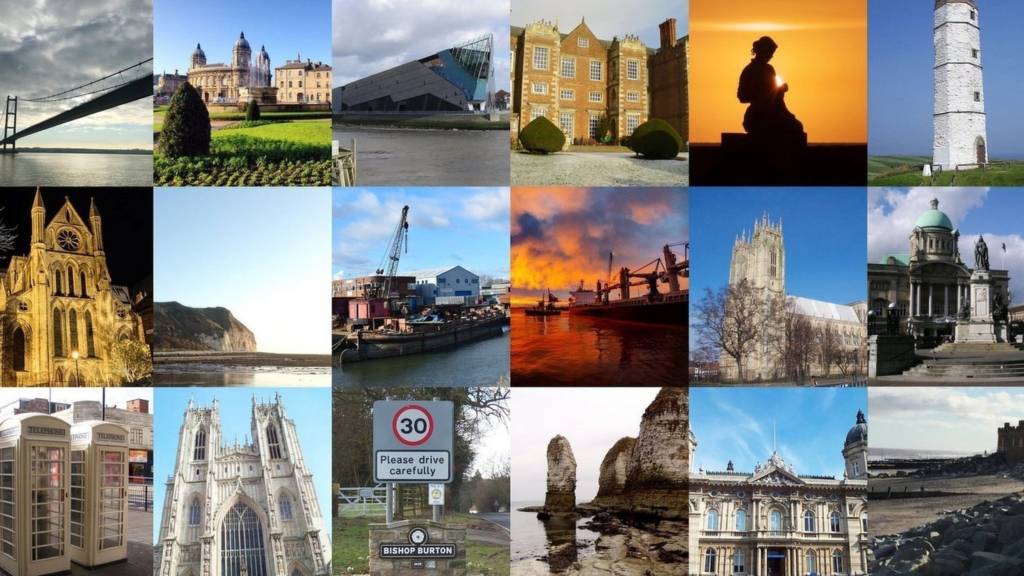 BBC Local Live: East Yorkshire and northern Lincolnshire
Five things we've learned today

Gill Sennett

BBC Local Live

That's all from me for today. We'll be back on Monday morning from 08:00.

Before I go, here's five things we didn't know this morning:

Can you help find David Cartwright?

Gill Sennett

BBC Local Live

There's concern for the safety of David Cartwright who's been missing from his home since 13 September.

Copyright: Humberside Police

David, who's 34 and has some health issues was last seen at his home in Hull.

It's thought he has some family in the Leeds area.

Police are asking for anyone who may know where David is or have seen him to call them on the 101 number.

Sport: Castleford Tigers v Hull FC

Hull FC's Mark Minichiello believes their big game experience in the last two years will benefit them as they look to seal a playoff place at Castleford tonight.

Following St Helens' victory last night the Black and White's must avoid defeat at the Jungle to ensure fifth-placed Wigan can't catch them.

Image caption: Castleford prop Andy Lynch is retiring at the end of the season

Tonight's big match commentary can be heard on all frequencies, online and Freeview channel 721 with team news and early build-up in Sportstalk from 18:00.

Help police find missing teenager Owen Smith

Gill Sennett

BBC Local Live

Police are asking for your help to find a missing teenager from Hull.

Copyright: Humberside Police

Owen Smith who's 15-years-old hasn't been since since he left his home on Hemswell Drive on Monday morning.

If you've seen Owen or know where he is you are being asked to call the 101 number.

Hull Trinity Festival - bringing the old town to life

James Hoggarth

BBC Radio Humberside

Hull will come alive with the sound of live music again this weekend.

Hull Trinity Festival will see bands taking to the stage at Zebedee's Yard and venues across in the city.

Happy Endings (pictured) and The Talks are the headline acts with other local bands performing over Saturday and Sunday.

More detail on house blast inquest

Stuart Harratt

BBC Local Live

The death of a man after an explosion at a Hull flat was accidental, a coroner has ruled.

Lewis Nicklin, 31, was rescued from the property on Beverley Road on 10 March. He later died in hospital.

Copyright: Nicklin family

The inquest at Hull Coroner's Court heard Mr Nicklin died from a combination of carbon monoxide poisoning and the effects of taking drugs.

The court heard the explosion happened when a fire crew entered the kitchen to try and extinguish a cooker fire in Mr Nicklin's ground-floor flat.

The rush of oxygen into the room triggered a fireball which ignited the gas supply.

Fire investigation officer Andy Kamis told the court it was believed the initial fire was caused by alcohol wipes being heated in the oven.

Watch: A round up of the weekend's weather

Abbie Dewhurst

Weather Presenter, BBC Look North

Breaking

Accidental death verdict in Beverley Road explosion

Leanne Brown

BBC Look North

A coroner has ruled that 31-year-old Lewis Nicklin died as a result of an accident.

Lewis was found following an explosion at a flat on Beverley Road in Hull in March. He later died in hospital.

Copyright: Nicklin family

The inquest heard Lewis died from a combination of carbon monoxide poisoning and the effects of taking drugs.

The building exploded shortly after emergency services arrived.

They'd been called out to a fire that started in the kitchen that led to a gas explosion.

Light fantastic future for North Lincolnshire's streets

Sophia Ewen

BBC Radio Humberside

A £6m project to replace street lights in North Lincolnshire with more energy efficient ones is due to get under way next week.

Copyright: North Lincolnshire Council

The council say the new lights will use up to 75% less energy and save them around £500,000 once the work's done.

It currently costs North Linclonshire Council £1m a year to light our streets.

It'll take three years to replace all 21,000 light bulbs.

Real cost of missed hospital appointments is £11m

Vicky Johnson

BBC Look North

Missed hospital appointments cost the Hull and East Yorkshire Hospitals NHS Trust £11m last year.

That's the same as 440 nursing jobs.

Copyright: Hull and East Yorkshire Hospitals NHS Trust

Almost 67,000 out-patient appointments were missed at Hull Royal and Castle Hill hospitals.

The Trust say missed appointments mean longer waiting lists and are asking people to let them know in advance if they can't make an appointment.

Lobster law brought in to protect species

Paul Murphy

BBC Look North

Wildlife experts say a new law to protect Yorkshire's east coast lobsters will ensure the creature and the fishermen who depend on it have a long-term future.

The shellfish industry in Bridlington, Hornsea and Withernsea is the biggest in Europe.

The new restrictions on catching female lobsters come into force next month.

Man in hospital following A180 crash

A man has been taken to hospital following a crash near Grimsby this morning.

The accident involving two cars happened just off the A180 at the Pyewipe roundabout around 06:30.

A Renault Megane and an Audi Q5 collided.

The driver of the Renault vehicle was taken to hospital with minor injuries.

Turner Prize shortlisted artists: Lubaina Himid

Kofi Smiles

BBC Face of Hull 2017

As the Turner Prize edges ever closer to opening its doors at Ferens Art Gallery in Hull, we're taking a look at the four artists who have been shortlisted for this year's prize.

The Turner Prize is a world renowned art prize awarded by the Tate to an artist who's exhibited outstanding work in the previous year.

So far we've heard from Hurvin Anderson and Andrea Buttner and today we'll hear from Lubaina Himid.

We've still to hear from Rosalind Nashashibi before the exhibition opens on Tuesday 26 September.

The winner of this year's Turner Prize will be announced at the end of December.

More than 60,000 people sign petition to save dog

David Burns

BBC Radio Humberside

A petition's been launched by a local woman to save a dog which a court ordered should be put down after leaving a toddler needing plastic surgery.

Although the dog was on a lead when the boy approached and tried to cuddle him, Beverley Magistrates Court (pictured) found that the dog was "dangerously out of control" and ordered the dog's owner to pay £7,000 in damages.

Magistrates said they were not satisfied that the dog wasn't a danger to the public.

But Sheena Louise from South Killingholme wants to save Jed and instead of him being put down wants him to wear a muzzle in public.

She's started a petition which has been signed over 60,000 times.

A sign of the times in Hull

Gill Sennett

BBC Local Live

Have you ever looked at a road sign and thought of art?

No! Well you'll soon be able to see a new exhibition which takes our road signs and gives them a twist:

Here's Sir Terrance Conran's rather gory sign warning cyclists of the dangers of sharing the roads with trucks

Copyright: Patrick Murphy

Our street signs were originally designed over 50 years ago by Margaret Calvert and Jock Kinnear and roughly circles give us instructions, triangles warn and rectangles inform.

Copyright: Patrick Murphy

Image caption: Fashion designer Betty Jackson's reinterpreted road sign.

A new exhibition, 'Made North' at Humber Street Gallery in Hull, which is curated by Patrick Murphy, is taking those classic signs and asking leading designers and artists to reinterpret them.

Here's a cheeky directions sign by the actor Mark Bonner

Copyright: Patrick Murphy

There are 80 signs to identify and these will be displayed in and Humber Street Gallery and surrounding streets from 2 October.

House explosion death inquest opens in Hull

An inquest into the death of a man killed in an explosion in Hull earlier this year is being held today.

Lewis Nicklin, aged 31, died following a fire at a house on Beverley Road in the city back in March.

The building exploded shortly after emergency services arrived.

Two firefighters were also treated in hospital for minor injuries.

Fatal house fire in Grimsby

Lara King

North East Lincolnshire reporter

One person has died in a house fire in Grimsby.

Fire crews were called to a flat in Purbeck Road, Scartho (pictured) just before 02:00 this morning.

Other flats in the building were evacuated and police have confirmed that a body was found in one of the flats.

A cordon is in place and police are investigating. They want to hear from anyone who was in the area at the time.