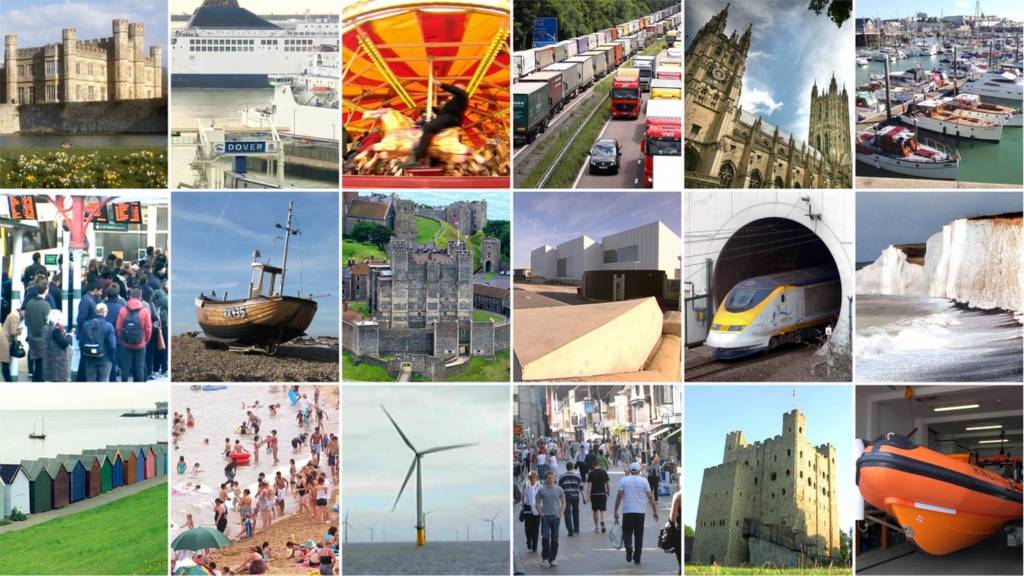 Our live coverage has ended for the week. We'll be back on Monday with all your latest news, sport, travel and weather.

Sara Smith

Reporter, BBC South East

Fifty years ago this weekend Kent and Sussex suffered some of its worst flooding in a century.

Liberal Democrat's conference in Brighton

The leader of the Liberal Democrats, Sir Vince Cable says Theresa May's Chequers agreement is a form of hard Brexit and his party won't support it. He has been speaking to BBC South East's Political Editor, Helen Catt ahead the Lib Dem's autumn conference which starts in Brighton on Saturday.

'Four suspects' involved in Bosham burglary

Police have released these images of three unique firearms stolen from a house in Bosham, West Sussex.

A total of 17 shotguns and rifles are reported to have been taken between 21:30 BST on Wednesday 15 August and 01:30 BST on Thursday 16 August.

Jewellery, tools, and two vehicles were also stolen.

A BMW was later recovered but a Ford Transit van is still missing.

Detectives believe at least four suspects were involved in the burglary.

Today's local news website headlines

The Argus: Family devastated as rat poison kills one dog and almost kills another

Kent Online: Motorcyclist who died in A249 Detling Hill crash named as Joe Gibbo

Get Surrey: Scary footage shows massive HGV weaving around on the M25 near Chertsey

Chichester Observer: Selsey RNLI all-weather lifeboat pulls yacht with seized engine to safety

Kent Live: Co-op petrol station in East Peckham is closed after a car fire

Mid Sussex Times: Residents battle to halt new plans for Copthorne gypsy site

Brighton and Hove News: Children adopted from abroad set to get priority for school places

Brighton and Hove Independent: Upset as Tongdean Road flats approved

Eastbourne Herald: Elderly woman in Eastbourne almost conned out of £4,000 by caller claiming to be the 'police'

Crawley and Horley Observer: Petition launched to stop cuts to housing and support for young people in West Sussex

West Sussex County Times: Horsham police crackdown on vehicle crime

Sussex Express: Lewes hotel scheme would provide revenue stream for council

Worthing Herald: Safety on road near Worthing shops to be looked following road rage incident

Hastings Observer: St Leonards bus stop to be closed for a week

Cyclist injured in motorbike pavement collision

Police investigating a collision in Angmering are looking for this man.

Two people were riding a motorcycle on the pavement in Rowan Way when they collided with a cyclist.

It happened at about 17:30 BST on 8 September.

Merger for music service could be explored

Huw Oxburgh

Local Democracy Reporter

East Sussex's music instrumental service could be outsourced as the county council looks to explore sustainable long-term solutions for its future.

Earlier this year the authority consulted on plans which could have seen individual and group lessons at schools axed due to a budget shortfall.

This provoked a storm of protest with more than 12,000 people signing a petition opposing the closure of the service.

During the public consultation extra savings were identified to balance the budget meaning the music instrumental service has been spared from the axe.

But due to future financial uncertainty the county council is exploring alternative business models to ensure the long-term viability of the service.

According to a report: "The number of people who provided feedback ... has demonstrated the degree to which the music service is valued.

"Through the public consultation we have been able to find a positive way forward and it is hoped that we are now able to re-build trust and confidence in what we believe is a very exciting and financially sustainable future."

Man sought over Hastings assault

This man is being sought by police in connection with an attempted assault in Hastings.

Police say Nathan Thompson, 31, is believed to be in the St Leonards area.

Officers also want to question him in relation to controlling and coercive behaviour on a woman on Sunday.

Anyone who sees him is being asked to ring 999.

Could the discovery of a crashed plane halt the controversial dredging of the Goodwin Sands?

More controversy over Goodwin Sands dredging

Dan Maclaren

BBC Live reporter

Campaigners say the discovery of a crashed World War Two bomber should prevent the dredging of the Goodwin Sands.