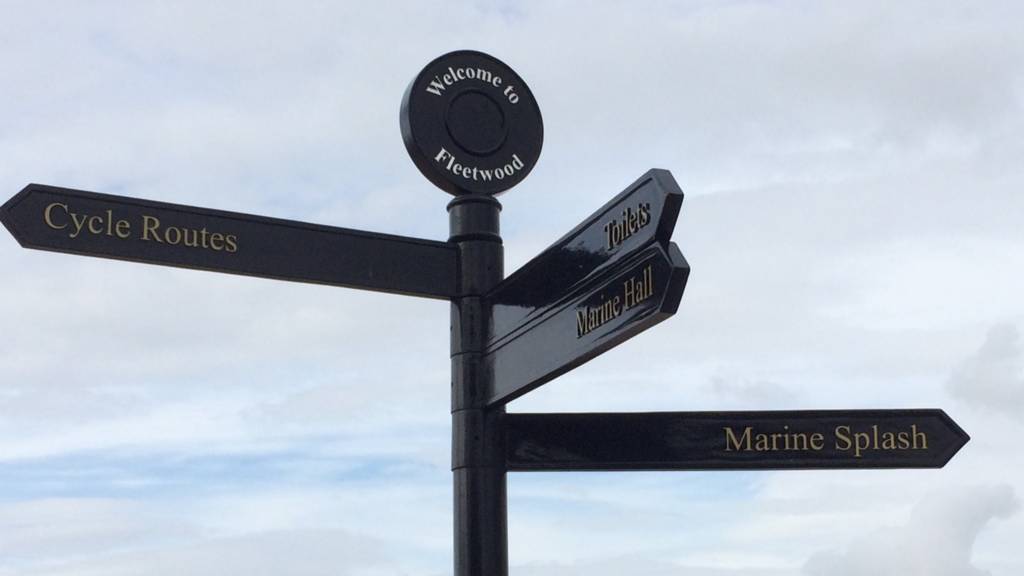 BBC Local Live: Lancashire
Summary
Updates on Wednesday 8 March
More news, sport, weather and travel updates from 08:00 on Thursday
Our live coverage across the day

Remaining mild this afternoon and into the evening, with clear skies for most of the region through the night. Lows of 8C. 

Blackpool body find not suspicious

The body of a woman that was found on a beach in Blackpool is not being treated as suspicious.

Copyright: Gerald England, geograph

A body was found by the coastguard shortly before 10:00 close to New South Promenade.

The woman has been identified as being in her 70's and from St Annes. 

Police said her next of kin have been informed.    

Latest headlines for Lancashire

The death of a woman whose body was found on a Blackpool beach this morning is not being treated as suspicious, say Lancashire Police
A bird flu outbreak in the county in 2015 cost the taxpayer about £1.5m, according to the Department for Environment, Food and Rural Affairs
A prisoner who has links to Lancashire and Liverpool has absconded from HMP Kirkham

Lancashire bird flu outbreak in 2015 cost the taxpayer about £1.5m

The government has revealed that an outbreak of bird flu on a farm in Goosnargh two years ago cost the taxpayer an estimated £1.5m.

The Department for Environment, Food and Rural Affairs said the majority of expenditure in such cases comes from mounting a response to outbreaks of the disease. 

All birds at the poultry farm were humanely culled in July 2015. 

During the ongoing bird flu outbreak, up to 160 people are being deployed on a daily basis, included vets, technicians and scientists.  

Hospital trust achieves best ever ranking for staff engagement

East Lancashire Hospital NHS Trust has achieved its best ever ranking for staff engagement in a survey.

The annual NHS Staff Survey asks for anonymous and honest answers to questions on nine themes including appraisals, equality and diversity, and health and wellbeing.

More than 3,500 staff at the trust took part, and the it scored highly in areas such as including how it acts on concerns and feedback raised by patients and families.

Quote Message: I am delighted with the results of the latest NHS Staff Survey which shows that as an organisation we continue to improve the support we provide for our most important asset – our staff. from Kevin McGee Chief Executive, East Lancashire Hospitals NHS Trust

Breaking

Body of woman found in Blackpool

A body of a woman has been found on a beach in Blackpool this morning, say Lancashire Police.

Northern rail company reveals strike-day plans

Northern Rail has released details of a reduced train service in preparation for industrial action planned for Monday.

The RMT union is disputing plans to bring in more driver-only-operated trains.

Northern Rail said it would run  about 40% of its normal timetable  if the walkout goes ahead.

Southern rail and Merseyrail , which are due to strike on 13 March, have also altered their services.

More 'needs to be done to tackle sexism' in Parliament

More work needs to be done to combat sexism in Parliament, an MP has claimed.

Speaking on International Women's Day, Lancaster and Fleetwood MP Cat Smith has said she still encounters sexism at Westminster.

"In terms of what happens inside that fancy building, I couldn't put my hand on my heart and say that sexism never happens. I've many examples of where women have been treated differently," she said.

The House of Commons does not employ MPs or MPs' staff, but there are measures in place to help and support staff with any issues or problems.

Quote Message: The House of Commons aims to provide a positive, inclusive working environment where people are valued for the skills and experience they bring to work, whilst being representative of the society they serve. All staff are expected to contribute to the Parliamentary estate remaining a positive environment, free from unacceptable behaviours such as discrimination, harassment, bullying and victimisation. from Spokesman House of Commons

Valley council tax increase is agreed

Joey Barton's FA betting misconduct hearing adjourned

Burnley midfielder Joey Barton's Football Association hearing into charges he made 1,260 bets over a 10-year period has been postponed.

The 34-year-old was due to appear before an FA commission on Wednesday, after  accepting a charge in February.

Barton requested a personal hearing before being sanctioned for breaking FA rules by betting on matches between 26 March 2006 and 13 May 2016.

Players in England's top eight tiers are banned from betting on football.

Latest headlines for Lancashire

Burnley Footballer Joey Barton's FA hearing about betting on football matches is adjourned
A book is to be written about a teddy bear found by a Morecambe police officer
Walkers are asked to keep an eye out for hen harriers when out on Lancashire's moorlands by the RSPB

Plans for 'twin' Lytham St Annes to French town

Lost teddy story to become book

A book is being written about a teddy bear that was found by a police officer on his way home from a shift.

Copyright: Morecambe Police

PC Barry Dyson, from Morecambe Police, spotted to purple bear on grass near to the Venus and Cupid sculpture on the prom last year, and took him to the station the next day.

Despite an appeal, the team have been unable to find the teddy's owners, and decided to make it into a station mascot.

A story is being written about the bear named Inspector Ted, and the plan is to release it and for the money to go to a local children's charity.

'Accrington Stanley' vodka parody ad banned

Three adverts for a Dorset farm's vodka, including a parody of the celebrated "Accrington Stanley" milk ad from the 80s, have been banned.

The Advertising Standards Authority (ASA) received two complaints about the commercials for Black Cow vodka.

One of the films was a parody of the Milk Marketing Board's 1989 milk advert featuring Carl Rice.

Now aged 36, Rice reprises his role in the vodka skit. But the ad was deemed socially irresponsible by watchdog chiefs

In the original dairy promotion, two Liverpudlian boys who have been playing football race into a kitchen.
One teases his mate for drinking milk, but he retorts that Anfield legend Ian Rush reckoned people who didn't drink milk would "only be good enough to play for Accrington Stanley".
The ad popularised the catchphrase: "Accrington Stanley? Who are they?... Exactly!"

Walkers asked to watch out for hen harriers

Walkers are being asked to keep an eye out for one of England's rarest birds of prey when out on Lancashire's moorland.

The RSPB said it is a good time of year to spot hen harriers, particularly the males which perform courtship displays to attract females.

Hen harriers are at risk due to illegal persecution, according to the RSPB.

Male hen harriers are an ash-grey colour with black wing tips and a wingspan of just less than a metre. Female hen harriers are slightly larger, owl-like in appearance, and have a mottled brown plumage.

Quote Message: If we can find out where these birds are breeding, we can deploy specialist staff to protect the nests, thereby giving them the best chance of success. We can also fit them with satellite tags enabling us to track their movements once they have fledged. from Amanda Miller RSPB North's conservation manager

Football: Tom Barkhuizen secures a point for PNE

Tom Barkhuizen rescued a draw for Preston at Derby with a strike five minutes into second-half stoppage time.

Matej Vydra's first goal since early October looked as if it would help the Rams leapfrog the visitors.

The Czech Republic striker turned the ball in after the visitors failed to deal with David Nugent's shot.

But Barkhuizen restored parity for North End when he scrambled the ball past Scott Carson following keeper Chris Maxwell's long ball into the box.

Latest headlines for Lancashire

Plans for a £9m development in the centre of Clitheroe are rejected by the public
Walkers are asked to keep a watch out for hen harriers when out on Lancashire's moorlands by RSPB
East Lancashire NHS Hospital Trust achieves the best results in a staff engagement survey

Crackdown on rogue riders on Burnley's rural lanes

Rail strike: Northern publishes revised timetable

Train operator Northern has published details of its revised timetable which is due to operate during industrial action on Monday 13 March.

The RMT union announced strike action last month in a dispute over plans to bring in more driver-only-operated trains.  

Northern says it expects to run approximately 980 services, or about 40% of its normal timetable on many, but not all, of its routes in the north of England.

All services are expected to be extremely busy and the firm's advising customers to give themselves extra time to travel and consider whether their journey is necessary.

Richard Allan, Northern's deputy managing director, says: "We've focused our planning efforts on maintaining a train service on our busier routes between 07:00 and 19:00, and are looking to provide replacement bus services on some routes where trains won't run."