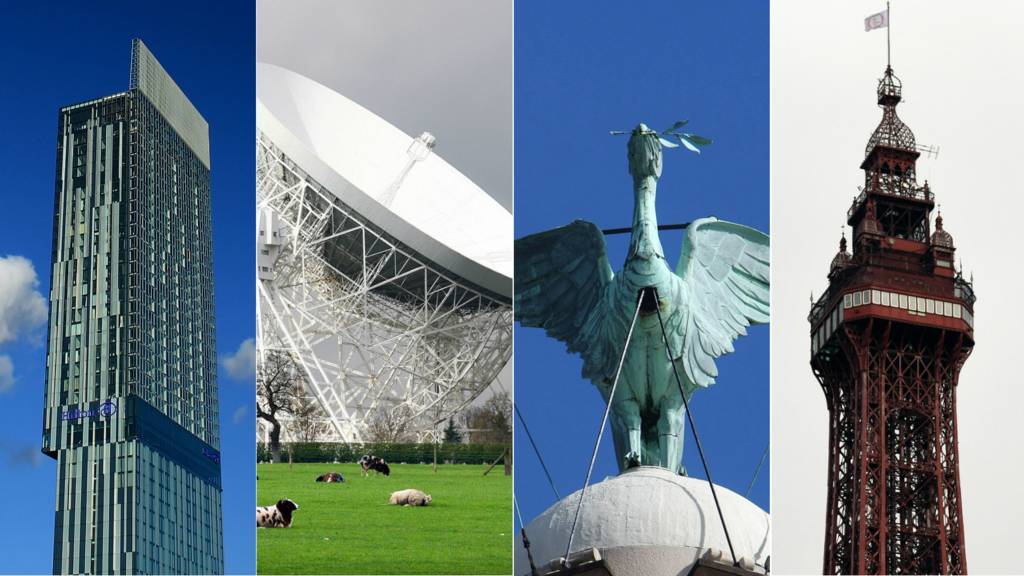 BBC Local Live: North West of England
Summary
Updates on Friday 2 June
Severe accident: M55 Lancashire westbound

BBC News Travel

M55 Lancashire westbound severe accident, from J32 for M6 J32 to J1 for A6 Garstang Road.

M55 Lancashire - One lane closed on M55 westbound from J32, M6 (Broughton Interchange) to J1, A6 (Fulwood), because of an accident. Traffic is coping well.

To report traffic and travel incidents dial 0330 123 0184 at any time

Weather: A dry night turning misty

Tonight will be a dry night with clear spells and easing winds, turning misty in places later in the night.

More on BBC Weather

Arena bomber's brother 'extradited soon'

The brother of Manchester Arena bomber Salman Abedi will be extradited to the UK by the end of the year, according to Libya's prime minister.

Copyright: Libyan Interior Ministry

Image caption: Libya's interior ministry issued this photo of Hashem Abedi in May

Hashem Abedi was arrested in the country shortly after the 2017 suicide attack that killed 22 people.

Fayez Al Sarraj told the BBC that Libya was "fully co-operating" with British authorities and denied that there were any delays on the country's part.

The Home Office said it would not be commenting at this stage.

Severe disruption: M6 Cheshire southbound

BBC News Travel

M6 Cheshire southbound severe disruption, at J21 for A57 Manchester Road.

M6 Cheshire - M6 exit slip road closed and slow traffic southbound at J21, A57 (Woolston).

To report traffic and travel incidents dial 0330 123 0184 at any time

Attempted child abductions by men in vans investigated

Two attempted child abductions involving men travelling in vans are being investigated by police in Greater Manchester.

The first incident saw three balaclava-wearing men chase a 14-year-old girl after jumping out of a white transit van in Westhoughton, Bolton on Monday.

She managed to run to a nearby address.

A boy and a girl, both aged 11, were then approached by a group, also in a white van, in Bury at about 15:40 GMT on Tuesday.

Police said they were working to establish if the two incidents were linked.

Three men voluntarily attended a police station in relation to the second incident.

Severe accident: M6 Cheshire northbound

BBC News Travel

M6 Cheshire northbound severe accident, between J20 for M56 and J21 for A57 Manchester Road.

M6 Cheshire - Queuing traffic on M6 northbound between J20, M56 (Lymm Interchange) and J21, A57 (Woolston), because of an accident, which is now on the hard shoulder.

To report traffic and travel incidents dial 0330 123 0184 at any time

'Offensive' student T-shirts are 'hate speech'

A students' union officer who leaked photos showing students wearing "offensive" T-shirts has said some of the slogans amounted to "hate speech".

Members of a Lancaster University sports club were pictured wearing outfits which referenced child abuse and rape.

The officer said she leaked the photos because an investigation by the students' union was taking too long.

The union said it "takes allegations of this kind very seriously".

Severe disruption: M56 Greater Manchester eastbound

BBC News Travel

M56 Greater Manchester eastbound severe disruption, between J3 for and J1 for .

M56 Greater Manchester - One lane closed and queuing traffic on M56 eastbound between J3, Baguley and J1, M60 Interchange, because of a broken down vehicle. Congestion to J6 (Hale Four Seasons Roundabout).

To report traffic and travel incidents dial 0330 123 0184 at any time

£300k plan to root out Japanese knotweed

Wigan Council is set to spend £300,000 to root out invasive plants including Japanese knotweed and giant hogweed.

Image caption: The plant was first imported to the UK in the 19th century

the authority has said it will set aside cash for four staff members to tackle destructive plants in up to 700 affected spaces if plans are approved.

It said if the plants spread to private land it could be liable for "significant costs" and outsourcing eradication work to contractors "could cost millions".

It follows a ruling awarding a homeowner blighted by knotweed £15,000.

Body pulled from River Mersey

A body has been found in the River Mersey in Widnes.

Police said it was found near Mersey View Road and an underwater search team was attending.

The circumstances surrounding the death remain under investigation, Cheshire Police said.

A police cordon has been set up and several public footpaths in the Hale Bank area were closed.

Police evacuate Manchester flats after suspicious substance found

A 50-year-old man has been arrested on suspicion of possessing an explosive substance at a Manchester tower block.

Police were called to Roach Court on Hamerton Road in Collyhurst following reports of a man making threatening phone calls on Tuesday afternoon.

When flammable liquid was found inside the property, other residents were evacuated as a precaution.

Greater Manchester Police said there was nothing to suggest the incident was terror related.

Murder charge after Burnley street assault

An 18-year-old man has been charged with murder after a man was attacked in a Burnley street.

Copyright: Lancashire Police

Marek Krivak, 32, from Slovakia, was found on the floor with head injuries in Hargreaves Street on 27 October, and died three days later.

Drew Wilkinson, 18, of Straight Mile Court in Burnley had earlier been charged with assault and possession of an offensive weapon.

His charge has now been changed to murder, Lancashire Police said.