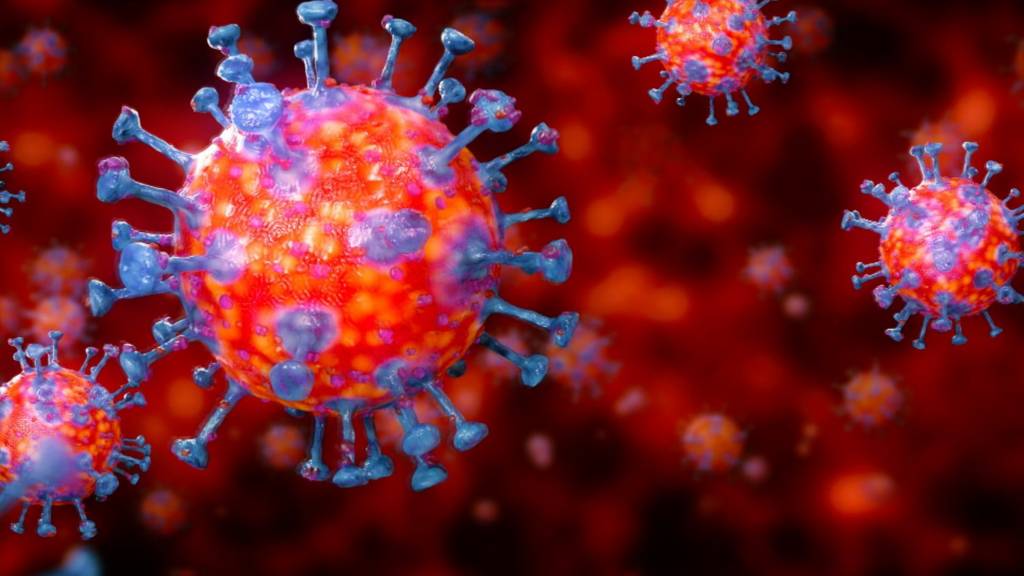 Coronavirus: Updates from across the North West
That's all from our live coverage for Thursday. Many thanks for joining us.

We'll be back from 09:00 on Tuesday with more of the latest on the coronavirus pandemic and all of the rest of the day's news.

Have a good Easter Bank Holiday weekend. And stay safe.

Cheshire Police launch anti-domestic violence campaign

Copyright: Cheshire Constabulary

Cheshire's chief constable and police and crime commissioner have launched a campaign called Open the Door to support dometic violence victims who are self-isolating.

Working with councils, officers are sharing information and leaflets in public locations and businesses.

Crime commissioner David Keane said:

Quote Message: With the government asking everyone to stay at home to help fight the Covid-19 outbreak, I am concerned that domestic abuse incidents could increase as vulnerable people are trapped at home with abusive partners.

The National Domestic Abuse charity said staff had seen a 25% rise in calls since lockdown began.

A spokesman for Cheshire Constabulary said the force wants to do more to encourage domestic abuse victims to seek help from the police or at support services across the county.

GP tackles 5km run just weeks after brain surgery

A Cheshire GP has completed a 5km (3.1 mile) run only 10 weeks after having a major operation to remove a brain tumour.

Huw McCandless celebrated his 33rd birthday and the end of his radiotherapy treatment by running around the garden of his home in Disley.

He chose the location to observe the coronavirus pandemic's strict social distancing rules.

New firefighters graduate ....with social distance

Manchester celebs in 'stay at home' video reminder

Well-known Manchester personalities have joined with front line workers and community members to urge people to stay home during the coronavirus pandemic.

The video includes messages from sports stars, actors and musicians.

Warning to avoid reservoir beauty spot over Easter

GP practices to remain open over Easter

GP practices across the country will remain open on both Good Friday and Easter Monday.

Pharmacies also confirmed they will remain open throughout the bank holiday weekend.

The news was welcomed by medical staff in the region.

Dr Lindsey Dickinson, clinical lead and chairman of NHS Chorley and South Ribble Clinical Commissioning Group, said:

Quote Message: We know that this is a really difficult time for everyone, particularly for those with ongoing health conditions.

Quote Message: It's important that people know that their GPs are there to support them over the bank holiday weekend this year.

Dr Sumatra Mukerji, chairman of Greater Preston CCG, encouraged people to get in touch with GPs online and over the phone, and said many surgeries will be offering video conferencing appointments for self-isolating patients.

Easter warning after 600 illegal parties shut down

Greater Manchester Police has warned people not to breach lockdown rules over Easter after it had to break up 660 parties last weekend.

Chief Constable Ian Hopkins said "each and every one of us need take this seriously".

Image caption: There were 1,132 coronavirus-related breaches reported between Saturday and Tuesday

There were 1,132 coronavirus-related breaches reported between Saturday and Tuesday, the force said.

That included 494 house parties - some with DJs, fireworks and bouncy castles - and 166 street parties.

One woman in Bury became the first person in Greater Manchester to be charged under the Coronavirus Act 2020 after police had to repeatedly shut down one of the parties.

The force also had to deal with 122 different groups gathering to play sports, 173 more gatherings in parks and 112 incidents of anti-social behaviour and public disorder.

Image caption: Chief Constable Ian Hopkins urged people to take the guidelines seriously

Quote Message: We understand the desire people will have to spend time with family and friends over the Easter period, however it is vital that we follow the government guidelines.

Quote Message: The single most important action we can take in fighting coronavirus is to stay at home in order to save lives. from Chief Constable Ian Hopkins Greater Manchester Police

Lifeguards warn against using sea for 'exercise or recreation'

Copyright: RNLI/Nigel Millard

The Royal National Lifeboat Institution is warning people ahead of the Easter weekend to avoid using the sea for exercise or leisure.

A spokesman for the charity said lifeboats have been called "all too often" since the lockdown began.

There will be no lifeguards patrolling beaches over the weekend to reduce the risk of exposure to the coronavirus.

Gareth Morrison, head of water safety at the RNLI, said:

Quote Message: We know people who live at the coast still want to exercise by the sea, but when you do this, please think of the potential impact of your actions on RNLI lifeboat volunteers and other emergency services.

Quote Message: While you could be fully competent and never needed to be rescued, by going out on the water you could encourage others who are less proficient to take part in similar activities.

Preston man draws 'thank you' message for city binmen

Copyright: Preston City Council

A binman was greeted with an artistic thank you for his work during the coronaviris outbreak.

A Preston resident drew a picture of a boxer alongside the caption "you're the champs".

It's just one way people in the city have been showing their appreciation for key workers and medical staff, including leaving small notes of appreciation and gifts.

Copyright: Preston City Council

A spokesman for Preston City Council said:

Quote Message: We are thrilled at the way our communities have been saying thank you to our waste collection teams, by waving and cheering them on when they're out and about.

Quote Message: They've also received countless handmade cards and drawings from children, which go a long way in keeping everyone's spirits up while they work tirelessly to keep emptying our bins.

Warning over fake Public Health England coronavirus news

Coronavirus pressures 'put organ transplants at risk'

The UK's organ transplant network could be forced to shut down as a result of the coronavirus outbreak, the body that runs the scheme is warning.

One factor is the pressure on intensive care beds, according to NHS Blood and Transplant (NHSBT).

Ana-Rose Thorpe, from Manchester, is waiting for a liver transplant.

The 29-year-old has lived with hepatitis almost her entire life after contracting it as a baby and now her liver is failing and she is in desperate need of a transplant.

She said:

Quote Message: Having to go into hospital while there are coronavirus patients there is very worrying.

Quote Message: Whilst my body could withstand the transplant, the longer I'm not being monitored, not being seen as often as I was, the longer I leave it, I could just get sicker and sicker.

Quote Message: They are trying to make it safe for us but we are still terrified of going into hospital. It's my life - it is a matter of life and death.

Passport Office staff told to go back to work

Staff working for Her Majesty's Passport Office believe their lives are being put at risk because of demands that they return to work.

Many have been asked to go back next week, despite the ongoing coronavirus crisis, the BBC has learned.

On Tuesday, staff were told by a Home Office scientific adviser 80% of people would get Covid-19 in the end and "we can't hide away from it forever".

The Home Office said it was maintaining social distancing at passport offices.

When and how to get staff back into the workplace are questions employers will increasingly have to grapple with across the UK.

Her Majesty's Passport Office (HMPO) has centres in Belfast, Durham, Glasgow, Liverpool, London, Newport and Peterborough.

Garden memorial for Bolton schoolgirl

A memorial garden is being set up to honour a seven-year-old girl who was stabbed to death in a park.

Emily Jones, who was a pupil at Markland Hill Primary School, Bolton, was killed by a woman in Queen's Park last month.

Head teacher Louise Close said staff were "blown away" people had pledged more than £11,000 for the memorial.

Emily's friends are helping design the garden and "have had some amazing ideas", she added.

Ms Close said due to the coronavirus pandemic some ways of honouring Emily had not been possible.

Barbecue found on 34th floor of Manchester's Beetham Tower

Firefighters called to the 34th floor of a skyscraper in Manchester were amazed to find a lit barbecue.

Copyright: Getty Images/ Universal Images Group

Six fire engines and an aerial platform were sent to Beetham Tower on Deansgate at about 20:00 BST on Tuesday after a member of the public reported seeing "the flickering of flames".

Greater Manchester Fire and Rescue Service (GMFRS) said luckily "no harm was done" by the barbecue, which had been ignited on an enclosed balcony.

"Fire safety advice" was given.

Coronavirus: Afternoon update

Lockdown to be extended?

As the initial three-week restriction on daily life nears an end,ministers are considering an extension. In Wales, First Minister Mark Drakeford has already said the lockdown will continue.

Are minorities hardest hit?

Amid suggestions the virus is having a disproportionate impact on people from ethnic minority backgrounds, our Reality Check team examines the data.

Image caption: With a warm bank holiday forecast, the British public are being urged to stay at home

Calls for international unity

Italy's prime minister says the EU must act together to help its worst-hit countries, or risk falling apart. And the World Health Organization's boss calls for "unity" in the face of criticism from US President Donald Trump.

Don't forget...

You can find more information, advice and guides on our coronavirus page.

And remember the warnings about trying not to touch your face. Tap here for tips on how to avoid doing it.

Premier League players club together to raise cash for NHS

Liverpool captain Jordan Henderson is leading the #PlayersTogether initiative to raise funds for the NHS.

The "collective initiative" will to help generate funds for the NHS and distribute them "where they are needed most" and "help those fighting for us on the NHS frontline".

Jordan Henderson posted this message on his Twitter page:

Health Secretary Matt Hancock "warmly welcomed" the "big-hearted decision".

Council warns public to avoid beauty spot

Copyright: Rebecca Appleton

Image caption: Rivington Pike

Bolton Council is urging people to avoid the popular Rivington Pike over the Easter holiday as the virus shutdown continues.

Traditionally thousands of people in the North West hike up the hill over the Bank Holiday weekend.

The paths to the pike will only be open to residents, and Lancashire Police will increase patrols in the area.

Council leader David Greenhalgh said:

Quote Message: We know that this a family tradition for many in Horwich and across Bolton but we would urge you to please stay at home.

A number of other places across the region have taken similar measures - Sale Water Park and Dunham Massey in Trafford both closed their car parks and will only allow access for local residents.