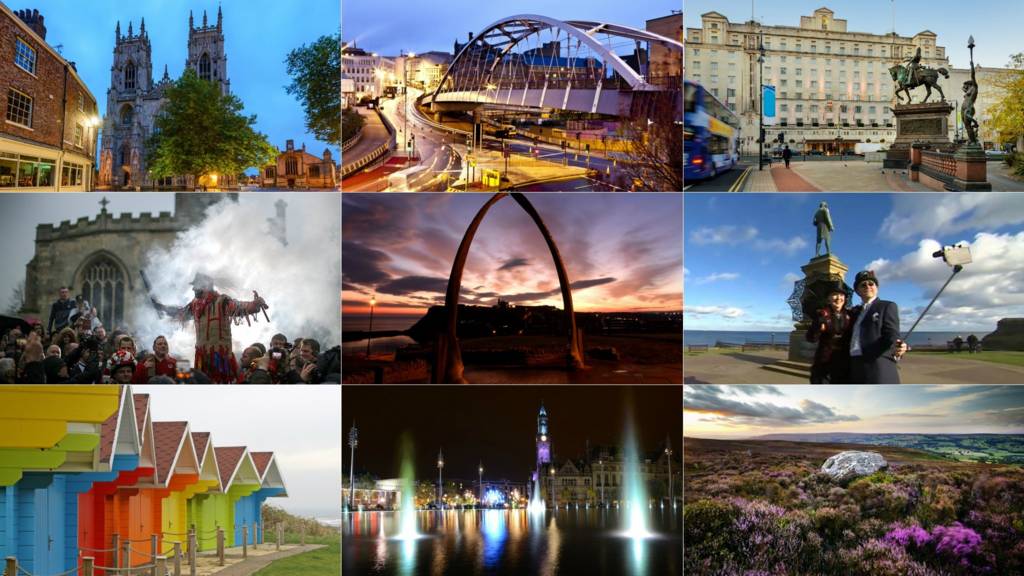 Latest news from Yorkshire

Armed police seal off Doncaster street

Armed police are at a house in Doncaster following reports of "concerns for a resident". 

South Yorkshire Police said officers were called to a property on Wensleydale Road at around 15:30 GMT. 

Police said: "Armed police and specialist officers are currently at the property. 

"Wensleydale Road remains closed at this time."

Kenneth Hugill was cleared of inflicting grievous bodily harm and has spoken about events on his farm.

Our five top stories from today

Nick Wilmshurst

BBC Local Live, Yorkshire

That's all from us for today, we'll be back tomorrow from 06:30 with all the latest news, sport, weather and travel for Yorkshire. 

Updates on breaking news and travel will continue throughout the night, but before we go, let's look back at some of our top stories from today: 

See you tomorrow.

Swine flu vaccine damages hope for Batley boy, 11

The family of an 11-year-old boy "living in a nightmare" after the swine flu vaccine gave him narcolepsy has appealed to the government to speed up vaccine damages payments.

Sam Forbes developed the rare sleeping illness after having Pandemrix aged four, in 2010.

Tracy Brabin, Batley and Spen MP, has asked the government to address the issue.

Northern rail strike: What does a train guard do?

Rail staff from three operators across England are striking today because rail companies say guards are no longer needed to ensure the doors are closed. But is this all that a guard does?

The RMT union says the plans would lead to an unacceptable reduction in passenger safety.

It says the guard - also known as conductor or train manager, depending on their employer - performs a much wider safety role than merely ensuring the doors are closed before the train departs.

Sean McGowan, RMT organiser for the North, said guards currently had to be competent in 35 areas, including evacuation of a train, what to do in the case of fire or derailment, and how to cope with a number of technical failures.

Serial flasher reported in Heckmondwike

A flasher who has been exposing himself to people over the past three weeks is being sought by police. 

The man, who is described as white, aged between 20 and 30-years-old, slim and about 6ft tall, has been exposing himself near a disused railway line off Vernon Road.

West Yorkshire Police say that the incidents have been distressing for passers by and have appealed for information from people who may have seen him. 

Quote Message: This is a well-travelled path in the area and officers have been conducting increased patrols in and around the vicinity." from PC Philip Miller West Yorkshire Police

Rail strike: Northern winding down services

Rail company Northern says it has been 'winding down' sevices from 17:00 today.

It follows a day of strike action by RMT union staff.

Listen: Trump has 'great confidence' ahead of Sheffield tournament

Judd Trump says winning the Players Championship, his second ranking event of the season, gives him great confidence ahead of next month's World Snooker Championship in Sheffield.

Trump has never won the world title:

Severe disruption: M1 South Yorkshire northbound

BBC News Travel

M1 South Yorkshire northbound severe disruption, between J34 for A631 and J35 for A629 Rotherham.

M1 South Yorkshire - One lane closed on M1 northbound between J34, A631 (Meadowhall) and J35, A629 (Rotherham), because of a broken down vehicle. Traffic is coping well.

To report traffic and travel incidents dial 0330 123 0184 at any time

Listen: 'This is not justice' - Mr Loophole helps Yorkshire farmer with £30,000 court costs

A  lawyer known as Mr Loophole has stepped in to help a Yorkshire farmer faced with £30,000 court costs, after being cleared of GBH last week.

Kenneth Hugill, 83, from Wilberfoss near York was cleared after shooting a man on his land. 

The pensioner shot Richard Stables in the foot in November 2015, believing he was planning to steal diesel.  

Now the lawyer, Nick Freeman, says he's set up a crowd funding page to help raise the money, because he feels Mr Hugill has been badly treated by the legal system:

Passengers stay away from rail network during strike

Passengers appear to have largely stayed away from the rail network as staff from three train firms across England hold 24-hour strikes.

Guards and drivers working for Northern rail rail are taking action over proposals for driver-only-operated (DOO) trains, which has affected most services in Yorkshire.

Up to 2,000 rail staff have walked out in the dispute, but limited disruption has been reported.

Northern rail thanked customers for "altering travel plans".

Travel update: Bus operator sends out the double deckers

Looks like there are extra seats if you usually take the train between Skipton and Keighley

Northern rail strike: Yorkshire on the move

Nick Wilmshurst

BBC Local Live, Yorkshire

As the big commute home gets underway this afternoon, so far it's all looking very civilised, considering we have a Northern rail strike on today.

A broken-down vehicle has caused one lane to be shut on the M1 northbound near at J39 for Wakefield

The only other place we're looking a bit busier on the roads is around J29 of the eastbound M62, as this rather dystopian picture illustrates: 

Copyright: Highways England/Crown Copyright

If you know any different and you're having a bad time of it somewhere, let us know .

Severe disruption: M1 West Yorkshire northbound

BBC News Travel

M1 West Yorkshire northbound severe disruption, at J39 for A636 Wakefield.

M1 West Yorkshire - One lane closed on M1 northbound at J39, A636 (Wakefield), because of a broken down vehicle. Traffic is coping well.

To report traffic and travel incidents dial 0330 123 0184 at any time

Victim named in Doncaster murder investigation

A teenager who died last Wednesday in the Denaby Main area of Doncaster has been named by police as Lewis Guest.  

Copyright: Family handout

The 18-year-old was taken to hospital following reports of an assault, but he died shortly afterwards. 

A post-mortem examination concluded he died from a stab wound.  

Another 18-year-old, Megan Sambrook, of Wadworth Street, Denaby Main, has been charged with murder. 

Supermarkets to cut price of fuel

West Yorkshire based supermarket chains Asda and Morrisons are cutting fuel prices as the wholesale price of oil reduces. 

They are both reducing the price of petrol and diesel by "up to two pence per litre" from tomorrow.

Latest government figures show the average price of petrol in the UK is 120p while diesel is 122.9p. 

Fuel prices in recent weeks have been higher than at any point since December 2014.