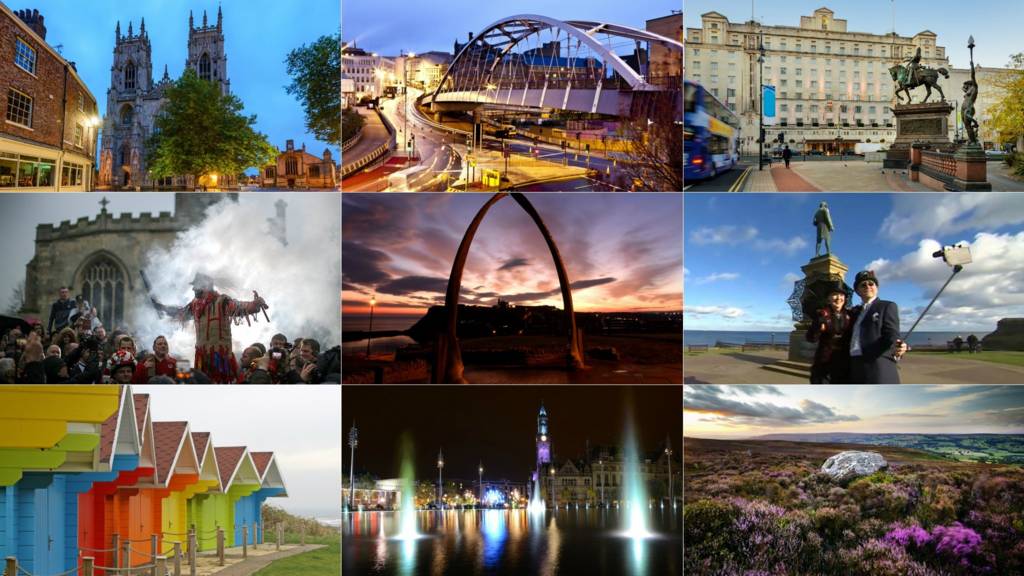 Latest news from Yorkshire

This service for Friday 17 March has now finished.

But you can get all today's breaking news for Yorkshire here . 

Porsche owned by Beatle sells for £37k

A man from Leeds, who bought a battered old Porsche, without realising it belonged to one of the Beatles - has sold at auction for more than £37,000.  

Raj Sedha had paid just £2,000 for the 928 model - 13 years ago - and planned to dismantle it for spare parts. But when his wife spotted George Harrison's name in the log book, he decided to restore the car and sold it on for more than eighteen times the price he paid for it.  

George Osborne's work experience?

And Yorkshire tweet of the day goes to.... 

The former Chancellor has been appointed editor of the London Evening Standard. The paper says he'll take up the position in mid-May and continue in his role as MP for Tatton.  

Leeds shopping centre wins top award

Nick Wilmshurst

BBC Local Live, Yorkshire

Victoria Gate in Leeds has won an international award for best shopping centre.

It fought off competition from developments in China, Japan and Hong Kong to take prize at the prestigious MIPIM awards in France last night. 

The people behind the Victoria Gate project have said they're delighted.  

CCTV released following charity thefts

Claire Renwick

BBC Local Live, Sheffield

Police investigating two reported burglaries from charity organisations in Sheffield have released CCTV images of two men they want to speak to.  

Copyright: South Yorkshire Police

25 laptops were stolen from the city centre building at around 07:45 on Thursday 23 Februruay.

Doors and windows were also damaged.

A man who was returning to his parked car was pulled from it by two me who then drove off in it. 

It happened on Huddersfield Road, Dewsbury at about 18:30 when the victim was approached by two men who hit the windscreen with a large stone.

The two suspects then pulled the victim out of the car and drove it off. The man wasn't injured during the incident.

The first suspect is described as an Asian male in his 50s and the second a black male in his 30s.

Quote Message: This was a frightening experience from the victim, who was thankfully unhurt." from Sgt Dale Sawdon West Yorkshire Police

Watch: Barnsley archer aims high after Hunger Games inspiration

Claire Renwick

BBC Local Live, Sheffield

A sixth-form student from Barnsley has a rather large target in her sights, after being inspired to take up archery by the Hunger Games books.

Megan Tinker is hoping to be selected for Team GB and represent her country at the World Youth Archery Championships in Argentina later this year.

Here she is in action:

Carvalhal calls for support of fans ahead of Reading game

Oli Constable

BBC Local Live, Yorkshire

Sheffield Wednesday boss, Carlos Carvalhal, has asked supporters to help his team claim all three points when they host play-off rivals Reading tonight.

It will be the Owls biggest game of the season so far, with Fulham hot on the heels of 6th placed Wednesday.

BBC Radio Sheffield will have live commentary on Football Heaven from 18:00. 

Elderly woman 'deeply distressed' after burglary in Skipton

North Yorkshire Police say they want to speak to this man after a woman in her 80s was burgled in Skipton.

Copyright: North Yorkshire Police

It happened in January, but officers have only just released this CCTV image.

The thief entered her home on Chapel Hill and stole valuables after searching several rooms.

Police say the woman has been left "deeply distressed" by the incident.

Severe disruption: M1 South Yorkshire northbound

BBC News Travel

M1 South Yorkshire northbound severe disruption, between J33 for A630 Catcliffe and J34 for A631.

M1 South Yorkshire - One lane closed and very slow traffic on M1 northbound between J33, A630 (Catcliffe) and J34, A631 (Meadowhall), because of a broken down lorry.

To report traffic and travel incidents dial 0330 123 0184 at any time

Transgender artwork on display at South Yorkshire Police HQ

Claire Renwick

BBC Local Live, Sheffield

An art exhibition to celebrate and raise awareness of the transgender community has gone on display at South Yorkshire Police's headquarters in Sheffield. 

Copyright: South Yorkshire Police

Gender Matters by Doncaster Pride uses graphics and multimedia images and will be on show for the next few weeks.  

Travel update: Friday rush hour Yorkshire snapshot

Nick Wilmshurst

BBC Local Live, Yorkshire

It's almost the weekend people, which is good news. Just one last hurdle to clear, the scramble home.

Here's how we're looking:

West Yorkshire:

Congestion building in Bradford and Halifax with some bus services running 20 minutes late and in Leeds some as much as 30 minutes. And to prove it:

South Yorkshire:

We've got some delays on the M1 northbound at J33, nothing out of the ordinary there, and some great news on the rails:

North Yorkshire:

Bits of normal congestion on the A1 but apart from that, enjoy your ride home!

Sixteen in court over football clashes in Bradford

Twelve men and four teenage boys have appeared in court in connection with clashes before a  football match between Bradford City and Sheffield United .

Nine of the men are charged with causing grievous bodily harm to a man in Market Street, Bradford, ahead of a Championship game on 22 October 2016.

Eight of them are also charged with affray at the same location.

Four men and four teenagers are also charged with affray in Manningham Lane in the city on the same day.

Gunshot holes discovered on Leeds car

Officers are investigating after a gun was apparently fired at a car in Farnley, Leeds, overnight. 

No one was inside the car at the time, which was parked in Tong Way.

Quote Message: I would appeal to anyone who saw or heard anything suspicious to get in touch, as they may have information valuable to the investigation." from Det Ch Insp Jaz Khan West Yorkshire Police

South Yorkshire firefighters test biohazard response

Claire Renwick

BBC Local Live, Sheffield

Crews in South Yorkshire have been taking part in special training this week.

They've been testing their response to a potential incident involving biohazards.

Copyright: South Yorkshire Fire and Rescue

Copyright: South Yorkshire Fire and Rescue

Severe disruption: M1 South Yorkshire southbound

BBC News Travel

M1 South Yorkshire southbound severe disruption, between J31 for A57 Sheffield and J30 for A616.

M1 South Yorkshire - One lane closed on M1 southbound between J31, A57 (Sheffield) and J30, A616 (Worksop), because of a broken down vehicle. Traffic is coping well.

To report traffic and travel incidents dial 0330 123 0184 at any time

Travel update: Problems in Leeds

If you're wondering why traffic in Leeds city centre is so busy, this'll be why: 

It's in the bag! Litter pickers spring clean Hambleton

Litter pickers in the Hambleton area of North Yorkshire filled 124 big bags full of rubbish in just one weekend.

Community litter picks took place in Northallerton, Leeming Bar, Alne and Stokesley.

Copyright: Hambleton District Council

Hambleton District Council says it's delighted volunteers turned out to clean up areas across the district in support of the national Great British Spring Clean campaign. 

The campaign resulted in the biggest community-led clean-up the country has ever seen.

Quote Message: We were delighted so many volunteers played their part in making Hambleton a cleaner place to live." from Councillor Stephen Watson

Funeral of Yorkshire cricketer

Claire Renwick

BBC Local Live, Yorkshire

The funeral of the Yorkshire Cricket player and president John Hampshire has been held.

He was part of the White Rose side that won three successive County Championships between 1966 and 1968 and skippered the team in 1979 and 1980.    

John Hampshire was also an international umpire and scored 21,979 runs for the Headingley-based club.

He died at the beginning of the month aged 76, following a long illness.