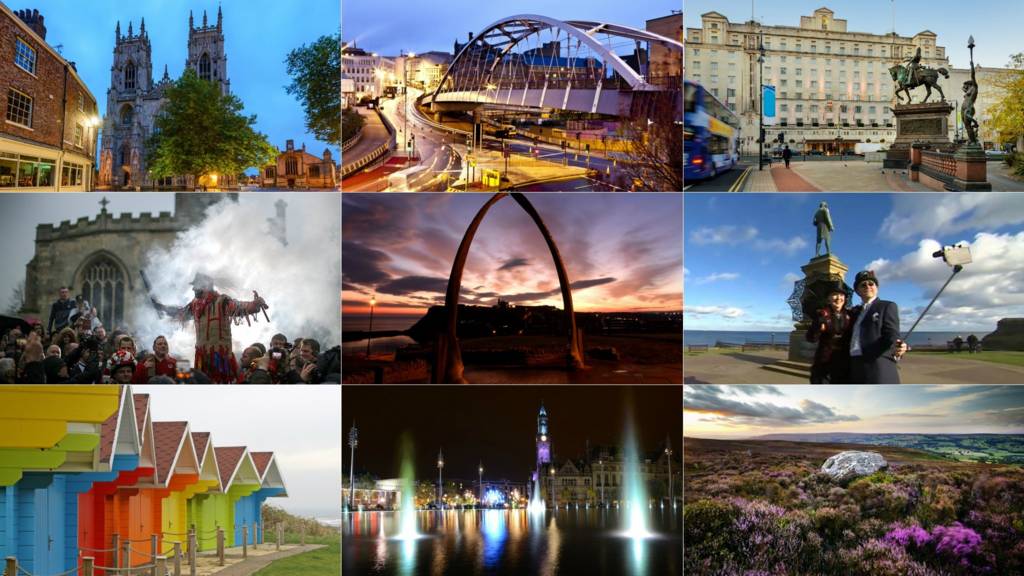 Summary
Huddersfield child sex offences inquiry police charge 29
Investigation after child goes missing from Doncaster school
Leeds' red, white and blue tribute to terror attack victims
York Minster security stepped up after Westminster attack
Flags fly at half-mast across Yorkshire in tribute to terror victims
NatWest to close 10 branches in West and North Yorkshire
Big name firms head for £6m Doncaster leisure park
Updates on Thursday 23 March 2017
That's all from Thursday....

Those are all the updates from Thursday 23 March.

Want to get all the latest news, sport, travel and weather on Friday 24 March 2017? click here.

Severe disruption: M62 West Yorkshire westbound

BBC News Travel

M62 West Yorkshire westbound severe disruption, between J33 for A162 and J32A for A1.

M62 West Yorkshire - One lane closed on M62 westbound between J33, A162 (Ferrybridge Services) and J32a A1(M), because of a broken down vehicle.

To report traffic and travel incidents dial 0330 123 0184 at any time

Our five top stories today

Oli Woodcock

BBC Local Live, Yorkshire

That's all from the team for today. We'll be back tomorrow from 06:30 with all the latest news, sport, weather and travel for Yorkshire.

Meanwhile, updates on breaking news, sport and travel stories will continue here throughout the night, but before we go, let's look back at some of our top stories from today:

1. Leeds Civic Hall and Leeds Town Hall will be lit up red, white and blue tonight as a mark of respect to those affected by the Westminster terror attack

2. Security at York Minster has been increased following the London attack

3.  Ten NatWest bank branches  across West and North Yorkshire are expected to close by the end of this year  

4. Sir Patrick Stewart's made the trip from Hollywood to Huddersfield for a special showing of his latest film 

5. A Sheffield schoolboy who spotted an error in data from Nasa could now help to fix the problem

Finally, thanks to  BBC Weather Watcher  Pug for sending in this beautiful springtime picture taken in Cross Gates, Leeds, this afternoon:

Copyright: BBC Weather Watchers

North Yorkshire flood warnings latest

A reminder that three flood warnings remain in place for parts of North Yorkshire. 

The Environment Agency says the River Ouse is expected to flood at Naburn Lock, in central York and St Georges Field and Queen's Staith. 

There are also six less serious flood alerts in place for the county, including on the River Nidd and the River Ure.

Circus with a difference comes to Sheffield

Kevin Larkin

BBC Local Live, Yorkshire

A circus with a difference is coming to Sheffield.

Rather than the traditional big top, performers at Cirque Berserk! are due to perform at the city's Lyceum Theatre instead.

We've had a look at how they're coping with the different environment:

Police appeal for witnesses after Huddersfield attack

Police are investigating after a man was attacked near Huddersfield. 

The attack happened on New Hey Road in Scammonden between 13:30 and 14:00 on Wednesday 1 March.

The victim was driving his car when another vehicle pulled up alongside and he was assaulted, leaving the victim with serious injuries to his wrists.

The incident happened near the Nont Sarah's public house, and police say they want to speak to two individuals described as Asian in connection with the incident.

York after-school club 'locked girl in church crypt'

Ofsted is investigating after a mother claimed her five-year-old daughter was accidentally locked for two hours in a church crypt while attending an after-school club in York.

The incident happened last month at the St Paul's Out of School Club, which is held at St Paul's Church.

Speaking to the York Press , the unnamed woman said her daughter had been left traumatised by the episode.

The club said it was working with Ofsted in its investigation.

Listen: Opposition to plans to scrap 'honour killing' term

Oli Woodcock

BBC Local Live, Yorkshire

A West Yorkshire charity says plans to scrap to the term "honour-based violence" could put victims at greater risk.  

Karma Nirvana is campaigning against a parliamentary motion which claims the word "honour" gives justification to the perpetrator .

The charity argues that's not the case and is hosting a conference on the issue today in Leeds.

Matthew Mahmood-Ogston, whose partner committed suicide because his family couldn't accept he was gay, is one of the speakers: 

Leeds woman denies plotting against Rwanda's Kagame

A pregnant woman from Leeds has appeared in court in Rwanda on charges of spreading state secrets to undermine President Paul Kagame.

Violette Uwamahoro (pictured right), a Rwandan-British youth worker, pleaded not guilty. Her husband who is an opposition activist says she is being made a scapegoat.

Prosecutors also allege Mr Uwamahoro was trying to form an armed group.

Her family has asked the UK government to intervene, saying they fear the trial is fixed and cannot be fair.

Huddersfield child sex offences inquiry police charge 29

Twenty-nine people have been charged with historical child sex offences.

The 27 men and two women are accused of numerous offences including rape, sexual activity with a child and child abduction, said West Yorkshire Police.

All 29 have been bailed and are due before Huddersfield Magistrates' Court on 12 April, said the force.

They are accused of offences between 2004 and 2011, relating to 18 girls in Huddersfield when they were aged between 11 and 17.

Twenty-seven of the defendants are from Huddersfield, one man is from Dudley and another man from Bradford.

The charges also include trafficking with intent to engage in sexual exploitation, child neglect, supply of Class A drugs and possession and making of indecent images of children.

E-fit released after Rotherham burglary

Kevin Larkin

BBC Local Live, Yorkshire

An e-fit image has been released of a man police want to speak to after a burglary in Rotherham.

Copyright: South Yorkshire Police

Two mobiles and a laptop were taken from the house in the Clifton area at about 08:45 on 24 February.

Anyone with information is asked to contact South Yorkshire Police on 101.

NatWest to close 10 branches in Yorkshire

Oli Woodcock

BBC Local Live, Yorkshire

Ten NatWest bank branches across West and North Yorkshire are due to close by the end of this year.

Branches of NatWest in Adel in Leeds, Bingley, Bradford, Settle, Haxby in York, Otley, Selby, Knaresborough, Thirsk and Tadcaster are due to shut by the end of October 2017.

The company said it had considered branch usage and the alternative ways customers can bank.

It added: "We have seen a dramatic shift in the way our customers are choosing to bank, with more using mobile and online over traditional branch counters."

Jo Cox family 'deeply saddened and shaken' by Westminster attack

The family of murdered Batley and Spen Labour MP Jo Cox say they are "deeply saddened and shaken" by Wednesday's Westminster terror attack .

Copyright: AFP/Getty Images

Four people died and 40 people were injured in the attack near the Houses of Parliament.

In a family statement, Mrs Cox's sister Kim Leadbeater says: "We'd like to send our heartfelt sympathy and sincere condolences to the families of those who lost their lives, including PC Keith Palmer.

"We would also like to extend our love and support to the surviving victims, their families and anybody who witnessed or who has been affected by this horrendous attack."

Ms Leadbeater adds that she hopes people will "reach out and support" those involved in the attack to let them know "they are not alone".

She concludes: "We must remember the goodness of humanity will prevail and we must come together and counteract hatred, in whatever form, with love and support for our fellow human beings."

No water in parts of Wakefield

There are water supply problems in parts of Wakefield at the moment, according to Yorkshire Water:

Severe accident: M18 South Yorkshire southbound

BBC News Travel

M18 South Yorkshire southbound severe accident, between J3 for A6182 and J2 for A1 affecting J4 for A630.

M18 South Yorkshire - One lane closed and very slow traffic on M18 southbound between J3, A6182 (St Catherines) and J2 A1(M), because of an accident. Travel time is 25 minutes. Congestion to J4, A630 (West Moor).

To report traffic and travel incidents dial 0330 123 0184 at any time

York City sign Notts County goalkeeper on loan

York City have signed Notts County goalkeeper Scott Loach on loan until the end of the season.

The 28-year-old former England Under-21 international has made seven appearances for the Magpies this season.

Loach started his career at Watford and has also had spells with Ipswich and Rotherham.

He could make his debut for the National League strugglers against Dagenham & Redbridge on Saturday.

Big name firms head for £6m Doncaster leisure park

The identities of three big name firms expected to open outlets at a £6m leisure development in Doncaster have been revealed.

Dunkin' Donuts, Taco Bell and Burger King all have units under offer at the planned Herten Triangle development (pictured) in the Lakeside area.  

About 200 jobs could be created by the development as a whole, Doncaster Council estimates.

The authority is helping to fund the project and is hoping to make a return on its investment by 2019.

Missing Leeds woman found 'safe and well'

Oli Woodcock

BBC Local Live, Yorkshire

A missing 81-year-old woman who we reported a little earlier had gone missing in Leeds today has been found "safe and well". 

Concern had been growing for Lorna Dickinson after she disappeared from her home in Morley this morning.

A police spokesman says: "We're very grateful to everyone who assisted in sharing the appeal."