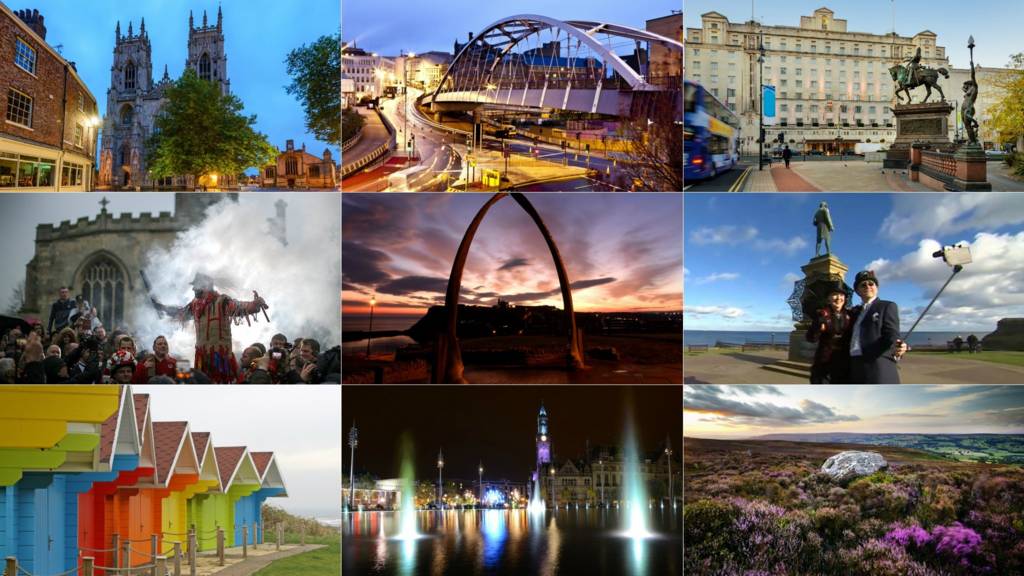 Yorkshire breaking news: Latest updates
Summary
Fire crews deal with tyre blaze as thick black smoke pours from site
Unsolved cases 'reviewed' for links to Yorkshire Ripper
New laws to tackle paedophiles who groom children online
Three taken to hospital after serious crash outside a York army barracks
Sheffield shops open early for autism shopping event
Former mayor of Doncaster rules himself out of next month's election
Nature reserve on former open cast mine officially opens
Bodies at medieval North Yorkshire village mutilated to 'stop dead rising'
Live updates on Monday 3 April 2017
Murderer goes missing from prison

A convicted murder has absconded from a prison in West Sussex.

Jeremy Brabooke, 56, was last seen at HMP Ford, an open prison, on Wednesday.

He was given a life sentence in 1988 for a murder in Bradford, West Yorkshire.

He is known to have links to Hayling Island and Portsmouth in Hampshire, Sussex Police said.

Anyone who sees him, or knows where he is, is asked to call 999.

Severe disruption: M621 West Yorkshire eastbound

BBC News Travel

M621 West Yorkshire eastbound severe disruption, at J6 for Balm Road.

M621 West Yorkshire - M621 lane closed on exit slip road eastbound at J6, Balm (Belle Isle Road), because of a broken down vehicle and slow vehicle.

To report traffic and travel incidents dial 0330 123 0184 at any time

Severe disruption: M1 West Yorkshire southbound

BBC News Travel

M1 West Yorkshire southbound severe disruption, from J42 for to J41 for A650.

M1 West Yorkshire - One lane closed and slow traffic on M1 southbound from J42, / (Lofthouse) to J41, A650 (Carrgate), because of a broken down vehicle.

To report traffic and travel incidents dial 0330 123 0184 at any time

Asda reports rise in sales

The West Yorkshire-based supermarket giant Asda has announced another increase in sales.

They were up 2% in the three months to September, which is the sixth consecutive quarter of rising sales.

Asda, which has its headquarters in Leeds, has announced big job cuts ahead of the proposed merger with Sainsbury's if the competition watchdog approves the plans.

Yorkshire firm makes jukeboxes for Japan

Police and Crime Commissioner takes over fire service

North Yorkshire's Police and Crime Commissioner (PCC) has taken over the running of the fire service in the county.

Julia Mulligan has expanded her role to become North Yorkshire's Police, Fire and Crime Commissioner.

She said she would "outline my plans and vision for the future of the organisation" ahead of a meeting next month.

Severe accident: M621 West Yorkshire eastbound

BBC News Travel

M621 West Yorkshire eastbound severe accident, from J1 for A6110 Ring Road Beeston Beeston to J2 for A643.

M621 West Yorkshire - One lane closed and slow traffic on M621 eastbound from J1, A6110 (Beeston) to J2, A643 (Elland Road), because of an accident.

To report traffic and travel incidents dial 0330 123 0184 at any time

Sheffield United 'proactive' in banning troublemakers

Sheffield United say it's "proactive" when dealing with potential troublemakers, after latest government figures showed the club handed out the third highest number of banning orders in the country.

Copyright: Sheffield United

The 53 banning orders were given out last season, with 62 supporters being arrested at games.

In a statement, the club said it won't tolerate misbehaviour, with the number of banning orders showing how it is dealing with anti-social behaviour.

"We have communicated a number of strong messages to highlight the fact that we are working closely with police forces across the UK to identify a minority who spoil matches for the majority of supporters, including state-of-the-art CCTV system," the statement said.

The Home Office statistics also show there were 3.5 football-related arrests for every 100,000 people attending the matches.

Unclaimed lottery ticket is worth £96,000

An unclaimed lottery ticket, bought in North Yorkshire, is worth almost £100,000.

No-one has come forward with the lucky EuroMillions ticket, purchased somewhere in the Hambleton district.

The ticket was bought in August, matching five numbers and one Lucky Star number, making it worth £96,827.20.

If the unidentified holder does not come forward by 6 February the money will go to lottery-funded projects.

The prize is eclipsed by the £76m jackpot which remains unclaimed, with the National Lottery today appealing to the holder to come forward.

Two found guilty after Barnsley murder

Two women have been found guilty of the murder of a woman found dead in Barnsley.

Penelope Brownlie, 45, and Justine Wainwright, 58, were convicted of killing Claire Louise Smith, 42, after a trial at Sheffield Crown Court.

A post-mortem examination revealed Ms Smith, whose body was found in Union Street on 19 May, died as a result of a severe physical attack.

Brownlie and Wainwright, of Britannia Close, will be sentenced on Friday.

More Sheffield teachers wanted, says government

More teachers from Sheffield are wanted in our schools, according to the Department for Education.

It is launching a recruitment drive in the city.

The number of teachers working in state-funded schools in England fell to its lowest level since 2013, official statistics showed earlier this year.

Severe accident: M62 West Yorkshire eastbound

BBC News Travel

M62 West Yorkshire eastbound severe accident, from J28 for A650 Dewsbury Road to J29 for .

M62 West Yorkshire - One lane closed and slow traffic on M62 eastbound from J28, A650 (Tingley) to J29, / (Lofthouse), because of an accident.

To report traffic and travel incidents dial 0330 123 0184 at any time

Listen: 'Brave and selfless' Minster constables

We mentioned yesterday that two of York Minster's Cathedral Constables had been commended for their acts of bravery.

Today, the head of security at York Minster has added his praise for Beverley Martin and Adam Rickers.

He said they had both been "brave and selfless":

Dictionary explores Yorkshire's link to Harry Potter

Harry Potter fans may know their 'squibs' from their 'nifflers', but they may be surprised to learn some of the words could have Yorkshire roots.

Research for the Yorkshire Historic Dictionary suggests Harry, Ron and Hermione's vocabulary may have been influenced by the region's dialects.

The dictionary features words that were in use between about 1100 to 1800.

Editor Alexandra Medcalf said it was "plausible" the words and phrases had shaped JK Rowling's wizarding world.

Yorkshiremen lose appeal over smuggling plot convictions

Three British men, including two from Yorkshire, who were jailed for a plot to smuggle five tons of cocaine from Colombia have been refused the chance to take their cases to the Supreme Court.

Russell Knaggs, 44, from Conisbrough, near Doncaster, Robert Rich, 46, from Barnsley and another man, were convicted of the conspiracy in 2012.

Ringleader Knaggs organised the scheme while serving a 16-year drug sentence in a Nottinghamshire prison.

The men claimed that evidence against them had been obtained by illegal email monitoring.

In an appeal hearing last December, lawyers for the trio questioned how prosecutors got their hands on email messages between the gang.

Their appeal was dismissed in August when judges led by Lady Justice Sharp said there was "no proper basis" for suggesting the emails were illegally obtained.

However, the men attempted to fight on by asking the court to grant permission to take the case to the Supreme Court.

They said the case involved a legal point of such importance that it should be decided by the country's most senior judges.

But Lady Justice Sharp returned to the Court of Appeal earlier to dismiss their application in a short ruling in London, saying the prosecution's case against them was "overwhelming".