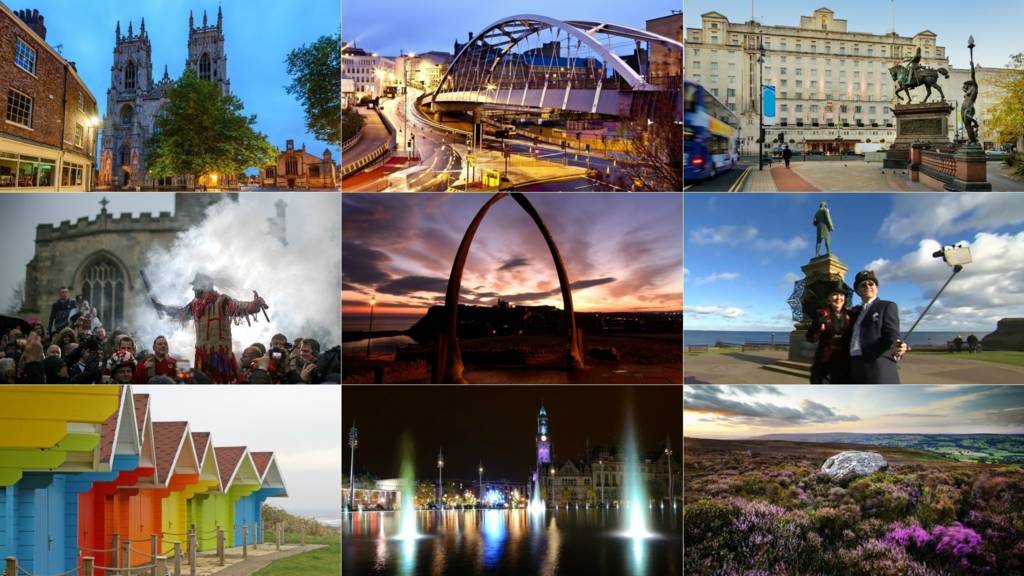 Latest news from Yorkshire

Our five top stories today

Well that's all from us for today, we'll be back tomorrow from 06:30 with all the latest news, sport, weather and travel for Yorkshire.

Updates on breaking news will continue throughout the night, but before we go, let's look back at some of our top stories from today:

See you tomorrow.

Have you seen Kristen Strickland?

Have you seen this missing man from Eggborough?

Copyright: North Yorkshire Police

Kristen Strickland was last seen at around 11:45 today, when he was dropped off in the car park of Lidl in Knottingley.

The 28-year-old was wearing a blue tracksuit and black or grey Adidas coat and hasn't been seen since.

'Sting houses' set up to catch Sheffield burglars

Burglars in Sheffield could be in for a nasty surprise as police have set up "sting houses" to catch them out.

Copyright: Science Photo Library

The houses have "state-of-the-art covert technical equipment" and SmartWater in them to try and catch thieves.

Officers say that the targeted operation is to try and tackle rising levels of burglary in the city, especially in student accommodation.

Burglars' favourite items include games consoles, laptops and mobile phones and they often get in to homes through unlocked windows and doors.

Quote Message: If you break into a property, you run the risk of it being one of our traps and that we are going to catch you." from Det Ch Insp Paul Wilson South Yorkshire Police

Three arrested after house shot at in Bradford

Three arrests have been made after a house was shot at in Bradford last month.

The men, aged 27, 36 and 44, were arrested in connection with the incident in Stoney Ridge Avenue on 22 May. No one was injured. 

All are from the Bradford area and were arrested on suspicion of possessing a firearm with intent to endanger life.  

The 44-year-old man remains in custody, the 27-year-old has been bailed and the 36-year-old man has been released without charge.

Quote Message: We are continuing to treat this matter as a targeted incident and our investigation is ongoing." from Det Ch Insp Jaz Khan West Yorkshire Police

Fancy a change of career - How about becoming a museum curator

If you're fed up with your current job, then how about becoming a Senior Curator at York Castle Museum

Copyright: Jitka Erbenová

They're advertising the £32,000 - £34,000 position which would see you managing the museum's collections.

You've got to have a postgraduate qualification in Museum Studies, but who hasn't got one of them?

Sheffield armed police incident 'not terror related'

South Yorkshire Police have confirmed that that they have arrested a man on Meadowhall Road this afternoon in a planned operation. It was not terror related.

Officers say that the arrest was for suspected firearms offences.

Superintendent Simon Verrall said: "I want to offer my reassurance to the public, as I understand those in the vicinity at the time may have been alarmed by the increased police presence."

He added "this is the standard protocol and response for an arrest of this suspected nature."

Search for man standing by side of M62

Police have been searching for a man who was standing near the Aire and Calder Navigation on the M62 this morning.

Officers say that they got calls just after 06:00 BST this morning of a man standing on the grass on the M62 at Altofts. 

The man was white, of medium build, with short brown hair and possibly aged around 30 years used their helicopter and have been searching the area, but have found no trace of him.

Quote Message: We are concerned for this man's well-being given where he was sighted and are continuing to conduct a number of inquiries." from Det Insp Tim Hunt West Yorkshire Police

Breaking

Armed police at incident in Sheffield

A hotel near Meadowhall, Sheffield, has confirmed that armed police are dealing with an incident nearby.

More to follow.

Possible sighting of missing Leeds woman in Doncaster

There has been a possible sighting of the missing Leeds woman Lana Krasnoselska in Doncaster, police have revealed.

Copyright: West Yorkshire Police

The 40-year-old was last seen at her home in Micklefield at about 05:00 on 3 April and despite "extensive inquiries" by officers she hasn't been seen since.

West Yorkshire Police say that they were contacted last month by a woman in Doncaster who says she may have seen her near St James's Church, in St Sepulchre Gate West. 

She described the woman she saw as closely fitting the description of Lana.

She was wearing a black leather jacket, dark jeans and carrying a black handbag.

Quote Message: We have been conducting extensive inquiries in that area, including checks of CCTV, but have so far been unable to confirm it is her." from Det Supt Lisa Atkinson West Yorkshire Police

'Incredibly difficult time' say Sheffield terror victim's family

Claire Renwick

BBC Local Live, Sheffield

The relatives of Sheffield woman, Kelly Brewster, who was killed in the Manchester terror attack last month have issued a statement.

They said it was an "incredibly difficult time for the family" and asked to be "left to grieve in peace".

The 32-year-old died shielding her 11-year-old niece, Holly Booth, from the explosion in the foyer at Manchester Arena.

Her sister, Claire Booth, was also injured in the blast.

Kelly's relatives say Claire is "physically recovering" and that Holly remains in a "stable condition".

Kelly Brewster's body has now been brought back to Sheffield and specially trained officers are supporting her family.

Mitzy the dog turns up after six years

Tonight on TV you can see the remarkable story of Mitzy the dog, who turned up after being missing for six years.

Copyright: Daisybeck Studios/Channel 5

Mitzy was last seen in 2011 when she was out in the garden, it's thought that someone stole her and she hadn't been seen since.

She was found near the A19 near Thirsk and handed to the team at Skeldale veterinary centre, who managed to track down her owner - Cheryl McCabe from Middlesborough.

Amazingly Mitzy knew her owner straight away when they were reunited.

You can see what happened on The Yorkshire Vet on Channel 5 at 20:00 BST tonight.

Quote Message: She's a family pet, the kids loved her. We put posters out and there was nothing, until now. from Cheryl McCabe Mitzy's owner

Doncaster man jailed for child sex offences

Claire Renwick

BBC Local Live, Sheffield

A man from Doncaster has been jailed for eight years for sex offences against seven teenage girls across the UK.

Jason Armstrong, aged 51, originally from Norfolk, but most recently lived on The Fairway in Moorends near Thorne - used a fake social media profile to pose as a 16-year-old girl.

Armstrong pleaded guilty to 23 counts of sexual offences at Sheffield Crown Court via video link from prison, including nine counts of sexual activity with a child.

The victims were aged between 15 and 17 years old and were from North and West Yorkshire, Cleveland, Cheshire, Berkshire and Scotland.

Quote Message: I can only hope this offers some form of solace to the victims, who I would I like to praise and give thanks to for their strength and bravery throughout the investigation." from Richard Partridge Det Insp

Thousands of community events held to remember Jo Cox

The husband of murdered West Yorkshire MP, Jo Cox, has revealed there'll be thousands of community events held in her memory later this month.

Copyright: @MrBrendanCox/PA Wire

Following the murder of the MP in Birstall, Brendan Cox called for people to join the Great Get Together, a year on from her death.

Events on the weekend of 16 June include thousands of street parties as a tribute to Jo, whose aim was to bring communities together.

Leeds United defender seeking a transfer following Empoli loan

Leeds defender Giuseppe Bellusci will not return to the club following a loan spell with Empoli, according to BBC Radio Leeds.

Bellusci, 27, spent the 2016-17 season with Empoli in Italy's Serie A and has a year left on his contract at Leeds.

Empoli were relegated to Serie B, but the Italian centre-back is seeking a transfer to stay in his home country, with Bologna rumoured to be interested.

He joined the Whites from Catania in August 2014 and has scored two goals in 61 appearances for the club.