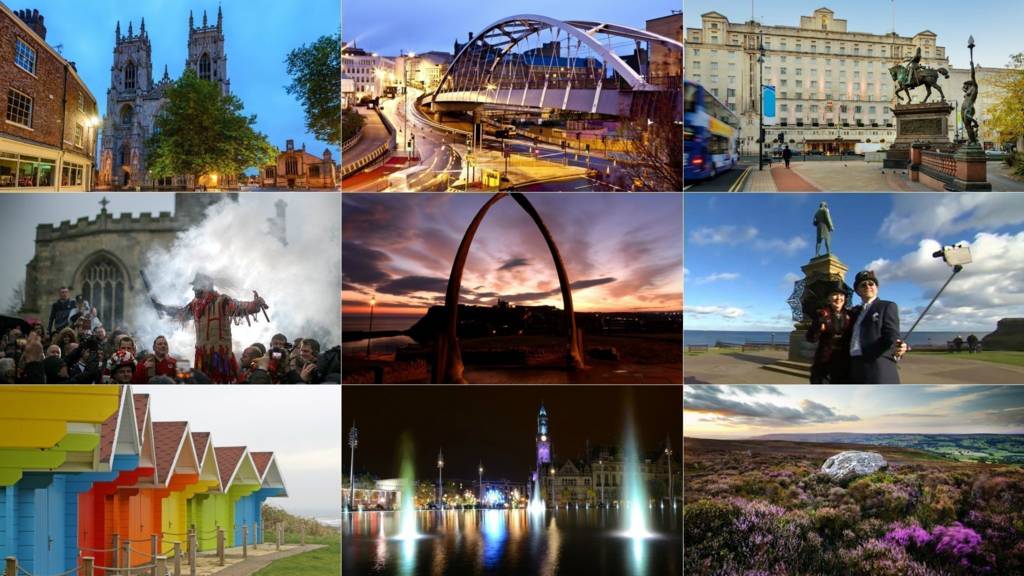 Summary
Record number of school exclusions in Yorkshire
Lost HS2 documents left on a train
Funeral of Manchester attack victim from Sheffield today
Protest over closure and demolition plans for Huddersfield Royal Infirmary
Apology demanded after airport terror stop
Family pay tribute to woman killed in Osset crash
Doncaster MP criticises Boots over 'morning after' pill
West Yorkshire fire fighters to trial body cameras
Race to save York Minster windows
Live updates on Friday 21 July 2017
Our top five stories today

Oli Woodcock

BBC Local Live, Yorkshire

That's all from the team today, we'll be back on Monday from 06:30 with all the latest news, sport, weather and travel for Yorkshire.

Before we go, let's look back at some of our top stories from today:

1. A record number of young people are being excluded from schools in Yorkshire, new figures reveal

2. Agents working for the HS2 rail firm have lost documents relating to homes on the Shimmer estate in Mexborough, South Yorkshire

3. A schoolboy who took part in "terrifying" armed carjacking robberies has been locked up for six-and-a-half-years

4. It's been confirmed plans to close and demolish Huddersfield Royal Infirmary will be referred to Health Secretary Jeremy Hunt

5. Dogs and their owners have been gathering at Meadowhall today for auditions in the upcoming production of Legally Blonde at Sheffield's Lycuem Theatre

Have a great weekend!

Accrington sign striker Jackson

Barnsley forward Kayden Jackson has signed at Accrington Stanley for an undisclosed fee on a two-year contract.

The 23-year-old scored twice in 24 appearances whilst on loan at Grimsby Town last season, but did not play a first-team game for Barnsley.

The former Wrexham and Swindon striker told the club website: "When I heard Accrington wanted me I was delighted."

Severe disruption: M1 South Yorkshire southbound

BBC News Travel

M1 South Yorkshire southbound severe disruption, between J34 for A631 and J33 for A630 Catcliffe.

M1 South Yorkshire - Very slow traffic on M1 southbound between J34, A631 (Meadowhall) and J33, A630 (Catcliffe), because of an earlier broken down vehicle. All lanes have been re-opened.

To report traffic and travel incidents dial 0330 123 0184 at any time

Pictures show how front door stopped spread of high rise flat fire in Leeds

West Yorkshire Fire and Rescue Service (WYFRS) has released images to reassure high rise residents that serious fires are often contained to the flat that they start in.

WYFRS was called to an incident at Marlborough Towers on Park Lane in Leeds yesterday (July 21) at 7:31pm, where discarded smoking materials caused a fire in a flat on the 15th floor.

No-one was injured in the fire and the fire service emphasise that at no stage were other flats involved or affected by the fire.

Quote Message: This incident serves as a reminder of the devastation that can be caused by a fire in a high rise property. Perhaps more importantly though, in light of recent tragic events at Grenfell Tower, it is a powerful illustration of how effective compartmentation can work, and that the simple act of closing a well maintained, well fitted fire resistant door can halt the spread of a significant fire. from Dave Walton Deputy Chief Fire Officer, WYFS

Yorkshire's weather outlook

Owain Wyn Evans

Weather presenter, BBC Look North

A breezy and largely dry end to the day with gusty winds for the coast. Thickening cloud and during the second half of the night outbreaks of rain. The wind eventually easing. Lows of 13C (55F).

Saturday will be cloudy with outbreaks of rain, turning more showery with some sunshine in between, but the showers still potentially heavy with the risk of gusty winds, hail and thunder. A maximum temperature of about 21C (70F).

Burst water main causes delays in Sheffield

A burst water main in the West Bar area of Sheffield has caused traffic problems this afternoon.

Yorkshire Water says it's dealing with the incident.

Promising pooches at 'paw-ditions' for Legally Blonde

Kate Linderholm

BBC Local Live, Sheffield

Dogs and their owners have been gathering at Meadowhall today for auditions for the role of Rufus Bonafonte in the upcoming production of Legally Blonde at Sheffield's Lycuem Theatre this autumn.

Ranging from French Bulldogs, to Pugs and classic British Bulldogs, candidates from across the region turned out to show off their stage presence.

The auditions were run by producer (and leading man) of the show, David Barrett, who put the pups through two rounds of auditions testing their ability to respond to commands, perform tricks and handle the glamour of flashing lights around them.

In the end, it was British Bulldog Ned who came out on top, brought to the auditions by his owner Megan Campbell.

'Good Samaritan' has phone stolen whilst trying to save another man's life

A North Yorkshire man has had his phone stolen whilst trying to rescue another man who had fallen from Bristol Bridge.

The 56-year-old put his mobile phone in his shoe before going into the water, during which time it was stolen.

He was passing through Bristol on his way to Plymouth to go abroad.

Avon and Somerset Constabulary have described the man as a "Good Samaritan".

Quote Message: I feel disgusted that this has happened to him while he was performing a heroic deed in our city. from Marie Wright Chief Inspector

It happened at around 10:40 on Sunday at the Floating Harbour in Bristol.

Burst water main closes West Bar roundabout in Sheffield

A burst pipe on West Bar roundabout in Sheffield has caused long traffic delays. Avoid the area if you can.

Watch: Kelly Brewster's funeral cortege arrives in Sheffield

Kelly Brewster's funeral cortège has arrived at City Road Cemetery in Sheffield where she's being laid to rest this afternoon.

The words "Kelly" and "Auntie" are written out in flowers to remember the 32-year-old from Sheffield who was killed in the bombing at the Ariana Grande concert at Manchester Arena in May.

Sheffield tower cladding coming down

Tom Ingall

Journalist, BBC Look North

Work continues at Hanover House tower block in Sheffield to remove cladding from the building.

One element used in the refurbishment of Hanover House, in Broomhall, had failed tests conducted in the wake of the Grenfell Tower fire in London.

Severe disruption: M18 South Yorkshire northbound

BBC News Travel

M18 South Yorkshire northbound severe disruption, between J6 for A614 and J7 for M62.

M18 South Yorkshire - Two lanes closed and queuing traffic on M18 northbound between J6, A614 (Thorne) and J7, M62 (Langham), because of an overturned vehicle.

To report traffic and travel incidents dial 0330 123 0184 at any time

Watch: Boulder thrown onto speeding train in Doncaster

Kate Linderholm

BBC Local Live, Sheffield

British Transport Police are trying to track down the person who threw a large block of concrete into the path of a speeding train in South Yorkshire.

Detectives say the driver could have been killed or seriously injured when the boulder hit the train's cab on the approach to Hatfield and Stainforth station earlier this month.

They say it was reckless behaviour and they're asking any witnesses to get in touch:

New service to tackle loneliness in York and Rotherham

A service is being launched in York and Rotherham to try and tackle loneliness.

The Red Cross plan to provide support to 800 adults in York and Rotherham over the next 18 months.

It comes after research revealed over nine million adults in the UK often or always feel lonely.

They're asking volunteers to donate a few hours per week to help provide support to people who feel isolated.

Woman from Sheffield caught up in Kos earthquake

Katie Galbraith

Local Live, BBC Sheffield

Hundreds of British tourists are stranded at the airport on the Greek island of Kos after it was struck by an earthquake overnight.

At least two people have been killed and hundreds are injured.

Fran Shore, from Sheffield, was on her honeymoon and was staying at the Aqua Blue Hotel with her husband when the quake with a magnitude of 6.7 began to shake their room from side to side:

Quote Message: We were both fast asleep and were suddenly woken up by a violent shaking of our bedroom. Our whole bed felt like it was moving. I was quite distressed. You could still feel the tremors when you came outside."

Campaign to preserve York Minster's medieval windows

Earlier we told you about an £11m fundraising campaign is being launched to preserve the medieval stained glass windows of York Minster.

Copyright: The York Glaziers Trust

The cathedral has announced a 20-year partnership with York Glaziers Trust to ensure all its 128 windows have environmental protective glazing.

It will halt the decay and buy time for conservation work on the windows which date to the 12th century, it said.

Currently 74 out of 128 stained glass windows are exposed to the elements and subject to corrosion and decay.