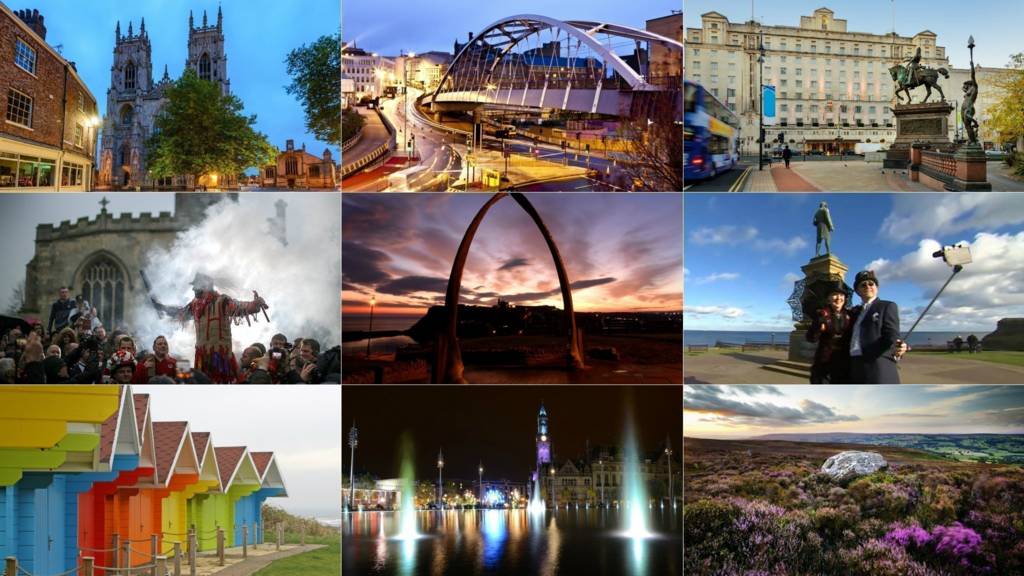 Our top five stories today

Oli Woodcock

BBC Local Live, Yorkshire

That's all from the team today, but we'll be back on Thursday from 06:30 with all the latest news, sport, weather and travel for Yorkshire.

Before we go, let's look back at a selection of our top stories from today:

1. Two men are charged with the murder of a Sheffield man earlier this year

2. A man is arrested after an electric shock weapon disguised as a mobile phone is used in Whitby

3. Five men are sentenced for their part in a drugs operation following a covert police investigation in South Yorkshire

4. A five-year-old boy from Leeds who took a missing toddler to safety after spotting him alone in the street is praised by police for his quick-thinking actions

5. And a couple attempting to visit every railway station in Britain pass through North Yorkshire as part of their odyssey

Your weather forecast for Yorkshire

Paul Hudson

Weather presenter, BBC Look North

Breezy and feeling cool this evening, but with plenty of clear spells.

Dry for most, but some showers will cross from the west to mainly affect western hills, these mostly early in the night.

The minimum temperature will be about 10C (50F).

Hush: Sound of silence celebrated at York Minster

A special afterhours event takes place at York Minster tonight exploring the calming power of silence.

People will be encouraged to sit and experience the special stillness of the Minster, or they can wander quietly through the building.

Organisers say it's a response to our rushed, busy lives, where many people report they're "totally exhausted by the noise and constant demands of everyday life".

E-fit image released after Doncaster burglary

Police investigating a burglary in Doncaster have released this e-fit image of a man they want to speak to.

Copyright: South Yorkshire Police

The man is said to have gone into a house in Warmsworth Road at about 14:25 last Friday while the occupant was in the back garden - but left after being disturbed.

He is thought to have left the area in a silver car, heading towards the A1 and Conisbrough.

Historian's plea to explore Harrogate's lost 'secret laboratory'

What lies behind the sealed door at one of Harrogate's most historic buildings is the question being asked by the town's most distinguished historian...

Copyright: Yorkshire Post

Listen: Couple's three-month rail odyssey reaches North Yorkshire

A couple attempting to visit every railway station in Britain have passed through North Yorkshire today.

Geoff Marshall and Vicki Pipe need to endure a total of 2,563 stops as part of a documentary which they hope will inspire others to explore the country by rail.

All their footage will later be donated to the London Transport Museum, where Vicki works as an education professional.

The pair were in Knaresborough this morning on their way to Scarborough, and Vicki says so far things have gone smoothly:

Assel Al-Essaie shooting: Two men charged

Two men have been charged with the murder of a Sheffield man earlier this year.

Copyright: South Yorkshire Police

Assel Al-Essaie, 23, died in hospital after being shot in the chest in Daniel Hill in the Upperthorpe area of the city on 18 February.

The two men, both from Sheffield, have been remanded in custody and are due to appear before Sheffield Magistrates' Court on Thursday.

Two other people have previously been charged with perverting the course of justice in connection with the death of Mr Al-Essaie.

Attacks on Bradford fire crews have 'crossed the line' - union

Bradford Telegraph and Argus

The Fire Brigades Union has demanded a "zero tolerance approach" to tackle thugs attacking firefighters, after another crew in Bradford had missiles thrown at them.

Copyright: Telegraph and Argus

Woman airlifted to hospital after horse 'spooked' by car

A woman was airlifted to hospital after being thrown from a horse after the animal was "spooked" by a car overtaking a tractor in North Yorkshire.

It happened yesterday afternoon in the Ripon area.

The injured rider, who's in her 30s, was taken by the Yorkshire Air Ambulance to Leeds General Infirmary where she was treated for her injuries before being discharged.

Sheffield swimmer breaks British record

Max Litchfield, 22, from Sheffield has broken the 200m individual medley british record in a time of 1:56.64 at the World Swimming Championships in Hungary.

The record, which stood at 1:57.12 from James Goddard, was a super-suited one that was set at the World Championships in 2009.