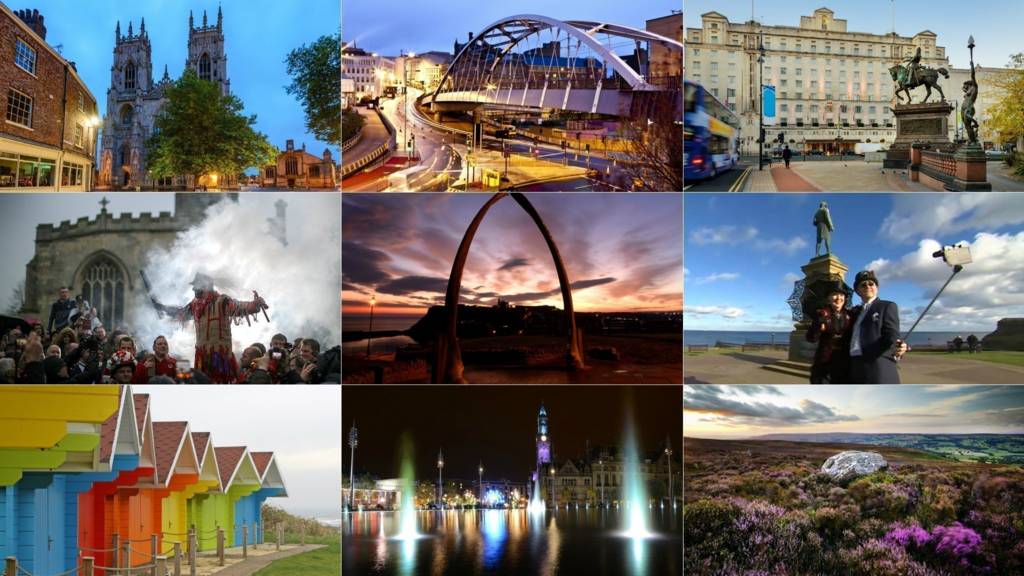 Former England manager Sam Allardyce lent his support to the event ahead of the games in Sheffield.

Our top five stories today

Oli Woodcock

BBC Local Live, Yorkshire

That's all from the team today, but we'll be back on Friday from 06:30 with all the latest news, sport, weather and travel for Yorkshire.

Before we go, let's look back at a selection of our top stories from today:

1. A police officer who was in a South Yorkshire Police helicopter when a couple were caught on camera having sex in their garden tells a jury he didn't know his colleague was filming

2. Three trials are anticipated for the six men facing charges relating to the Hillsborough disaster, the Crown Prosecution Service says

3. Acts of violence and drug use in Leeds Prison are unacceptably high, according to a new report

4. Sheffield community radio station Iman FM is told by media watchdog Ofcom that it will not be going back on air

5. Volunteers work to clear-up and repair valuable carriages vandalised on the North Yorkshire Moors Railway

Yorkshire in pictures: Making tracks in North Yorkshire

Thanks to Dale Heppinstall for sending us this great shot of the landmark Ribblehead Viaduct in North Yorkshire:

The viaduct carries the Settle-Carlisle Railway, in the valley of the River Ribble.

It's made up of 24 (count 'em!) arches and is 400m long.

Your weather forecast for Yorkshire

Abbie Dewhurst

Weather Presenter, BBC Look North

Bright spells this evening with heavy showers tending to ease.

Clear spells to start the night, becoming rather cloudy with outbreaks of showery rain.

The minimum temperature will be about 11C (52F).

Heart-lung patient meets transplant surgeon who saved her life 30 years ago

A woman from York, who had a heart and lung transplant operation at Papworth Hospital, has celebrated the 30th anniversary of her surgery by being reunited with the doctor who transformed her life.

Carol Town, 63, who was born in Upminster in Essex (now east London) in 1954, was five years old when she was diagnosed with a rare condition that leads to irreversible lung damage.

At the time she was diagnosed, most patients with the condition died before they reached 30.

Once referred to Papworth Hospital, she waited for 18 months for organs to become available.

Mrs Town was on the way home from work when she got a message from the hospital to say suitable organs had been identified for her transplant in July 1987.

At the time of the operation she thought it would only give her four extra years of life, which she says "felt like a long time".

Her surgery was a success and she was discharged in time for her fourth wedding anniversary in August 1987.

She says the treatment gave her a new lease of life and she quickly learned to run, swim, cycle and ride horses for the first time.

After recovering for the surgery Ms Town eventually climbed her first peak, Pen-y-Ghent in the Yorkshire Dales, then took part in the Transplant Games.

Mrs Town met the surgeon who gave her the live-saving operation, Professor John Wallwork, who is now chairman of Papworth Hospital NHS Foundation Trust, at a special ceremony at Pembroke College in Cambridge.

She said: "The transplant gave me so much.

"It completely transformed my life and allowed me to do things I never thought possible, like see my son grow up and have a rewarding career.

"I'll probably never know who it was who donated their heart and lungs to me, but I am so grateful to them for giving me a second chance at life."

Driver's 'miracle escape' on M1

The pictures in this tweet from South Yorkshire Police say it all, really.

Astonishingly, cuts and bruises were the only result:

Watch: Eleven-year old's 161-mile trek to Malton

An 11-year-old boy is in the middle of a 161-mile walk which will finish in North Yorkshire to raise funds for injured jockeys.

Jack Lander's taken on the nine-day challenge and is due to arrive in Malton on Monday.

His target is Jack Berry House, a rehabilitation facility for those injured while racing horses:

Man arrested over spate of arson attacks in Barnsley

Gina Bolton

BBC Radio Sheffield News

A 28-year-old man's been arrested in Barnsley in connection with a series of arson attacks.

Officers were called to Charles Street, Worsbrough, in the early hours of Monday where three cars had been set alight.

They were also called to further incidents later in the day in Oakwell and Kendray.

The man has been arrested on suspicion of arson.

He's since been released under investigation as enquiries continue.

Watch: Vandal-hit North Yorkshire Moors carriages get some TLC

The clean-up of historic carriages vandalised on the North Yorkshire Moors Railway is well under way.

Seven teak cars, used in the filming of ITV drama Downton Abbey, were damaged on Sunday.

Damage to the carriages, which date from 1930 to 1950, was extensive, with windows smashed and furniture and fittings damaged.

Now a major clean-up operation is under way in Pickering:

Challenge Cup: 'Bruising game' ahead for Leeds Rhinos - Lilley

Leeds Rhinos have named their 19-man squad for Saturday's sold-out Challenge Cup semi-final against Hull, which includes the return of captain Danny McGuire.

Copyright: Allsport/Getty Images

He's one of nine changes from last week's Super League clash at Wigan with Brett Ferres and Liam Sutcliffe both back in contention after injury.

Half-back Jordan Lilley is hoping to feature in his first ever Challenge Cup semi-final and says he knows exactly what to expect from Hull:

"They're going to come out all guns blazing. We got one over on them - a tight affair at 10-7 - so they'll come with a game plan and they'll try to execute it. But we've got a game plan and it's going to be a bruising game," he says.

Dame Jenni champions Barnsley's Civic

Mick Lunney

BBC Local Live, Sheffield

Barnsley Civic has welcomed one of the town's most famous voices to be its new champion - with Dame Jenni Murray joining journalist Sir Michael Parkinson and ballerina Tala Lee-Turton.

Built in the 1870s as a public hall and now an arts centre and "culture hub", a £5m fundraising campaign aims to open up the whole of the Grade II-listed building, adding a new theatre, cafe, and extended gallery.

Dame Jenni says access to the arts is "incredibly important" from a very early age:

Quote Message: I had that range of culture, right down to going to Locke Park in Barnsley where they hosted an open air musical every summer, so you saw Oklahoma or Seven Brides for Seven Brothers performed. That formed the basis of my life, really." from Dame Jenni Murray

North Yorkshire council's 'record' crackdown on environmental crime

A North Yorkshire council says it's issued a record number of fines in the past three months in a crackdown on environmental crime.

Copyright: Craven District Council

Craven District Council says it's been operating a zero tolerance approach to things like littering, fly-tipping, and dog fouling.

A total of 19 enforcement actions, including fixed penalty notices, were issued between 1 April and 30 June, the council says.

It says it bought a number of surveillance cameras earlier this year to aid Operation Cleaner Craven.